Open Graph Generator
Code
Copy your code.
<meta property="og:title" content="">
<meta property="og:site_name" content="">
<meta property="og:url" content="">
<meta property="og:description" content="">
<meta property="og:type" content="">
What is Open Graph Generator?
The open graph technology was first introduced by Facebook in order to hello the webmaster for customizing information about their website links. The shared link of the website contains some words that are responsible for influencing you to open it. You must have seen a lot of on Facebook shared by webmasters. There is a significant difference between promoting the same link on search engines and social media. On the search engine, you need to keep it formal and according to the strict parameters.
However, Facebook allows you to make some customization on the same link. For this purpose, you need to add og: tags in the HTML source code of a web page. The open graph generator tool is capable of creating these tags accurately. after entering the accurate information, ages need to copy the generated text and paste in your domain's source code. It requires the joint efforts of content writers and webmaster user to create attractive link information. In the points mentioned below, you will easily understand the need for open graph generator tool.
How does the Open Graph Generator tool work?
The open graph generator tool is actually an online form where you need to fill the essential information. Here is a complete process to use it for generating open graph tags.
1. Use your search engine to find the best website providing open graph generator tool.
2. On its interface, you will find some fields to fill up with accurate information including title, site name, site URL, type, number of images, image URL and description.
3. It requires creative skills to make an attractive title in limited characters. Also, you will get only 200 characters for creating an eye-catching description.
4. The rest of the information such as site URL and site name will be exactly the same.
5. Once you fill all the fields with text information and image URLs, scroll down to find results on the same page.
6. It will look something like this:-
<meta property="og:title" content="">
 <meta property="og:site_name" content="">
 <meta property="og:url" content="">
 <meta property="og:description" content="">
 <meta property="og:type" content="article">
<meta property="og:image" content="">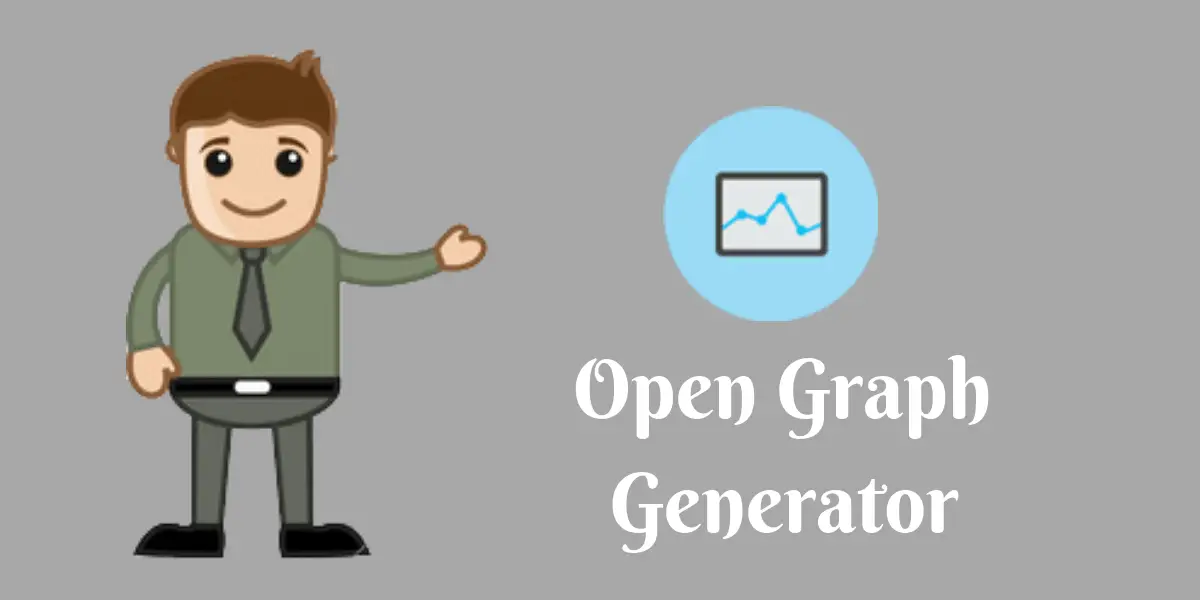 Open Graph Generator for a distinctive identification on social media
Social media comprises countless possibilities of digital marketing and even most of them are still unexplored. Potential customer spends more time in the virtual world of social media rather than the real world. Therefore, it is the most suitable platform to target them for marketing purpose.
Any kind of marketing campaign depends on the influential value of your content. If the title, description, and images are customized perfectly, the probability of influencing customers will always remain high. Yeah going to discuss the biggest global influencer call Facebook.
This platform is available for free of cost to assess all the controls. You can share the link of your website and other promotional contents without any restriction. However, there are some charges applicable if you want to boost a particular post containing promotional content. It is necessary to add the official website link in promotional content but you need to customize it before posting.
Here comes the role of open graph generator tool. It creates og tags for title, description, and images in order to display the desired information. For better information about this tour, you need to scroll down.
Why do we need an Open Graph Generator tool?
The open graph generator is a small but very useful tool if you are utilizing its potential optimally. On the virtual world of the internet, new need all possible strategies to look attractive and reliable in front of potential customers. Here is some information that will elaborate on why do we need this tool in detail.
1. For a distinctive identity of business on Facebook
The digital marketer reviews meta titles and meta descriptions for displaying the information about the website on the search engine. There is a uniformity in this format and almost the link of every competitor seems similar. You cannot go on social media marketing with the same monotonous content. The open graph generator tool allows you to customize this information. Although there is a limit of characters in every line still you have a chance to provide better exposure to the product or service. With this tool, your shared links on Facebook will appear more appealing to click on as compared to the competitors.
2. Generating more traffic and conversion
The objective of every marketing practice is to generate maximum possible traffic and conversions. This is only possible if you have an impressive framework of marketing campaigning execution. The open graph generating is an integral part of social media campaigning. If there are the eye-catching title and description of the website mentioned on social media, potential customers will surely attract towards it.
A shared link of a domain on social media must go viral if you want to generate the expected amount of traffic. If you don't generate new og: tags, the default information that displays on the search engine will appear on social media too. With such kind of boring content, you cannot expect a higher number of clicks. Therefore, the social marketer must pay special attention to customizing the information while creating open graph tags.
3. Update convenience according to the latest trends
you cannot keep on posting the same information every time during different marketing campaigns on social media. The trends on social media are dynamically keeping on changing. If you are not updating the information on titles and descriptions, the traffic generated from social media platforms will start decreasing. The open graph generator tool always keeps you up to date with the latest trends in social media marketing. Whenever it is necessary, you can remove the old one and add a new set of og: tags in the HTML file. Digital marketing is all about the right use of words in the right place.
Importance of Open Graph Generator tool
1. Generate tags accurately
The og: tags are actually considered as HTML content it that you need to paste in the source code file. It is also possible to create these tags manually but there is a risk of human errors. A little bit of mistake in using special characters while creating meta tags will result in an error. Consequently, the desired information will not appear as you are expecting on social media. In the open graph generator tool, you just need to fill the online form that needs some basic information about your website. As you describe the entire information, the og: tags will be automatically generated.
2. Allow you to customize without interfering with search engine parameters
There is no need to interfere with the meta tags and meta descriptions that you need for a better ranking on the search engine. The open graph generator tool creates new tags that are only compatible with social media platforms. With this tool, you can keep separate identities for both social media and search engine profile. If you have recently customized some information on the website and want to display it on the link shared on social media, generate open graph tag and update them on the HTML content of a webpage. In other words, it allows you to make essential customizations whenever needed.
Advantages of Open Graph Generator
Every single promotional activity on social media matters a lot when it comes to generating traffic. The open graph generator enables you to customize the information on the shared link whenever needed. It gives a unique identity to the website on social media without interfering with Search engine optimization activities.
Other Seo Tools: Open Graph Tester Twitter Card Generator