Link Analyzer Tool
Enter a URL
What is Link Analyzer Tool?
Link analyzer tool is an online utility which facilitates to analyze the overall link profile as compared to the competitors. In fact, the tool also finds the web page sources which will be good to create links. And the links with good content sends a hefty flood of high-value traffic that you look for. Hence, free link analyses tools are of great significance.
How Link Analyzer Tool Helps Improving Search Ranking?
Link analyzer tool is an important aspect of search engine optimization. The tool allows individuals to keep track of every link of their website. Hence, using the free link analyzer tool one can analyze both internal as well as external links relevant to their site.
Moreover, the link analyzer tool provides the URLs, anchor text as well as no-follow information for every found link. Individual needs to be sure about the overall number of links that are directed and/or linked to the website.
There are a lot of SEO link analyzer tools present over the Internet. Every tool has its own functionality and requirements. In this article, individual will get an idea of how these tools work and what are the benefits of using the link analyzer tools. Let's take a deep dive and know in details about link analyzer tools.
Why do we need Link Analyzer tool?
The link analyzer helps individuals in finding the ratio between inner links and outgoing links for a particular domain. Typically, numerous outgoing links can be unhealthy for a websites search performance. There are a lot of factors however it's often sensible to abstain from a huge number of external links compared to inner links.
The tool is particularly helpful for scrutinizing other websites that link to the individual's website. It gives information on the anchor text being utilized and no-follow tags which can impact the potency of a back-link.
Importance of Link Analyzer tool
Various available free link analysis tools generate a thorough link analysis result so that webmasters or SEO expert can effortlessly assess the external and internal links to a definite domain. Furthermore, it is helpful for webmasters in scrutinizing other sites that are connecting to their websites. Individuals can utilize the link analyses tools in a very smart way.
These days a lot of digital marketers are making money by providing a complete link analysis reports for their clients. Whether you are working on the most recent Penguin update, the link analyzer tool made the analysis process smooth.
Link analyzer tool is free to link analysis software or program. The tool performs a comprehensive analysis of a given webpage and returns a list of links along with a links related anchor text.
Whether anybody wants to perform frequent link audit, the link analyzer tool analyzes allow you to review the links and figure out the bad links. There are a lot of free as well as paid link analyzer tools that you can use.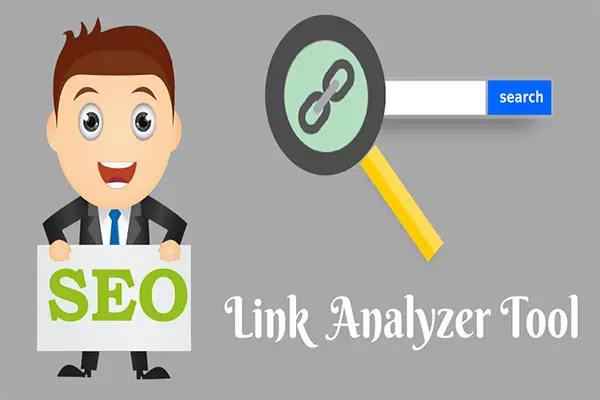 How does the Link Analyzer tool work? How to use it?
The link analyzer tool can be utilized in the analysis for links of only one web page at a time. In fact, there is a need for an audit in order to do a deep analysis for individual page separately. For every link that tool finds, it endows with URLs, source code, and other relevant information. Moreover, the link analyzer tool divides the incoming and outgoing links into any URL. Here how does link analyzer tool works for on-site and off-site analysis:
On-Site link analysis – How many types of on-site links are there on a website? One will be surprised when come to know different ways of categorizing internal links.
For instance, people speak about incidental links which are the links to incidental pages such as "Contact Us", "About Us" etc. The logical SEO audit or site review makes at least a fast examination of on-site links. Actually, the on-site linkage is the key element of any site. This is because badly placed links, hidden links, deceptive links etc. can create chaos for the crawlers and user.
Search engine optimizers should spend more time inspecting the on-site links as compared to the off-site links. However, you must not totally throw off-site link analysis out the door.
Internal links mean connecting all the pages within your website to make a proper hierarchy structure of the website. Visit for more information for Internal Links
Off-Site link analysis – When the competitors are busy in doing the competitive link research, one should look at the links on other sites for a variety of reasons. For example, if an individual is trying to gain links from other websites. Here are a few reasons why they would have to scrutinize the links on those websites:
To know how the site architectures are built
To know where the external links are pointing
To know if they are doing unintelligent things like no following those links or obscuring outbound links.
Thinking how to use the link analyzer tool? No worries! Here, one will get to know how they can use the link analyzer tool. There is a need to enter the URL of a web page which one wants to analyze. And also select the type of links you want to inspect such as internal link, external link or both.
External links- external links mean getting links from other websites by anchor text because it gives a value to your site as an authority. Visit for more information For External links
No-follow links - no-follow links are same as external links but it does not follow your site as a quality backlink.
In fact, one will also get a box which they can check in order to show no follow links.
A list will be shown in the form of outcome which includes all the inbound, outgoing links and their associated anchor text as well. If hyperlinked images are available on the page, them alt attribute of those images will be displayed as the anchor text.
A thing to remember, some link analysis tool only permits to examine the links of a single page at a given time. It is ideal for an in-depth link assess or review audit to scrutinize the entire web pages independently rather than just the homepage of a site.
Advantages of Link Analyzer tool
Link analyzer tool allows individuals (website owner, webmasters or SEO professionals) to keep track of all the links of their site. The tool can analyze internal, external, do follow and no follow links of the website. Actually, the purpose of the link analyzer tool is to allow website owners, SEO professionals and webmasters to scrutinize all the links on a particular website. As a result, it shows a table of internal as well as external links of a site.
A link analyzer tool is used to determine any hidden link or spam link of a website. Along with this, the tool also displays which particular website is transferring traffic or back-links.
The tool also emphasis on significant web pages and improve the other link in order to get a top page ranking in various search engines. A website search engine ranking exceedingly depends on both the quantity as well as the quality of incoming links.
It is essential for individuals to check the competition, create a website for optimization. Also, there is a need to improve the traffic by evaluating the link building techniques that are used by the challengers. The link analyzer tool will be of great help in order to provide a better and reliable back-link scrutiny report for a website.
Analyzing your links is very important for both search engine and users to know about your pages. The crawler tries to identify the links present in your site to index remaining pages if the interlinking is not optimized properly search engines may not identify your remaining pages and index properly. Along with interlink, you can find external links and no follow links pointing to your site by the help of this tool.
The main purpose of this tool is to scan all terms of links against competitors and improve your rankings.
Link analyzer tool analyses your site how many internal links, external links, and no-follow links to your website. To know how to use the tool URL and click the submit button, It shows the complete data of your site with internal links, external links and no-follow links
Conclusion
Search engine ranking of a web page has a great impact on a website. And the performance is measured using different parameters that only Google knows. Hence, it is always essential not to have a bad link free website as it will help rank good on search engine result pages. Using link analysis tools is the best way for businesses (struggling with search engine optimization) to improve search ranking through competitive analysis.
There are a lot of online link analyzer tools available online that help in identifying if any web page has broken links. If you want to stay ahead of your competition and improve search engine ranking, utilize the link analyzer tool.
Similar Seo Tools: Website Links Count Checker Google Index Checker