Case Converter
Case Converter online - Convert Lower Case to Upper Case
Changing lowercase and uppercase frequently is a time-consuming task and some time also confuses you. Sometimes, you forget to press shift key or caps lock. Consequently, the case alignment of words distorts and you have to struggle a lot in its correction. With advanced case converter online tool, this task becomes very convenient.
You just need to copy and paste the text in the space provided by the tool and leaves the rest of the calculation on it. A feature-rich case converter has multiple options to select that it cannot imagine in any text editor such as MS Word or Google sheets. All options that you can expect in well-designed case converter tool are mentioned below:-
1. Sentence case
The sentence case mode enables you to start every line with a capital letter. Sometimes, the capital letter is skipped because of text editing errors that result in a grammatical mistake. You can prevent such kind of silly mistakes by checking the entire text in sentence case mode. if any line starts with lowercase, it will identify and make essential corrections instantly.
2. Lowercase
If all the words are in an unorganized form, you can use a lower case option to keep them in a single format. After bringing all words to a constant level trauma it becomes convenient to convert them in further any desired case.
3. Uppercase
Sometimes, you need to highlight a piece of text through who many ways such as bold underline or capitalize the letters. When it becomes essential to write some portion of text in capital letters, you can simply put it in the converter and adjust with uppercase mode
4. Capitalized case
The capitalized case is mostly used by writers for repairing promotional content. For example, an advertisement on digital or print media needs to be impressive enough for drawing the attention of the crowd. By capitalizing and using designer fonts, the text becomes attractive enough to serve the purpose.
5. Alternating case
In alternating case, the first letter starts with lowercase second upper, third lower & fourth again upper. This sequence continuous in the entire content whether you are writing a single line or complete paragraph. It is a fancy kissing style mostly used by people to post text material on social media websites.
How does the Case Converter tool work?
using a case converter tool is very convenient if you have just a little bit knowledge of operating an internet browser. Read the following points SBR mentioning stepwise.
Search case converter tool on your web browser that will reflect the list of multiple websites for the same purpose. choose a website which is offering maximum possible options as mentioned above.
Now open the text editor where your content exists. Select and copy the piece of text content that you need to convert.
Paste it in the blank space available for conversion. Below that's blank space, you will find all conversion options such as uppercase, sentence case, title case or inverse case etc. Click any of these options and the entire text will be converted accordingly.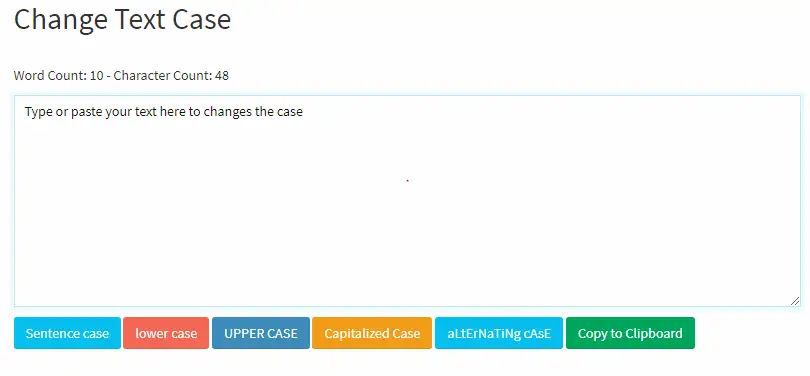 Case Converter tool - A convenient way for attractive text preparation
While doing a professional task on the World Wide Web, you need to take care of the smallest details. No matter whether it is regarding Search engine optimization, web development or content writing every single aspect is important because it plays an important role in the ranking of a website. More detail in work means more chances of committing mistakes.
The HTML coding and plain text writing or two major areas that you need to focus on. The modern HTML text editors are coming with advanced options of auto-filling commands. It reduces the risk of errors. However, the complications with content writing are much higher because there is not a particular preloaded command that you can implement with just a single click.
For the corrections in plain text, you need various kinds of tools including grammar checkers and cash converters. Don't you feel any inconvenience in changing the cast of characters while typing such as an upper case, lower case, sentence case and title case? Yes, it is really struggling because sometimes we commit a lot of mistakes.
Mostly, the errors occur when you need to mention some special words such as location names, scientific on mathematical terms. Some advanced quality converter tools are available online to simplify why this struggle.
Why do we need the Case Converter tool?
Case converter tool is useful for many purposes whether it is regarding a formal content or casual. The main purpose of this tool is to bring uniformity in the entire text which is selected. some reasons are mentioned below that will help you in understanding why do we need a case converter tool.
1. Checking perfection in an official document
While writing an official document, you need to be a hundred percent sure about its perfection. The grammar checker tool may alert you with sentence case errors but not all cases. For customizing the text according to a particular purpose, you need to check it with the case converter tool.
2. Preparing engaging content for a website promotion
In the digital marketing world, you need to illustrate text material in multiple forms. Upper case, lower case, title case, inverse case, capitalized and alternating case has a great significance.
You just need adequate knowledge to make use of these features at the right place. For instance, title case and sentence case is essential for writing an article whereas inverse for capitalized case watch perfectly in advertisements.
3. Seeking attention on social media
Social media of current times to become one of the biggest influencers. sellers can find potential customers of every age group on social media platforms. All they need is something to draw attention. Here comes the role of the case converter tool.
Not only for professional purpose but the case converter is also so helpful in preparing attractive personal statuses and posts. You must have seen many people mentioning their bio with the help of inverse case letters and emojis.
Importance of Case Converter tool
When it comes to productivity, the case converter tool is most useful for content writers. They have to prepare both informative and promotional content for various purposes. According to the demand of the client, they can easily customize the appearance of text material. Along with engaging information, an influential way of presenting the text is also important to consider.
Advantages of Case Converter
From the above information, it is clear that a case converter has grade significance, especially in the digital world. For marketing purposes, we need different kinds of strategies. Sometimes an attractive font for case sensitive letters in an advertisement becomes the reason of influencing potential customers. Similarly, it is also useful in communicating formally without committing any writing error.
Other Seo Tools: Grammar Checker Code to text Ratio Advanced Word Counter