Online HTML Decoder
What is Online Html Decoder?
The encoded HTML text is suitable for browser in order to display a web page without errors and special characters interference. Sometimes, we need to reverse this coding which is only for capable with the help of online HTML decoder tool. The process of the decoder is also exactly like encoder. When you enter the encoder text in its input section, the bots scroll throughout the text and smartly identify which character was encoded.
It is completely free of cost to use. For understanding the significance of an online HTML decoder, this tool is helpful. Once you click on the decode button from it automatically convert all those characters back to the original format.
While encoding or decoding, human error is one of the biggest issues that almost every developer faces.  This automatic tool is the only way to avoid such kind of error. You can easily find this recording tool on various websites.
Online Html Decoder Significance for Web Developers
HTML source code is the backbone of every website because it is responsible for whatever you are seeing in the frontend. The ultimate objective of every web developer is to provide a user interface where visitors can easily navigate through all functions. Also, they enrich the website user experience by adding relevant text, videos, and various other graphical representations.
For the right placement of every object and its fluent working, it is important to maintain perfection in the source code. Even after executing a code perfectly, it is also important to encode it for the convenience of the browser. There are some special characters such as <, >, & that need encoding otherwise they are there exactly as in the source code.
There are online tools for encoding all these characters. You just copy and paste in the input section and the encoded text will appear in the output section. After encoding, the code is ready to deploy on the server for running a particular web page.
Have you ever thought, what if we need the original source code again for any purpose? How to convert the encoded characters into their original format? This answer is hidden in in the online HTML decoder tool. Opposite to encoding, it is capable of reversing everything that was encoded previously. for more information about this tool and its significance, you need to scroll down and read the full article.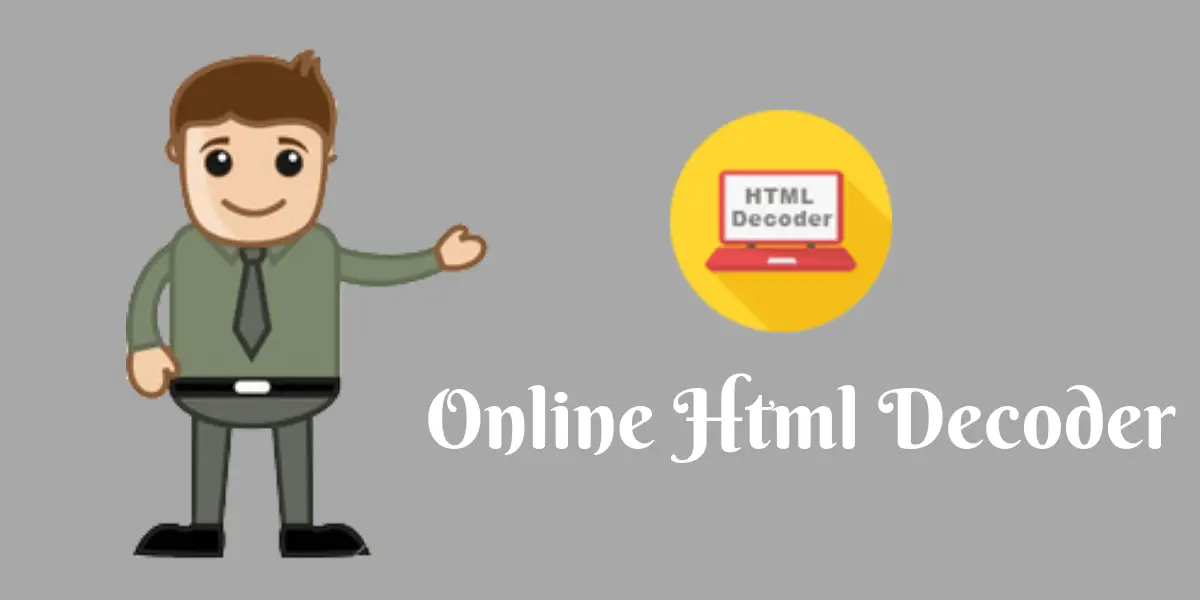 Why do we need Online Html Decoder tool?
1. Updating an old web page with new content
Running a website is a dynamic process and you always need to keep on making small or big changes. Nothing remains table whether it is designing development or marketing strategy. once the HTML code is encoded, it becomes compatible with all browsers and displays only what we want to show. The problem occurs when it becomes crucial to make some customizations on the same page.
For this purpose, you need original HTML text containing all special characters that were replaced while encoding. Here comes the role of an online HTML decoder tool. As mentioned above, it reverses all the encoding in just a few seconds.
There is no need to worry if you forgot to save the original format of HTML text on the time of deployment previously. after recording it with a dedicated tool, make essential changes and again and code it according to the browser's convenience.
2. While doing online code comparison
Are you suspecting someone for the stealing of your HTML code? If yes, the only way to identify is by using an online food comparison tool. This tool is capable of identifying every single character which is relevant to your original code. For critical examination, it is essential to keep both of the HTML text in their original form.
It is only possible with the help of online HTML decoder tool. Decode both of the HTML codes and compare them. In this way, you can be surer regarding whether the code was stolen or not. However, it is only helpful if you have not copied the source code from somewhere else.
Importance of Online Html Decoder tool
1. Preventing human errors
if you are doing the task like and coding and decoding, there are high chances of committing various errors. Even a small mistake of removing or leaving a character results in chaos on the frontend. The web developers are fully liable for any kind of inconvenience occurred to the end-user. Such kind of errors distorts the entire look of a web page.
The most convenient way to prevent such kind of mistakes is an online HTML decoder tool. It is a fully automated tool that doesn't require any kind of human effort. Just copy, paste, process data and get your decoded HTML code instantly. HTML coding is a machine language and computer system understand it better than us. This is the main reason why we need an automated tool.
2. Quick processing
Even if you attend perfection in coding and identifying the errors, the computer is way faster than human. For manual encoding and decoding 10, you need to spend hours on a single HTML document. on the other hand, the online HTML decoder tool can execute the entire task in just a few seconds.
What is the purpose of visiting time on such a lengthy process if you have an automatic tool to do it more conveniently? In every profession, time is money. Wasting your time and creativity on a useless task like manual decoding or encoding is nothing more than foolishness.
How does the Online Html Decoder tool work?
the HTML decoder is an online tool that you can avail on various websites. Unlike many other complicated tools, it is very convenient to operate. Even if you don't have any knowledge regarding HTML, all functions of this decoder tool are very easy to understand. for the first time users, we are mentioning all the steps of using this tool in detail.
Search and select "Online Html Decoder tool" from the home page. So you can view the interface & easy to operate.
when you open the website, it will display a section to input the text.
Open your web page in a new tab and press control + u. it will direct you to a new tab where HTML view of your web page will appear. Select the entire text of that page and copy it for pasting in the online tool.
Just paste the content in the input side and press the decode button. The complete decoder text will be generated in the output section. Copy it and use for editing any section of the webpage.
Advantages of Online Html Decoder
No matter how much advancement you attained by encoding the HTML code of a website. Its original code is necessary for many purposes. Trends always keep on changing such as shifting from three-dimensional to two-dimensional graphic designs, keyword stuffing to the high-quality text adding a new space for business blogs.
All these modifications require editing in the HTML code of that particular web page. Also, this is a time-saving tool that executes the commands without leaving any error like humans.
Other Seo Tools: Online Html Encoder Online Html Editor