Online Code Comparison
Diff View Type:
Master Text
Second Text
What is the Online Code Comparison?
As the name illustrates the online code comparison is a process to evaluate the difference between two source codes. You can consider it as a plagiarism checker where similarities and differences are identified precisely. However, this tool requires the web addresses of suspected competitors too.
The HTML text in source code requires a lot of time for attaining perfection. Even a single error results in inappropriate information on the web page. These are the two main reasons why most of the web developers copy the concept of others.
They just implement some new modifications according to the template theme of a website. Generally, your rivals do it because they are following your every single activity that helps in achieving success.
If you have a better ranking, they will follow every single strategy whether it is regarding marketing all designing. Whenever you suspect somebody is source code from your web pages, use the online code comparison tool to confirm. Some tools ask you to enter the URLs of both web pages and some allow you to paste the HTML text.
While comparing the codes, it includes every single detail whether it is the alphabet, numeric digit, special character or white space. Below is some information signifying why do we actually need an online code comparison tool.
How does the Online Code Comparison tool work?
The online code comparison tool is very convenient to use whether you have technical skills in coding or not. Read the points below to understand how it works.
Open your web page and the webpage of other website that you are suspecting copy of the code.
Now, create another tab and search for online code comparison tools. Select any website in the available list that is serving your purpose.
Press Ctrl + U & a new tab will open containing the entire code of that page. Copy it & paste in first space available in the tool. Repeat the same process with the suspected page and paste it in the second space available in the tool. In some tools, you just need to enter the URLs of both pages.
Click on "Compare content" and entire results will appear on your screen.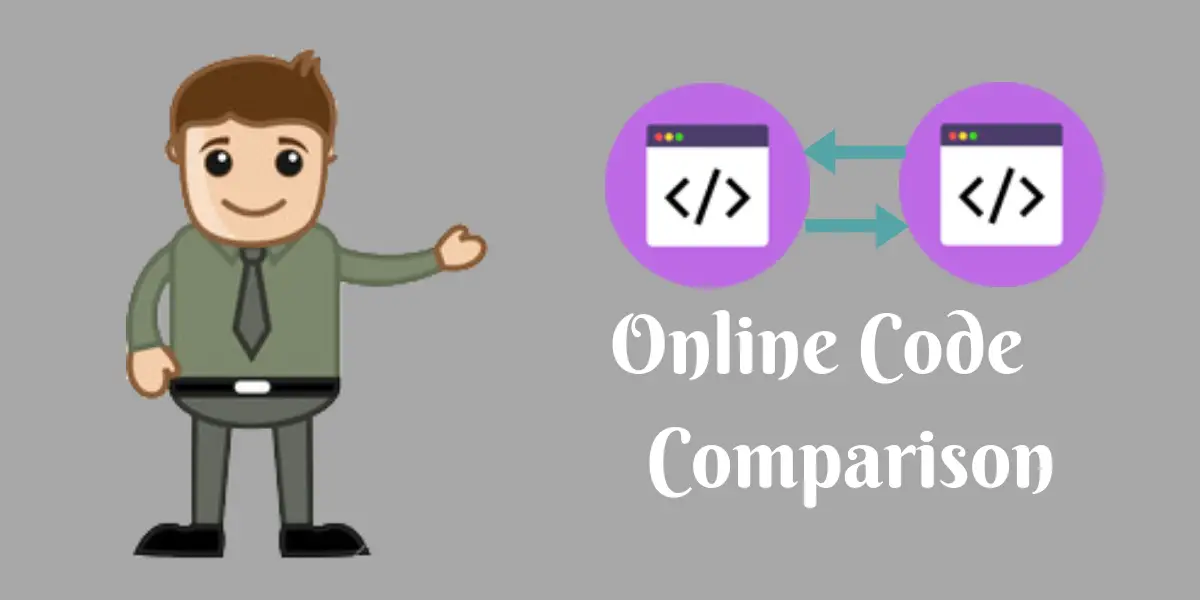 Understanding Online Code Comparison tool & it's functioning
Stealing other's Ideas and using it with our own name by improvising a little bit has become the trend of the online world. You can see videos, graphics, text content and audio files copied from their original sources, modified and published with a new name. For countering all these piracies, different kinds of techniques are also available to utilize.
You just need the right tool and technique to obtain results as per expectation. Some browser plugins are available nowadays online that can help in identifying the source of a video or image. Similarly, plagiarism tools are capable of in text content. All of them come in notice because they are the front end contents.
It is easy to identify if the content is clearly displaying on the end user's screen. Have you ever imagined how to identify if your web page source code is stolen by someone? A website developer invests numerous or in the perfection of a particular web page. If hard work is stolen by someone, it becomes essential to identify piracy.
Every browser has shortcut keys for other manual functions to open the source code of a particular page. One can easily copy the entire code from here and paste it in his / her on the website.If you suspect someone stealing your concept in his / her webpage from you can identify it confirm it with the help of an online code comparison tool. Scroll down to gain complete information about this tool.
Why do we need an Online Code Comparison tool?
The online code comparison tool is meant for checking the duplicates in HTML text content. With the right technique of using, you can utilize for various purposes as mentioned below.
1. Claiming your right to a source code
If you believe that the HTML code of a website is 100% original, nobody has the right to use it without your permission. Whenever you suspect someone using your source code in his / her website, immediately execute an online code comparison test.
It will instantly identify the similarities and tell you whether the source code is fully/partially copied or not. Just write the copyrights of multimedia and text material, the source codes of the website also belong to a rightful owner only.
If someone is stealing your code, just want them to remove it. In case of not obeying your warning, you have the option to file a complaint against them. the online code comparison tool can be utilized as a reliable evidence checker in that case. Before filing a case, you need to confirm the duplicates in two or three different tools.
2. Identifying the difference  in students projects
It is generally seen that most of the projects in schools and colleges are copied. Sometimes students copy these projects from their classmates and sometimes from the internet. With this tool, identifying online cheating has become very convenient.
As a teacher, you may have knowledge regarding all possible websites from where the source code can be cheated. Compare the projects of students with these webpages to confirm that it is 100% original.
Not only the teachers but students can also use this tool for making essential modifications. If they are using a source code of already existing web page to create their project, it needs to be fully modified. By comparing at the online tool, one can confirm that it is no more identical to the original one.
Importance of Online Code Comparison tool
1. SEO Professionals
The SEO professionals always need to stay one or two steps ahead from their competitors. The strategies of marketing and the interface of the website play key roles in achieving the objectives.
Apart from Search engine optimization work, the SEO professionals also must have adequate knowledge regarding the strategies of their competitors. If the notice similar transformation in the website of a competitor, it becomes essential to compare the codes.
2. Web developer
A web developer puts all his efforts to create a masterpiece webpage including all expected features of the client. If someone is just copying and pasting it on his website with slight changes, this is clearly considered as stealing. The website developers must keep an eye on all potential competitors who are suspected of copying the strategies. Whether it is the source code, SEO activities for the text content, everything is traceable by other users.
3. Website owners
If you are the website owner, the source code also belongs to you. after paying a certain amount to the website designer and developer, their Idea becomes your property. It is also your duty to go through the websites of competitors on a regular basis. if any kind of similarity is visible on their web pages, immediately compare the source codes online.
Advantages of Online Code Comparison
The online code comparison is a reliable technique to identify the similarities into web pages. before considering it an evident proof, it is advisable to compare the same source codes in two or three different websites.
Other SEO Tools: HTML Compression Tool  Code to Text Ratio