Online HTML Encoder
What is Online Html Encoder?
As you know that encoding is necessary for an HTML content before updating it on the browser. If you do this task manually, it will consume a lot of time. Also, there are possibilities of committing error by leaving some spaces where encoding is necessary. The only solution to this problem is an online HTML encoder tool.
In short, the ultimate objective of an online HTML encoder tool is to provide a seamless experience for end-users while browsing the internet. This is not a difficult task and also don't require any special skills. Just copy, paste, process and it's done. This tool is an integral part of every web development. For more information about why do we need it, read below.
This is an automatic tool that detects every special character and replaces it with a particular "escape sequence" of characters that are well known to the browser. There is no need to identify every character manually because this tool detects everything once you enter the HTML code.
Online Html Encoder to create clean web pages for end-user
What are the building blocks of a website? The HTML code, graphics, and server connection. Some components of a website are visible on the screen whereas others work behind the screen. These are classified into two categories i.e. frontend and backend. The front end is the part that we see on our screen as an end-user.
It may contain various graphics, text content, video links, online forms, and animated objects. Everything is well organized to attract users to remain on the website for a long time and visit again. For organizing all of this perfectly, the HTML code at their back and must be perfectly customized.
Uses expect a plane interface while browsing a website. the interference of special characters ruins their experience which further results in a higher bounce rate. Even after doing every SEO activity perfectly to achieve ranking, the visitors will not stay for longer. Therefore, it is advisable for every web developer to process the HTML content with an encoder tool before putting it on the website server.
This process involves the replacement of some characters that the browser can easily identify and hide while displaying the frontend website. For more details about this process of encoding, you need to scroll down.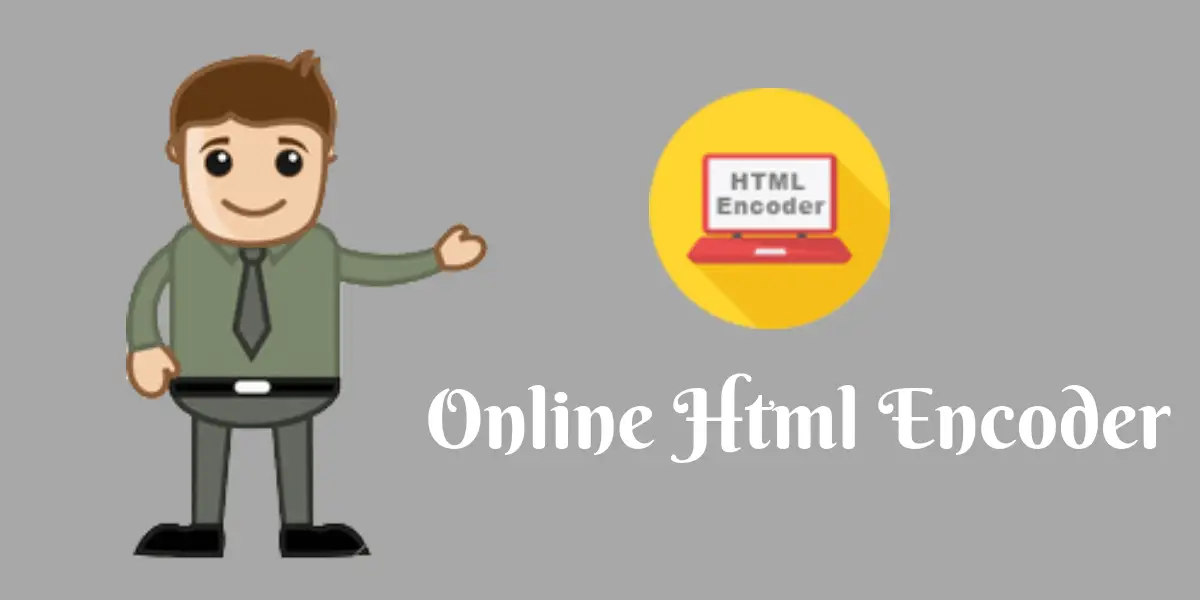 Why do we need Online Html Encoder tool?
1. Maintain and improve the user experience
As mentioned above, some final objective of every web development is to satisfy the end uses. If the front end interface of the website is occupied with special characters of HTML, the user will see it in the form of characters like brackets & inverted commas. Such kinds of character some time confused people who are browsing your website. Moreover, it is about the quality maintenance of a website.
The HTML commands are accountable for managing all the components on the front end. however, these commands contain various special characters that you will not want on the screen while surfing the internet. HTML encoding is the only way to display the text accurately on browser. 
2. Guiding search engine crawlers conveniently
It is necessary for search engine bots to crawl across a web page for better indexing. The interference of special characters ruins the end-user experience. Any kind of difficulty in crawling can be harmful to your website. It is advisable to keep its interface clean with the help of an HTML encoder tool. These crawlers are capable of identifying the characters perfectly compatible with browsers.
3. Beneficial for Search engine optimization
While optimizing content for marketing purposes, the SEO experts need to keep it as per search engine expectations. If the search engine identifies interference of back and HTML with the front end, it will consider your web page in the early optimized content. Consequently, your marketing strategies will fail to deliver the expected results.
Replacement of old content with a new one on web pages is a dynamic process. Every time you refresh the content, it becomes essential to optimize according to the parameters of the search engine. any kind of disturbance in user experience is not tolerated. This is the main reason why online HTML encoder tool has become the crucial requirement of current times.
Importance of Online Html Encoder tool
1. Web developer
The online HTML encoder tool comprises a lot of benefits to web developers. These are the professionals assigned with the responsibility of producing a user-friendly interface. They use HTML coding to decide the placement of every single constituent on a webpage. If the web developer is not preventing special characters to appear on the front end screen, all strategies of achieving a particular goal will go worthless.
This is an online tool works with the help of smart bots. the crawlers of this tool go through the entire HTML content and automatically identify its special characters that will interfere on the front end. This entire process requires just a few seconds for execution. Thus, it saves a lot of time that can be utilized for various other creative tasks.
2. Website owner
The website owner may not be aware of HTML coding process but the quality of user experience affect their business. If you are the owner of a website seeing any kind of HTML code interference on the front and screen, immediately contact the web developer. No user love to explore a website that contains weird command language along with text content.
When the special characters of HTML are replaced, users seamlessly go through the entire page to obtain the desired information. An attractive interface along with meaningful content increases the engagement of end-users for a long time.
How does the Online Html Encoder tool work?
you must be wondering to know the working process of this awesome tool. There is no need to attain special skills. However, you need the answers of the webmaster tool for replacing the processed content with the old one. Here is the complete process of using this encoding tool.
First, visit our HTML encoding tools page.
Choose among the topmost ranking websites that have a friendly user interface and capability of processing the entire HTML source code.
When you open a website, blank space will appear where you need to input the HTML text. Open your web page in a new tab and press Ctrl+U. Its HTML source code will appear in the next tab.
Copy the entire text and paste it in HTML encoder tool. Click on the encoder button and your entire text will be processed in just a few seconds.
Advantages of Online Html Encoder Tool
The online HTML encoder is a time-saver tool that also and sure 100% accuracy while encoding. The competition among online is rising much higher as compared to the offline businesses. Every day, new techniques are coming to existence for attracting maximum possible users. HTML encoding is a basic requirement that every web developer needs to maintain the utmost user experience. This tool ensures the ease of browsing conveniently without encountering with the special characters of HTML codes.
Other Seo Tools: Source Code Viewer Online Html Editor