Twitter Card Generator
Code
Copy your code.
<meta name="twitter:card" content="">
<meta name="twitter:site" content="">
<meta name="twitter:description" content="">
<meta name="twitter:app:name:iphone" content="">
<meta name="twitter:app:id:iphone" content="">
<meta name="twitter:app:name:ipad" content="">
<meta name="twitter:app:id:ipad" content="">
<meta name="twitter:app:name:googleplay" content="">
<meta name="twitter:app:id:googleplay" content="">
What is a Twitter Card Generator?
There was a time when users were allowed to write the entire information in just 140 characters. In this Limited space, they had to explain every single detail smartly with minimum possible words. However, the number of Twitter followers increased abruptly and they started demanding more space. Consequently, the developers of Twitter increased word limit to 240 characters. Still, something was missing from Twitter and it was the feature of adding multimedia content. After the introduction of Twitter cards, it becomes possible and now everyone is using this card for sharing crucial information.
Currently, every small and big celebrity, business and politician communicating with the rest of the world through Twitter. Thus, it has become a very influential platform. For utilizing it completely, you must need the knowledge of generating Twitter cards. Some websites are providing a Twitter card generator where you can create a card for various purposes such as product promotion application promotion or the promotion of a person. Some points in the below article will educate you with complete information regarding its significance.
How does the Twitter Card Generator tool work?
You need a little bit of technical knowledge to embed a twitter card with your online portal. This tool generates a text containing a meta tag that is interested in the source code of a website. Scroll down to understand its working in detail.
Search twitter card generator tool in your browser and open topmost two or three websites. Select any of them where you will get an online form to fill up.
Twitter allows you to generate the card of five different types which are an app, product, player, summary & summary with a large image.
After selecting, you need to enter the details such as site username, app name, iPhone app ID and Google play app ID, etc. Fill the information that seems necessary and leave the rest of the columns.
select your app country and write the description in 280 words. the code will be automatically generated that you need to copy in the clipboard and paste in the source code of the website with the help of a webmaster tool.
Once it is integrated, you can use it anytime for posting new tweets.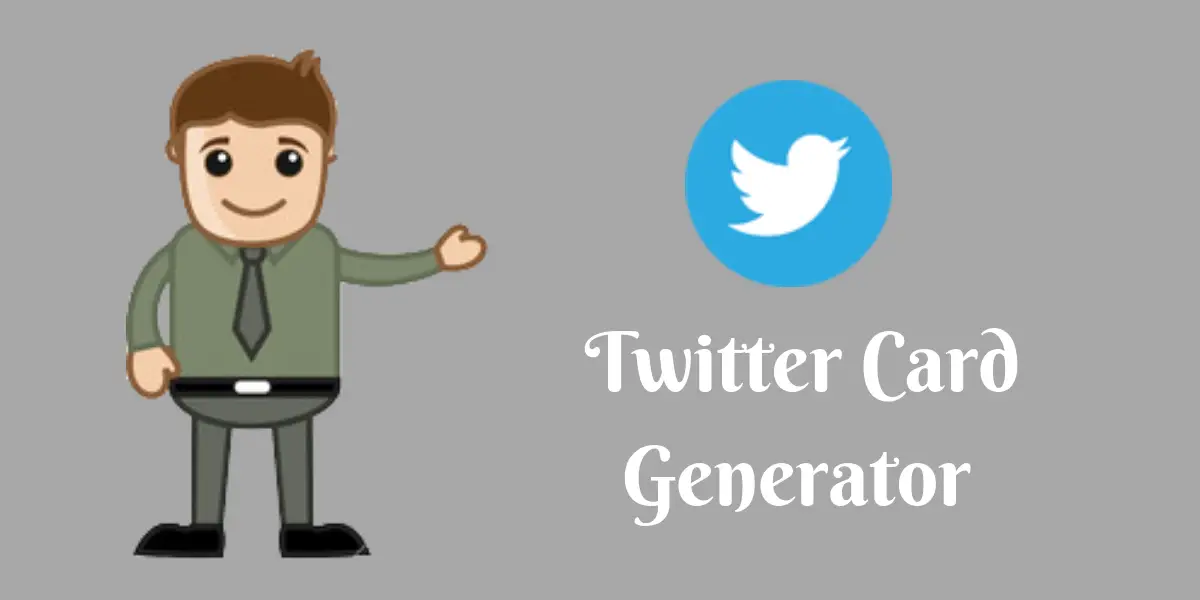 Making Right Use of Twitter Card Generator Tool
Advanced ways for the ease of communication are opening countless new doors for marketing strategies. In this digitally dominated world, social media is the biggest influencer. whether it is regarding the promotion of a person or a business, social media is currently playing a major role in manipulating the mindset of people. It is nearly impossible that a person using the internet has nothing to do with social media.
Advanced technologies like artificial intelligence and machine learning have made the internet very convenient for people of every age group. You don't even have to be an educated person for using the functions on a smartphone to communicate with the rest of the world. Currently, Facebook and Twitter are the two biggest influencers in the world of social media. Whether you want to share your personal or public life events, these platforms provide you adequate space for expressing everything.
Not only in words but you can also update information with the help of images, audio and visual content. On Facebook, it is very convenient to upload any kind of multimedia material however Twitter functioning has some different mechanism. If you want to share an audio or visual content, it is important to generate a twitter card. In the article below, you will come to know how it works and what is its significance in the modern world.
Why do we need Twitter Card Generator tool?
1. Promoting any kind of product or service
whether you are selling a product or a service online, it becomes essential to promote it on all possible means of advertisement. Social media is free of cost and one of the most influential platforms that every small and big business can utilize equally. The user can select a product Twitter card by adding complete information in the online form and generate meta tags with original content. Generally, most of the companies use this feature for creating a sensation before releasing their products or services. A well-designed meta tag can be the most influential promotional content that can help in gaining maximum possible customers.
2. Marketing of a website or mobile application
All digital marketers are struggling with new techniques to influence internet users. Currently, the market of websites and mobile applications marketing is inflating at a rapid speed. The Twitter card is not new but has become an integral part of social media marketing. a text content delivery nothing until it is not equipped with attractive graphics for videos. Twitter is providing the facilities of attaching cards. If you are not paying attention to utilize them properly, competitors will surely surpass you in the race of marketing.
3. Influencing followers towards your opinion
With continuous utilization of Twitter for commercial purposes, we are gradually forgetting its basic use. Twitter is a platform to express your views that may influence millions of people. this is the main reason why most of the celebrities and politicians always keep on posting their daily life activities and views on Twitter. A post on Twitter is not considered as an official statement of a person but clearly illustrates his / her perspective. For influencing the twitter followers in an interesting way, everyone needs a twitter card generator tool. Space of 280 characters containing impressive words and multimedia content is capable of influencing billions of people at a time.
Importance of Twitter Card Generator tool
1. From the perspective of digital marketing
If you consider the importance of Twitter card generator from the perspective of digital marketing, there is a broad scope comprising countless possibilities. Every small and big business has its Twitter handle to share all essential information publicly. Even if you don't have an adequate number of followers, the Twitter account acts as a digital identity of the business.
It creates strong footprints on the world wide web. When someone searches for a business on the internet. Its social media accounts including Twitter, Facebook and LinkedIn also appear in the search engine ranking list along with the official website. Increasing footprints on the internet also increase the credibility of business among people.
2. From the perspective of an influential approach
For influencing large criteria of people, you need a broad platform where maximum possible relevant people are available. Nowadays, every random internet user belongs to different ethnic races, countries & religions is available on social media to communicate. Before starting and influencing campaigning, marketers just need to find particular criteria to target.
The political leaders of current times are making use of this technology in the best possible ways. A person already having huge fanbase always need a platform to communicate with the followers altogether. The Twitter card generator is providing this facility in the most sophisticated way.
Advantages of Twitter Card Generator
Twitter has a huge follower base that is increasing day by day. This popularity is opening new possibilities in the world of digital marketing. If you want to influence the potential customers or clients or friends with the best possible strategy of current times, it is essential to generate Twitter cards. Before generating, always remember one thing that you can only start using twitter cards after the approval of twitter.
Other Seo Tools: Qr Code generator Disavow File Generator