Disavow File Generator
Enter all of your bad links now:
What is a Disavow File Generator Tool?
Here you will come to know about how to guide Google crawlers by excluding malicious links, so here comes the role of the Disavow file generator tool. This tool is capable of generating a file containing sitemap for Google crawler. The links you instruct in this file will be automatically ignored by bots.
In order to disavow bad backlinks, then you need Disavow file generator tool. You must have heard about Google crawler that crawls all over your website to collect the information. The information collected by dashboard crawlers is used to index your website on the search engine. Whether it is plain text, backlinks or multimedia material, crawler inspect everything thoroughly to classify a website category and index it.
High-quality content reputed backlinks, the right use of keywords, meta descriptions and meta tags are some of the major factors affecting your ranking. Here, we're talking about backlinks because they are the building blocks of every SEO project. Backlink means a link of your page available on other websites pointing towards yours.
In simple words, it means online portals that are referring to your link on their pages. The more backlinking means a higher reputation on the World Wide Web. However, all backlinks are not good. If your backlink is on a malicious website where thin content, overstuffing of a word, and malware is present, Google will consider it a black hat SEO activity.
Disavow File Generator for a healthy backlink of your website
Backlinking, meta tags, meta description URL structuring, image SEO, sharing, forum commenting and long-tail keywords are some of the most common activities in this process. All of these activities are divided into categories on-page and off-page SEO.
Search engine optimization is the primary need of every website because it needs to be stable on a ranking for a long duration. For short term and success, it's OK to seek help from pay per click but these results last only until your account has money to spend. Search engine optimization is a collaborative approach of multiple tools and strategies to bring a website on the topmost search engine results.
In this section, you are going to understand the significance of backlink and how you can direct the Google crawler towards a particular link. There may be some malicious links directing to your website. If Google crawler identifies them, it will imply a huge negative impact on the ranking. The disavow file generator tool is a reliable solution to this problem. Scroll down to know how it works and why do we need it?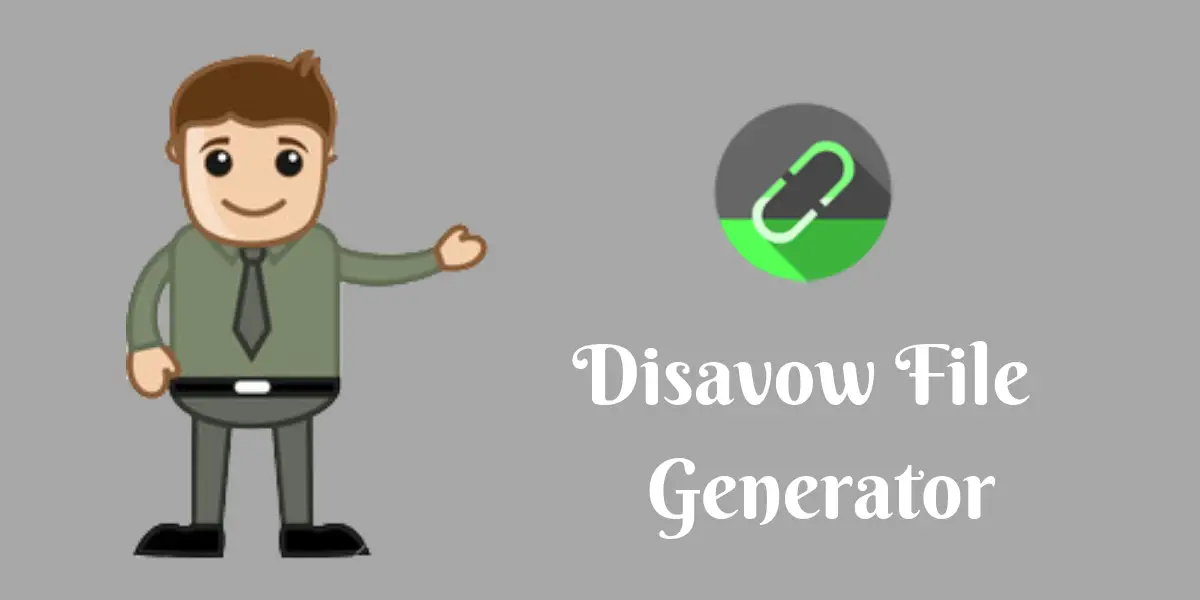 Why do we need a Disavow File Generator tool?
1. Protecting your website from negative indexing
If the backlink of a website is present on a malicious online portal, Google crawler will immediately identify it. If the backlink is generated from a site contains inferior quality content, malware or anything that represents black hat, your website will suffer a lot. Google will red flag your website as indulging in unethical activities to improve the ranking.
Such kind of unethical behavior is not tolerated by the search engine. Consequently, you will notice a huge downfall in the ranking of the website.
A Disavow file generator tool prevents your website from such kind of negative impacts. It generates a file that you can use as a webmaster to guide the crawlers. while going through the content of your website, they will ignore what you are expecting in this file.
2. Prevention from negative SEO attack
The modern world has modern problems and negative SEO attack is one of them. it is possible that somebody else is doing SEO for your website. However, it is not the way you want it to index your website. Some competitors intentionally create websites containing malware threats and other unethical things.
On this portal, they create backlink pointing towards your website without letting you know. You may not be aware of this activity but Google crawlers will surely identify.
For tackling this problem, you continuously need to use a backlink checker tool. It will help in identifying the website where your links are available. If the backlinking is done without informing you, consider it as a potential threat.
You need to report it at the Google server and also take immediate steps to prevent any kind of ranking damage. The Disavow file generator tool can help in taking immediate actions. Copy the links of websites that are out of your knowledge and add them in disavow file.
Importance of Disavow File Generator tool
The objective of every digital marketing activity is obtaining a better rank for the website or a particular web page. Marketers invest heavily in buying backlinks from reputed websites. Sometimes, they also purchase low-quality links at a cheaper price which costs them later with negative ranking.
Always remember that the low-quality links are the biggest drawbacks for your website. Intentionally or unintentionally, many marketers commit this mistake and it results in a sudden downfall of your ranking. With poor quality links, you will notice a significant upsurge in ranking for a few days until the crawler is not detecting. Once the box of Google goes through this unethical activity, you will have to face big trouble.
Search engine optimization is a collaboration of years of hard work. Not a single person, but it comprises the efforts of the entire team. With poor backlinks, the hard work of months or years will go worthless in just a few seconds.
You can contact the owner of the website to remove the backlink but it is not sure that they will respond back or not. It would be better to do something from your side rather than depending on others. Create a disavow file containing all four links and use the webmaster tool to compile it with your website.
How does the Disavow File Generator tool work?
if you want to make use a Disavow file generator tool, it is important to have the process to webmaster tool. in the points mentioned below, you will come to know about how to generate the file.
Search disavow file generator tools in your search engine which are abundantly available on various online SEO tools websites.
Open some high ranking websites in the new tabs and check which interface suits best according to your use.
Prepare a list of all websites that you suspect for malicious backlinking. This tool allows you to add multiple links at a time.
copy all of them and paste in the blank space available on the website.
Just click on "create Disavow file". The file will be created within just a few seconds and automatically downloaded too.
Open the Google webmaster tool and add this file where Disavow links option is available.
Advantages of Disavow File Generator
The disavow file generator tool has a great significance in the digital marketing world. Sooner or later, poor backlinks are surely going to you ruin your ranking on the search engine. Whether you have added them intentionally or unintentionally, it is important to remove or hide the links.
Without a disavow file generator tool, you cannot instructor Google crawler for exclusion or inclusion of a particular link. If you want to maintain the ranking in a good position despite poor backlinks, this is the only tool to seek help.
Other Seo Tools: Backlink Checker Link Analyzer