Online HTML Compressor
Enter your HTML code to compress:
Add up to 10 multiple HTML files (Size Limit: 2MB per file)
What is Online Html Compressor?
Online HTML Compressor is an online software tool that reduces the size of HTML webpages by removing some information including the whitespace characters, blank space, text line from codes, and quotation marks. HTML Compressor tool is mainly designed to help you compress HTML tags while running a website or any web service.
Online HTML Compressor is a process to minimize Html code to a smaller size, but when it comes to the development of a website every developer focuses on improving the efficiency of the code. It can be HTML, JAVA, CSS or PHP, etc depending on the requirement of a particular website and its different sections. Coding is one of the most complex parts of website formation but also the most crucial.
The entire coding is done in order to provide the best user experience to an end-user. All commercial websites are meant for engaging maximum traffic. People will visit again if all functions of a website are properly working and its interface is embellished with attractive animating slides. Behind a perfectly working front end, there is a complex structure of back end coding done in HTML language.
Importance of Online Html compressor tool
The online HTML compressor is an important tool comprising amazing features that facilitate both web developers and SEO experts. If someone is noticing the speed or errors issue on a website, they can examine its HTML files and compress them down.
This is a smart tool that read the file, identifies & removes the repeated line breaks, remove white invisible space, tabs, and other unnecessary things that are increasing the code size of a website.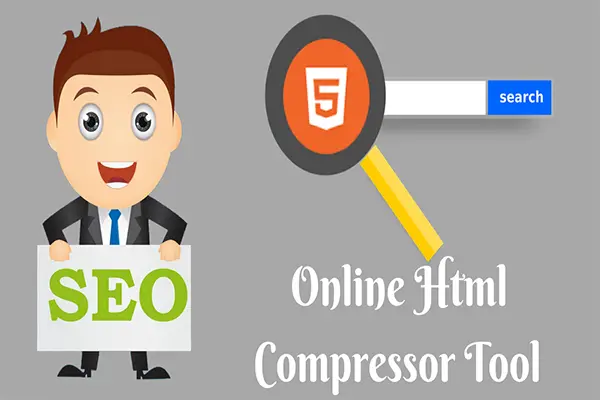 Online HTML Compressor and Its Significance
HTML coding is one of the basic requirements of every website or you can also consider it as building blocks. Whatever you see smoothly running on the front end is the result of complicated codes assigned at the back end.
The website developer's team use HTML commands for every small and big function showing on the website but it is possible that some flaws remain behind because of the extra space remaining behind or repetitive codes. It is very difficult to check for errors manually because it is a very time-consuming process.
Also, you cannot identify and rectify all errors which are the reason why some automated tools come to existence. Right now, we have an online HTML compressor tool to perform this task without requiring any human efforts. You just need to copy the code and past it in the blank space provided by a tool's interface.
The size of this coding may increase beyond the ideal limit and results in slow loading speed. For a fluently running website, it is important to reduce the size of its coding files. Here comes the role of an HTML compressor tool. A list of some popular online tools is mentioned below that you need to try. Take a look
These are some online compressor tools that don't require any kind of installation. Also, they are accessible for free of cost without even signing up with a free account. Just open the tool, process your file, copy the compressed codes and utilize them in your web page. Before choosing an HTML compressor, here are some important things that you must consider in priority.
HTML files for a website are made with continuous efforts, hard work and exhausting working hours. A web developer will never want to expose his/her hard work to any random platform without knowing about the privacy terms & conditions. Read the terms of an online tool to confirm that they will not save any piece of code that you enter for compressor purpose.
The tool you prefer must provide multiple languages support including PHP scripts and HTML codes. A website needs different kinds of codings in different places. Finding a separate tool for every particular language file compressor is not a wise decision. Check the capabilities of an online tool before choosing it for HTML compressor.
The tool you are using must have a warning system to signify errors present in the HTML file. Rather than just compressing the file, the feature of errors detection helps in identifying the errors that you can remember while coding for the second time.
Why do we need Online HTML Compressor Tool?
From the above information, it is clear that working of an HTML compressor tool. Now the question is, why do we need to compress HTML files? Here are some reasons that will elaborate on this concept in detail.
1. For better search engine optimization
The core objective of digital marketing campaigning is to create a large base of reliable visitors and customers. For engaging them, it is important to have a website with an attractive interface which is running without errors. Not only the internal functions, but the loading speed also needs to be optimized.
If a website is taking too much time to load, the bounce rate will automatically increase. Apart from poor internet connection speed, heavy files are also the reasons for slow loading. This includes the large size of images, multimedia files, and HTML files. There are different kinds of compressor tools are available in the market.
If the HTML file of your website is too heavy, a dedicated compressor can help in reducing its size. A lightweight website will load quickly that improves the user experience automatically.
2. For the web developer
A web developer is responsible for the proper functioning of a website They implement different sets of HTML files in order to run the functions of a website. If the user is facing any kind of difficulty in using a function, it is the responsibility of a developer to rectify.
An advanced HTML compressor tool can provide you with customized compressor options. It means, the developer can choose compressor level, enable or disable the optimization of different languages including CSS & JavaScript, etc.
3. For the owner of a website
The owner of a website can check the functioning of a website as a frequent visitor. If they are noticing any kind of issue regarding the loading speed or the inbuilt functions, it must be due to the errors or heavy file size. They can notify the developer regarding this concern and request to optimize the speed with the help of a compressor tool.
Analyze and Optimize your Html Website
HTML compressor tool makes your websites load faster by reducing the size of HTML code, Javascript code, and CSS files. It speeds up your website by compressing JavaScript code mixed with PHP and other languages and optimizes several CMS websites including WordPress, Joomla, and Drupal themes or any PHP based websites.
It quickly analyzes your HTML codes with a detailed step by step to compress the code automatically. The application has a nicely designed interface that allows you to copy and paste the code with several inline documented options. Additionally, the tools convert your code by uploading a number of HTML files to our HTML compressor tool to save time.
There is a W3C validator that allows you to validate the code before and after compressor with a single click. You can use the HTML compressor control commands to perform the client-side execution and allows the strip program to remove inessential information, debug variables or modify the variable contents.
Bulk Html File compressor Tool
HTML compressor allows you to compress multiple HTML files at a time, add up to 10 more HTML files, merge lines, one by one automatically. In the future, we will add more advanced control options for increasing the compressor rate, enable or disable the optimization of inline events, JavaScript, CSS, and more. As far as security is concerned, you can use the tools through SSL encryption based connection, prevent or delete the downloads by hashing the compressed files, and locking the IP address on your PC.
Online HTML compressor tool is a simple tool to compress HTML tag from top to till the end of the document to reduce speed and bandwidth which loads faster than competitor sites. Along with HTML compressor, it is required to compress images, JavaScript, and CSS to load faster, and make the user experience better.
How to use HTML compressor tool?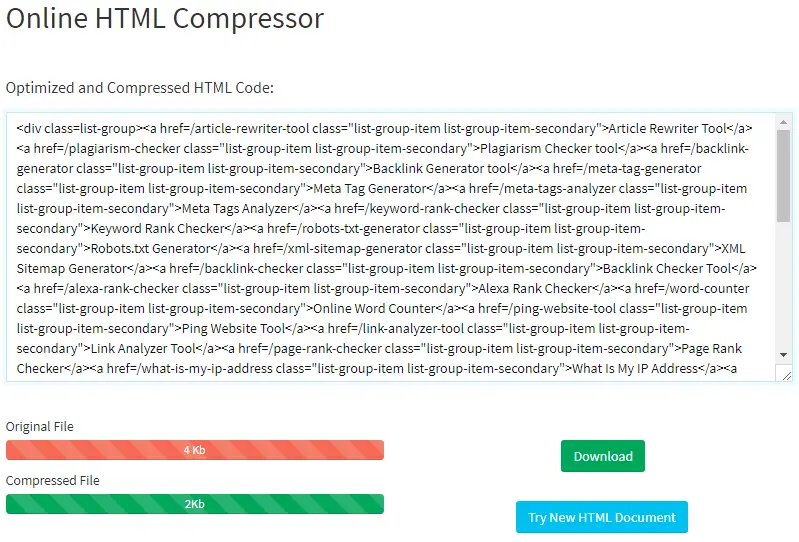 The working of online HTML compressor is elaborated here in detail:-
Open the web page where the error is persisting and press right click.
There will be an option of "view page source". Click on it and a new page will open showing the HTML view of a web page. Copy the entire text and paste in the empty space available on the tool's interface followed by captcha code.
Click on the compress button to execute the process.
In just a few seconds, the compressed version of that file will appear.
Copy it and replace with the old HTML file and experience a better loading speed.
Simply upload the file or copy and paste the HTML codes on the tool, then type the captcha code and click the submit button. The output displays the compressed HTML code with less size. There are many online tools to compress all types of codes to reduce load or bandwidth on the server.
Advantages of Online Html Compressor Tool
The HTML files comprise of too much text that it will take hours or days to identify the errors. While preparing the files, developers may leave some loose ends that result in the slow loading of the website and it badly affects the user experience. This online tool is an instant solution.
All you need is to copy or drag the HTML file and paste in the available space. The processed file with zero errors will appear in just a few seconds with the help of a special algorithm. It is a smart tool for saving the time of web developers as well as improve the website quality from the perspective of digital marketing.
Conclusion
Having HTML compressor tool will save your money on the website that eats up your bandwidth. Based on W3C standards, it provides a safe and quick compressor without affecting your system performance. The interface is nicely designed with features that can compress the entire HTML page. It supports all types of browsers and can be used by any professional web designers.
Similar Seo Tools: CSS Compressor/Minifier tool  Javascript Compressor Tool