Online Image Compression Tool
Add up to 10 multiple image files
(Size Limit: 2MB per file | Supported Formats: JPEG & PNG)
What is an Image Compression Tool?
Image compression is the process of converting or reducing the size of an image file without degrading its original quality. There are several image compression tools available for each quality level image optimization. You can see what the image looks like, set the image compression ratio and levels, etc., allowing you to make a better choice for editing, resizing and compressing the images.
The online image compression is a technique of reducing the size of an image. Generally, you need to compromise with the resolution of an image while reducing its size. However, this compulsion is not applicable to the online image compression tool. This tool is capable of reducing the image size without compromising with quality.
Even after reducing the size, you will get the same clarity without any kind of pixelation. This is possible with the help of free of cost online tools. Many websites are currently providing image compression facility. You just need to upload the image on a particular website, select the size and wait for the process of compression.
All of these tools are meant for image compression but their features differ. Some allow you to compress only JPG image format whereas others also comprise the featured of compressing PNG images. Also, you can decide the quality and dimensions before processing. It is helpful in customizing the image according to the compatibility of uploading space. Check all of these tools thoroughly to decide that which one is suitable for your work.
Online Image Compression Tool and Its Significance in the Digital World
Large size images are incompatible for uploading on various web pages. There is a maximum size limit at every website to upload the image whether it is social media or your own website. If the image goes beyond this limit, an error will occur. If you are facing this error, the image compression tool can help to solve the problem very easily. Scroll down to know more about this tool.
Data storage is one of the biggest concerns of current times that have now harnessed to an extent with the help of cloud storage. Still, the requirement of storage memory is increasing day by day. From a normal data file to high-resolution videos, everything require different levels of memory spaces.
There was a time when people gets satisfied with low-resolution images but this is the era of 4K resolutions. Whether it is video or image, everything requires more space because people demand crystal clarity. For this purpose, the technique of the compression comes to existence. It is not applicable to videos but can easily compress the files of software applications as well as images too.
Nowadays, an image of 4K resolution easily occupies more than 20 to 30 MB of space. Smartphones are now coming with the minimum storage capacities of 64 and 128 GB but still, it is not enough to meet the needs of a typical user.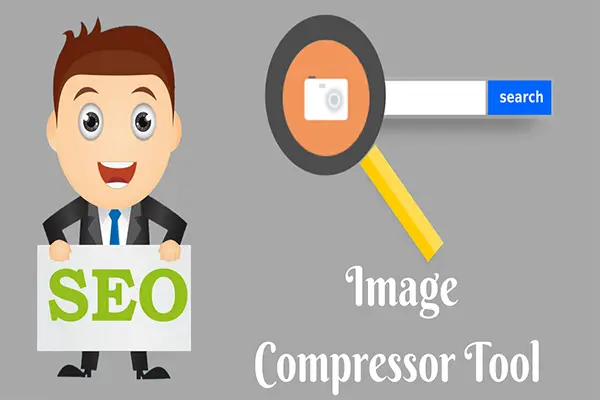 Why do we need an Online Image compression tool?
From the above information, it is clear that what is online compression tool and its functioning in brief. Now you will come to know why do we need an image compression tool from different perspectives:-
1. From the SEO perspective
While doing SEO practices, the first thing that you need to consider is the loading speed of a website. A web page requires multiple pieces of information including written text, images, infographics, audios, video links, and online forms, etc. All of them have different sizes that increase the loading speed of a website.
Image contributes a big role in loading because it occupies more space than any other material. The problem increases if you need to upload multiple images on a single web page. Without compression, the web page takes a lot of time for loading.
A typical user cannot wait for more than 4 to 5 seconds for loading the page. If your website is taking more time than usual, the bounce rate will also increase.
Consequently, you will face the problem of fewer visitors and lower conversion rate. It is a big drawback that affects the ranking of a website no matter how good you are in implementing SEO techniques. Before uploading images text and other multimedia material on a web page, always reduce the size of the image by compressing it.
2. From the perspective of a typical internet user
As a typical internet user, you need to upload images for several purposes. The most common purpose of image uploading is changing profile picture on various social media sites and well as official identities. Also, you need to submit a digital copy of your photograph along with online forms.
If the image size is increased beyond a limit, the web page will not allow the image to upload. An online image compression tool is the perfect solution to this problem. You change the physical memory space exactly as per the parameters of an online portal.
3. From the perspective of storage space
The high memory storage devices like hard disk, pen drives, and smartphones are also running out of memory shortage because the sizes of images are increasing day by day. Sometimes, you have to delete a large number of images due to the shortage of memory. The online compression tool is an effective solution to this issue. It reduces the size without distorting the resolution of the image.
Importance of Online Image compression tool
From the above three points, it is clear that image compression tools are essential for digital marketing as well as website designing tool. Heavyweight graphics affect the loading speed of a website which is not good for the traffic rate and conversion ration. If web portals are not allowing a large image, there is no need to get help from large professional tools like Photoshop. You just need to remember the web address of an online compression tool.
Use of Online Image compression tool
Online Image Compression Tool is used for various purposes to optimize or reduce the size of images for
Optimizing your website speed
Uploading images to your email with a smaller file size
Saving your system space
Social media purposes
How Does Online Image Compression Tool Work?
The main objective of the online image compression tool is to minimize the irrelevance and redundancy in the data of an image file that enables users to store or transfer the data in a more efficient manner. There are many online image compression tool, downloadable software and programs available online or offline that can do similar work for this purpose.
The lossless compression is more effective than the lossy compression for several types of image files. Using the online image compression tool the size of .jpg and .png files is minimized, colors in the files are also reduced in the image and makes it easy to save or transfer the data more efficiently. It works in many ways like:
Minimizing the redundant file data significantly without losing its quality
Compressing bulk images for web tools and can easily save the downloadable file to reduce upload time duration.
Helps to reduce maximum time with compressed images between the user and the server.
Compressing 10 images in bulk will save you a lot of time.
Minimizing individual file size improves the overall website appearance
Compressing bigger sizes kb to smaller sizes kb
Uploading a batch up to 10 images at a time
On the home page of an image compression tool, you will see the compatible file formats of images such as .jpg, .jpeg, .png. Select the image from the memory storage space or open the cloud storage space if the feature is available.
The tools allow a maximum of 10 images at a time. Add the images to see their actual size and the size after conversion.
Once the process of conversion finishes, download the image in your device and utilize wherever is needed. Apart from saving the image in your device's memory, and you can also upload them on cloud storage accounts.
This is the entire process that signifies how any random internet user can use image compression tool without requiring any professional assistance.
Benefits of Online Image compression tool
There are several images on the Internet have undergone compression for a distinct perspective. online image compression tools can benefit the users by loading the images faster as well as optimizing the web pages. Online Image compression tools do not reduce the physical size of an image but instead compresses the data that makes up the image into a smaller size memory.
Some of the significant benefits of using this tool are:
Reduce the image to your desired size
Loads data faster on slower devices
Image degradation keeps your original data by declining the image quality
Easy to upload and download 10 compressed images at a time and save your valuable time.
Compatible across various platforms like (Windows, MAC, Linux, Android) and browsers
Easily select your desired ratio or quality size of an image to be compressed
Bulk upload images (up to 10 at a time)
Supports - JPEG and PNG formats
If you don't want to install a separate tool for editing images in your computer system or smartphone, online compression tools can help. They are helpful in saving memory storage space in your device.
For the success of search engine optimization, it is essential to improve the loading speed a web page. While selecting an online tool for this purpose, make sure that it is capable of processing multiple images at a time in all file formats.
Conclusion
There are many free and paid online image compression (online or offline) tools available to compress images without losing quality. Overall each of these tools delivers excellent service on some level, with some glitches too. It depends on your requirements to go for a better online image compression tool for different image quality.
Similar Seo Tools: CSS Compressor tool Javascript Compressor Tool Html Compressor tool