Top 22 Popular Viral Sites 2019 to boost your web traffic
10/04/2019 2:00 PM
by Admin
in Web
---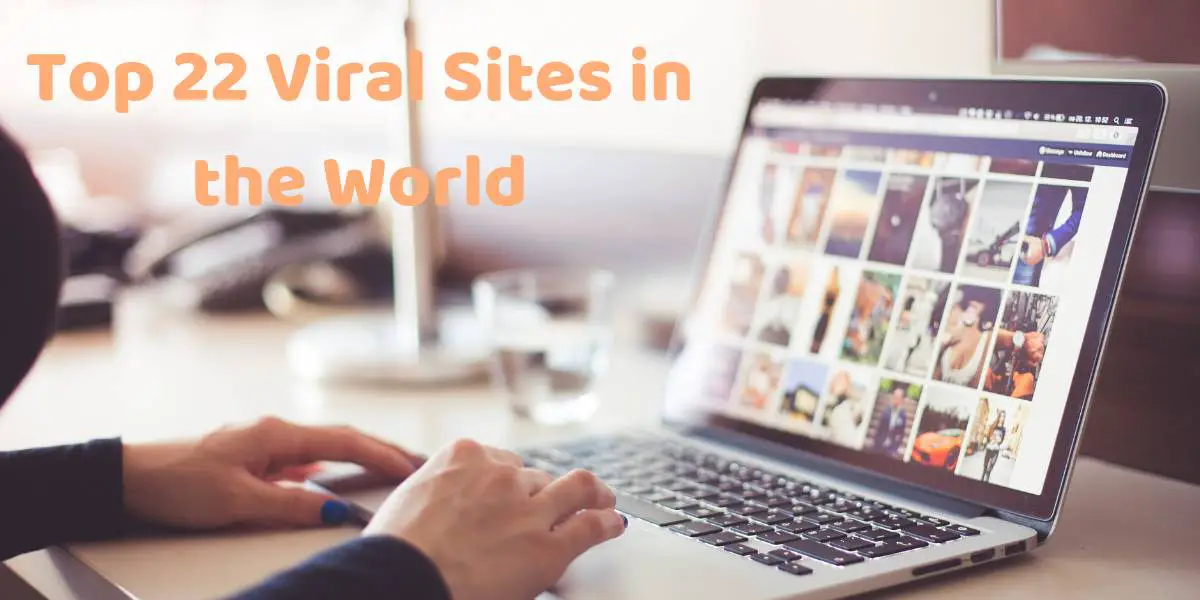 Internet is an extremely powerful tool that has a wide application in all spheres of our lives - be it professional, personal or otherwise. In fact, it has become such an immense force that has changed the way we live.
So, therefore, it is safe to say that gone are the days where people rely on traditional sources to get information and entertainment. With the advancement in technology, people have also adapted and thus, the focus has now shifted from reading age-old books to following websites and blogs.
So, if you want to stay in touch with the current generation and follow the ingoing trends, there are few websites that you must absolutely be aware of.
Some of the Top Viral Sites that you must know about are:
BuzzFeed is one of the coolest and exciting platforms that you can ever come across. With its main focus to provide entertainment, you can find anything and everything when you visit BuzzFeed.
Ranging from personality quizzes to their own created quizzes, they have everything that will keep you engaged and entertained. So, if you feel bored or want to read something fun and interesting, you must go to BuzzFeed and check their feed!
Reddit is one of the most popular websites that are there on the internet and rightly so! It is basically a news platform and boasts of being the internet's front page. This claim is not just empty words as Reddit is widely used by all.
It is a forum that allows you to post your content, and also give votes to other content posted by people. In this manner, you can post your views on matters and engage in a healthy discussion with absolutely anyone, sharing your views and opinions and in turn, understanding theirs too.
UpWorthy is another viral website that you must surf and check if you love to read about various social and political issues. It is one of the most popular viral sites and people are hooked on to it for hours purely because of the high content quality and the issues that they talk about.
Thus, if you have an interest in the finding of such matters, then you must definitely check out UpWorthy.
As the name suggests, this one is all about the little things that matter in life. Thus, if you wish to read up on some important matters but in a light and easy perspective, then Little Things is what you should be searching for.
With various shows, videos and categories like parenting, etc. and do it yourself, Little Things has become a favorite of all those who want to read up on the little pleasures of life. So, if you have not checked out their site yet, then you must definitely do so!
Opposing Views is one website that talks about various pressing matters and issue at hand that require immediate attention and need to be solved quickly. The main focus of Opposing Views is to provide content that is free of any judgment or bias and to present facts the way they are.
Thus, due to this very reason, Opposing Views has its own group of loyalists and follow the website heartily.
Understanding the concept that most of the news that is available is not easily understood by common people, Vox tapped into this idea and now is one of the most popular and viral sites when it comes to reading news on the internet.
Explained in simple and easy terms, Vox provides news in an easy and simplified language and because of this, has gained a lot of popularity among the audience.
ViralNova is one of a kind website that works to provide content daily on its platform. So, anyone who wishes to read about some interesting facts, quirky tidbits or funny posts, then ViralNova is the place to be.
With its amazing articles and out of the box topics, ViralNova is an amazing platform for all those who love to put on their thinking caps and explore various topics and genres.
Zergnet is nothing but a company that provides a recommendation on content. For any writer, Zergnet is a must - know as you can easily provide articles to Zergnet and then they include it in their own database.
Once that is done, Zergnet provides traffic to that specific URL either from the internet or from the usage of the widget - "recommended article" So, if you are a writer on the hunt for traffic, you must definitely make use of Zergnet.
Distractify is basically a website that solely focuses on providing entertainment to its readers and viewers. Be it through humorous articles or whacky videos, Distractify is the ultimate champion in this genre.
So, if you are a movie buff, and love the world of entertainment and drama, then you must check out Distractify and immerse yourself in the world of entertainment.
Viral Thread is yet another website that will keep you hooked on for hours on its platform. With its engaging content and videos, Viral Thread has become one of the most popular sites for youngsters to binge on.
Moreover, you also have the option of creating your own video and seeing it feature on the page. So, if you like creating videos and love engaging content, then you must visit Viral Thread for sure!
As the name suggests, Thought Catalog was developed based on the idea of cataloging all thoughts in one place for the users to have a wholesome experience. So, if you are looking for a variety of topics and articles to read about in a single platform, then thought Catalog is your destiny.
Ranging from myriad topics like beauty, self - improvement, books, TV, Thought Catalog is the ultimate site for anyone who has different interests and wants to read up on it.
Ranker is an extremely famous and popular website, so much so that people just cannot get over it and keep coming back for more. The basic reason behind this is that apart from providing articles and regular feed, Ranker provides its viewers to rank their preferences in the lists featured on the website.
This means that there are various categories like film, TV, books, culture, food, etc. available on the page and users can go on to the lists and vote as to what are their favorite movies, dishes, etc.
PlayBuzz is yet another intriguing platform that can keep its viewers and users on tenterhooks for hours at a stretch. It is an extremely interactive platform where companies, brands or individuals can create their own form of content and open it to the public.
This can range from a variety of quizzes, polls, videos, slideshows, etc. So, if you wish to engage your audience by the usage of such tools, log on to PlayBuzz and start creating your content!
Uproxx isanother social media platform that you absolutely cannot sidestep or miss. Targeted towards the age group of 18 to 34, it focuses primarily on males and their likes and interests. Thus, you will find a lot of information about gaming, technology, sports, music, etc. on the page.
Because of its trendy content and hard-hitting videos, you will be glued to your screen for hours with Uproxx. So, in order to not miss out on matters of your interest, do go through Uproxx
This one is a hardcore favorite of all the meme lovers out there. Know Your Meme is one of a kind platform that documents and catalogs various memes that do the rounds of the internet.
Moreover, apart from memes, you will also find a huge collection of videos, catchphrases, celebrities, etc. So, if you are a meme lover and love to spend time on the internet, then Know Your Meme is a platform that you must explore!
If you wish to get your dose of entertainment, news, and drama from the internet, then the Daily Dot should be your humble abode. Power-packed with news, articles, and information covering a variety of topics, the Daily Dot is an amazing website to surf and gain all the fun and information.
So, if you have not logged on already, do visit this site to get your own share of information!
Do you go to sleep as soon as you start reading? Are you afraid of reading too many articles because of the long texts that go along with it? If yes, then you must visit TwistedSifter. This is a unique platform that believes that one picture equals a thousand words.
This is why you will find all articles on TwistedSifter have very few texts and a lot more pictures. So, if words scare you, fret nota and surf TwistedSifter and keep all your worries at bay
If you are looking to surf unique and something different, then you must definitely try Twenty Two Words. Twenty Two Words is one of the coolest pages that there is as it features some really out of the box and whacky content, that will not only excite you but will also intrigue you. So, if you like to know the unknown, then Twenty Two Words is definitely for you.
Brainjet is an extremely popular site that all the youngsters are hooked on to. With is one of a kind content and articles, people just cannot get over this platform. So, if you wish to stay in trend and keep track of what is happening in the entertainment world, then you must definitely go on to Brainjet and check it out.
If you wish to read about something fun and different, then you must go onto Knowable and check out their content. With a host of articles, videos and podcasts, Knowable as a huge fan following.
The articles are not only fun and refreshing but are also quite informative and interesting at the same time. So, if you wish to read up something light to ease your mind, you should definitely try Knowable
One of the most popular websites around, Diply has a huge fan base due to the amazingly awesome content line up that they have. If you wish to read up on several topics at a go, then Diply is the one for you. With the most random of articles to the hottest and trendy topics, Diply has it all.
Bored Panda is yet another famous page for all those who love to browse through interesting and informative content online. It houses a variety of articles on myriad topics and provides the most enriching content online.
So, if you wish to gain some knowledge and entertainment, visiting the Bored Panda is highly recommended.
Conclusion
So, now that you have read about the various viral sites that are trending on the internet, do visit them!