Top 15 Push Notifications Service in 2019 - Select the Right one
08/09/2019 2:00 PM
by Admin
in Web
---
What is a web push notification?
Web push notifications are nothing but messages which come from a website. You get web push notifications even when the particular web page is not open in your browser.
This is a marketing channel, to reach you and thousands of other customers, even without knowing email and other contact details.
In simple terms, a web push is just a way or a path for an app to send you a message. So why is it called a push notification? Well, the message is pushed to you, without you having to do anything. A web push notification is independent of sites. A web push notification is mainly associated with apps and browsers.
How do web push notifications work?
You must have seen the clickable rich content sent to your laptop or mobile device by a web app. These are the web push notifications.
Let's say you have enabled web push notifications on your website. The visitors to your website see a notification subscription prompt. You can now push notifications to your audience after they subscribe to push notifications. The process is easy. All they need to do is to click on the "Allow Button" present on the screen.
So how do web push notifications get delivered to your device?
There are 3 main actors involved in the delivery of the web push notification to your device:
The web push notification service: You may be using the Google Chrome, Mozilla Firefox or the Safari browser. Each of these browsers has its own notification delivery service. Chrome uses Firebase Cloud Messaging, Safari uses Apple Push Notification System and Firefox uses the MDN server.
The service worker registration: Developer registers service worker on your browser.
The user subscription ID: If the user opts to receive push notifications from a particular website, (Say your website), a subscriber ID gets generated.
Now let's understand how push notification works:
There are 3 steps when it comes to implementing a push. Let's see what they are and how they work:
The Client Side:
You have to first subscribe a user to push notification. You must get permission from the user to send the push messages. (The user must agree for the push notifications).
You then get the push subscription from the browser. This push subscription contains all the information you need to send the push message to the user. This is like an ID for the user's device.
Before subscribing the user, you would have to generate application server keys. The application server keys also called VALID keys, let the push service know, which of the application servers, subscribed the user. Care must be taken to see that the same server is used to send push notifications to the user.
Now you have subscribed the user and have a push subscription. Send these details to the backend server. You then save the subscription to the database on your server. You can then send the push notification to the user at your convenience.
Send push message:
To send a push message, you have to make an API call to the push service. The API gives the way to send the message to the user, and also instructions on how to send the message. The API call includes the data to send, to whom you are sending the message and also criteria on how the message is being sent.
The push service receives the request from the network, makes the validation and then delivers the push message to the right browser. What if the browser is offline?
Well, the message is queued until the browser comes online. Browsers use any push service, but this isn't a problem. Any push service is fine. Just make sure the API call is valid.
Push event on users device:
Your message is now on the server of the push service. The push service delivers the message when the device comes online. What if the message expires? Well, the push service removes the message from its queue. It never gets delivered.
When the message is delivered, the browser receives it, decrypts the data and sends the push event to your service worker.
What is this service worker? This is nothing but a special JavaScript file. The javascript can be executed even when the browser is closed. You can perform background tasks, make analytics calls, cache pages offline and show notifications, inside the service workers push event.
Top 15 web push notification service: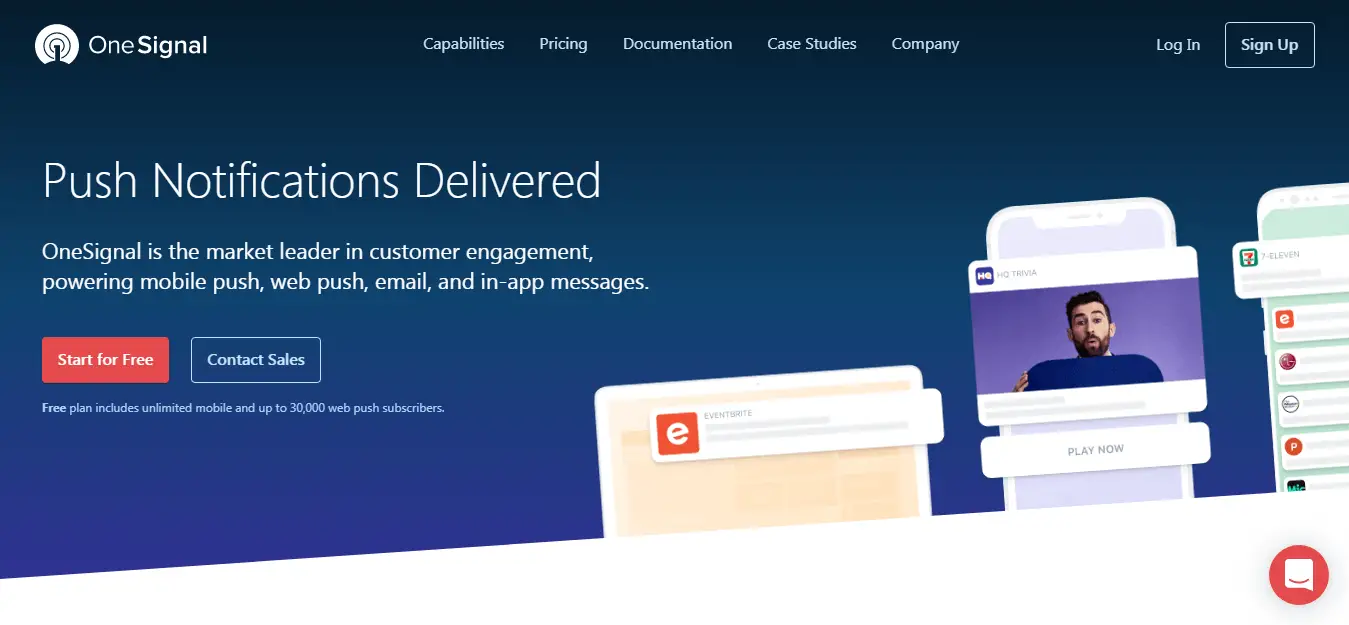 One signal is nothing but a very high volume and dependable push notification service used for mobiles and web applications. It's a multi-platform push notification service, and absolutely free to use. Yes, One signal supports unlimited notifications and devices, without charging a penny. It's simple and easy to use.
One signal offers a single API and UI to deliver messages across platforms like Android, iOS, Chrome, Windows Phone, and even Amazon Fire. It also offers multi-SDK support.
How to use One Signal?
Register your account at One Signal.
You then click on add a new app, fill the name of the app and then click Create.
You then go to App settings and select IDs and Keys. You would find the One Signal app ID here.
How to configure push notification for Android?
Just go to the App settings, find and click the configure button of Google Android.
Fill the Google Server API Key and also the Google Project Number and then click Save
Features of One Signal:
The One Signal email messaging service helps send emails along with the push notification.
You can add a custom permission message.
The add notification category helps differentiate between different types of notifications.
You can take action directly within a notification with the Action Buttons.
You can send messages to specific users like billing completion.
You can add images to the notification for an improved effect.
You can sync the email with One Signal to send notifications from an email address.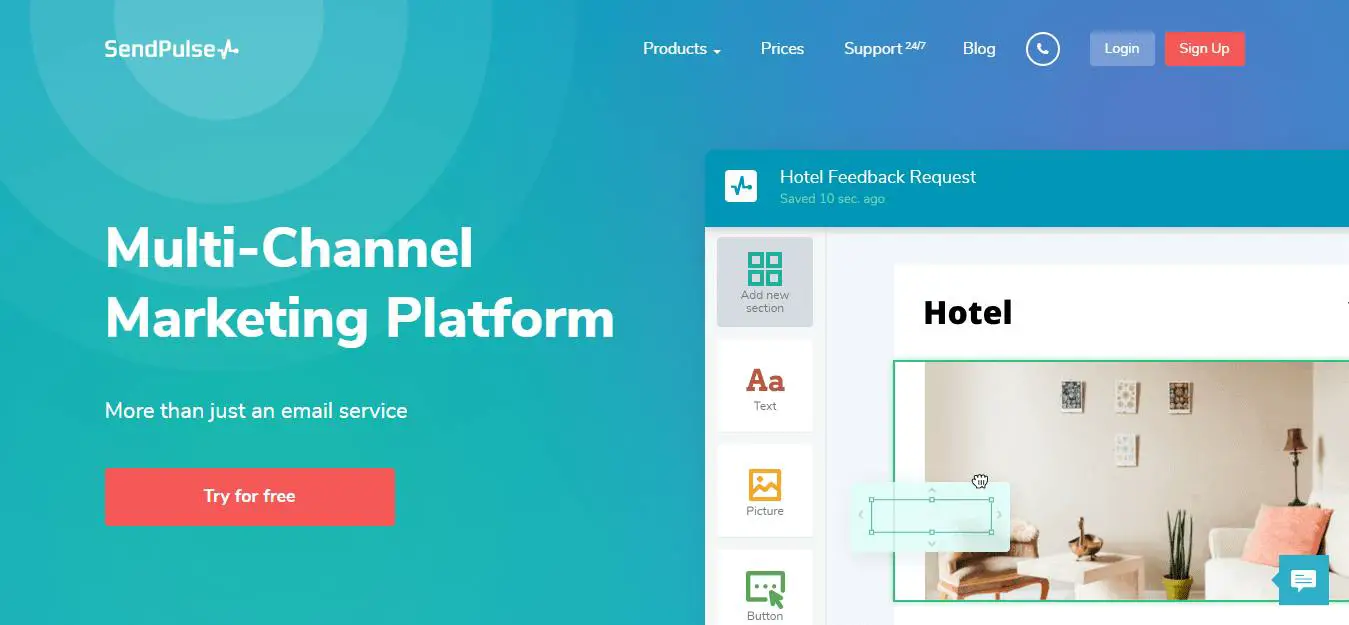 This is a platform which offers multiple channels of communication. It enables communications via email, push notifications, Viber and SMS. Messages may be sent separately or combined with autoresponders.
What's special about SendPulse?
You have marketing messages and automation through the email service. There are completely free browser notifications, messages are sent directly to customer phones. There are trigger emails for any of your projects. You can send personalized messages in messenger through the Facebook bot and also can send messages with images and links in Viber.
Features of SendPulse:
SendPulse allows you and other marketers to create and then automate campaigns.
You can create and also send automated emails to your subscribers based on their activities on your website. You can also choose an email template and then edit it using the SendPulse drag and drop editor. You can easily set up automated email follows using Automation 360.
SendPulse offers an absolutely free web push feature. This helps brands drive traffic back to the website. With the browser push features on SendPulse, your business can send notifications on new products, content and services, any sales and also updates to your subscriber's mobile phone. SendPulse helps set up personalized online and offline notifications.
If you are in to internet marketing and SMS marketing campaigns, you can easily send marketing SMS to more than 200 countries over 800 networks using SendPulse SMS service.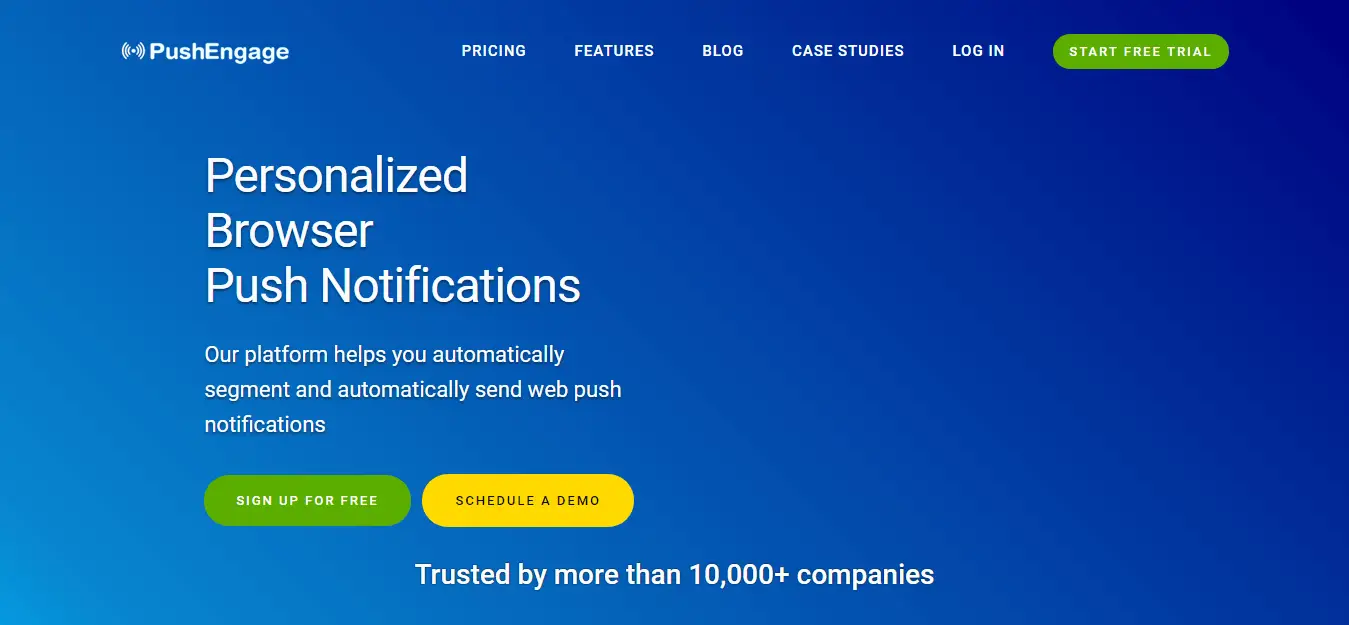 PushEngage is nothing but a push notification platform used for both web and mobile. Its purpose is to help sales and marketing teams first segment and then send web push messages, automatically.
With PushEngage sales and marketing teams can group and segment the target audience based on custom criteria. This could be landing page URLs, browsed URL history or even location.
PushEngage helps create personalized notifications which lead to higher click rates and helps lower subscription cancellations. With PushEngage, you can make a series of push notifications to engage customer base. This helps implement drip campaigns and auto-responders leading to higher customer conversion.
Features of PushEngage:
PushEngage makes it easy to target users with powerful, personalized notifications. The notifications are delivered even when users are not on your site.
With customized push notifications through PushEngage, you can easily reach customers through messages, they can relate to. This may be promotions, product launches and so on. They encourage repeat customers and brings more traffic to your website.
PushEngage helps increase website notification rate by around 20%. With the optimized single-step opt-in, the visitors can register and subscribe to products and services.
PushEngage offers personalized push customization messages to increase click rate by 3 to 10 times higher than before. This enhances sales significantly.
PushEngage supports Firefox and Google Chrome on both mobile and desktop versions, Push notifications to reach mobile and desktop users, via their browsers. This builds the client list and grows your business.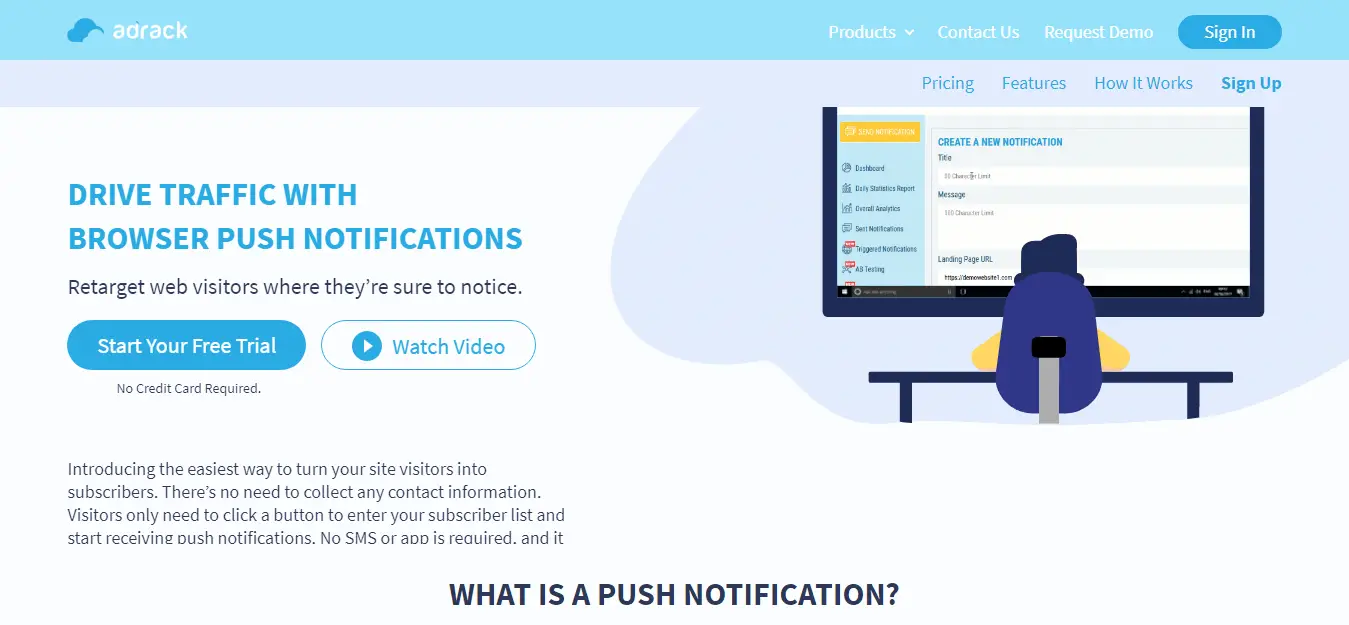 This is a simple and easy to use push notification platform. It ensures viewer engagement and brand recognition through cost-effective means.
Adrack is a simple push service where viewers have to correctly see all sets notification without affecting the quality of service. This ensures user engagement and brand awareness.
Features of Adrack:
Adrack works on both mobile and desktop.
It offers both HTTP and HTTPS support.
You get a daily statistics report and Emoji Support.
Real-time analytics and triggered notifications.
Visitors count and A/B/C testing.
Advanced analytics and real-time notifications.
GEO segmentation and URL auto segments.
Triggered and schedule notifications.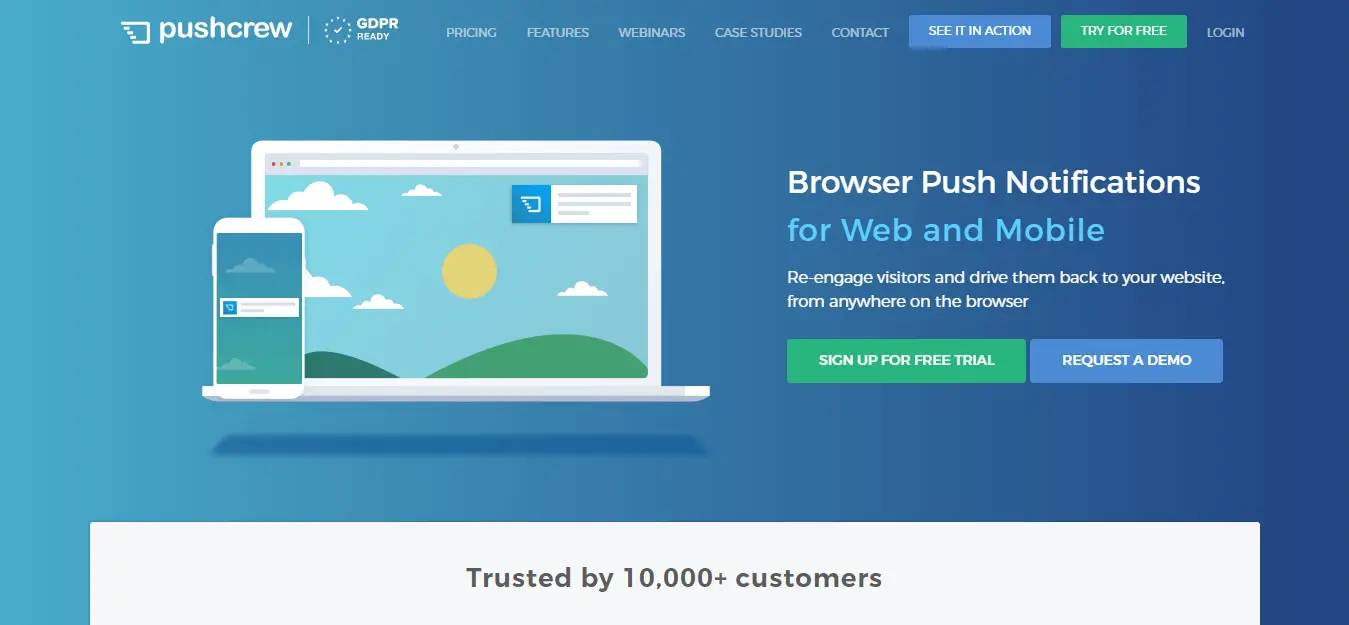 PushCrew used by SaaS and B2B marketers is a web-based push notification service. It helps both online content publishers and eCommerce store, owners. It helps the business enjoy a higher clickthrough rate and expand the email marketing campaign. PushCrew helps your business, better communicate with customers.
Features of PushCrew:
You can send targeted and personalized push notifications.
You can schedule push notifications.
You can send multiple call to action via notifications.
You have the drip campaign dashboard to engage and bring in repeat users.
You have multi-user and multi-browser support.
You can add images to notifications.
It helps subscribe and unsubscribe count
It offers metrics and reporting.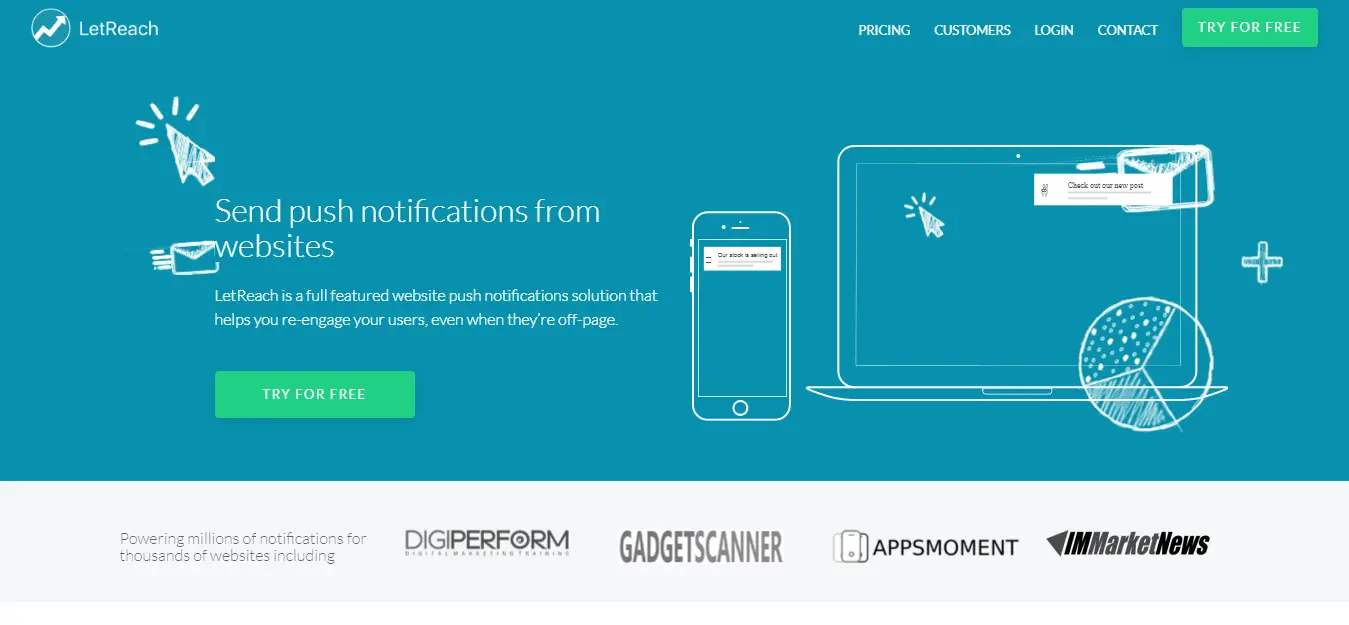 LetReach helps send push notifications from your website. It helps engage site visitors and enhance conversion. Customers receive push notifications on their desktop, tablet or mobile, even when they are not browsing websites. The notifications sent through LetReach are browser-based notification and work with any kind of website as they use a simple line of code copy-paste.
Features of LetReach:
It offers deep segmentation, geo-targeting, one-time integration and also customer interest-based targeting.
It offers auto RSS push and A/B testing.
You get API integration. Detailed analytics and audience segmentation.
Drip campaign to reengage customers.
Major plug-in support.
There are easy and quick setup, multiple customizable opt-in, notification management and scheduling.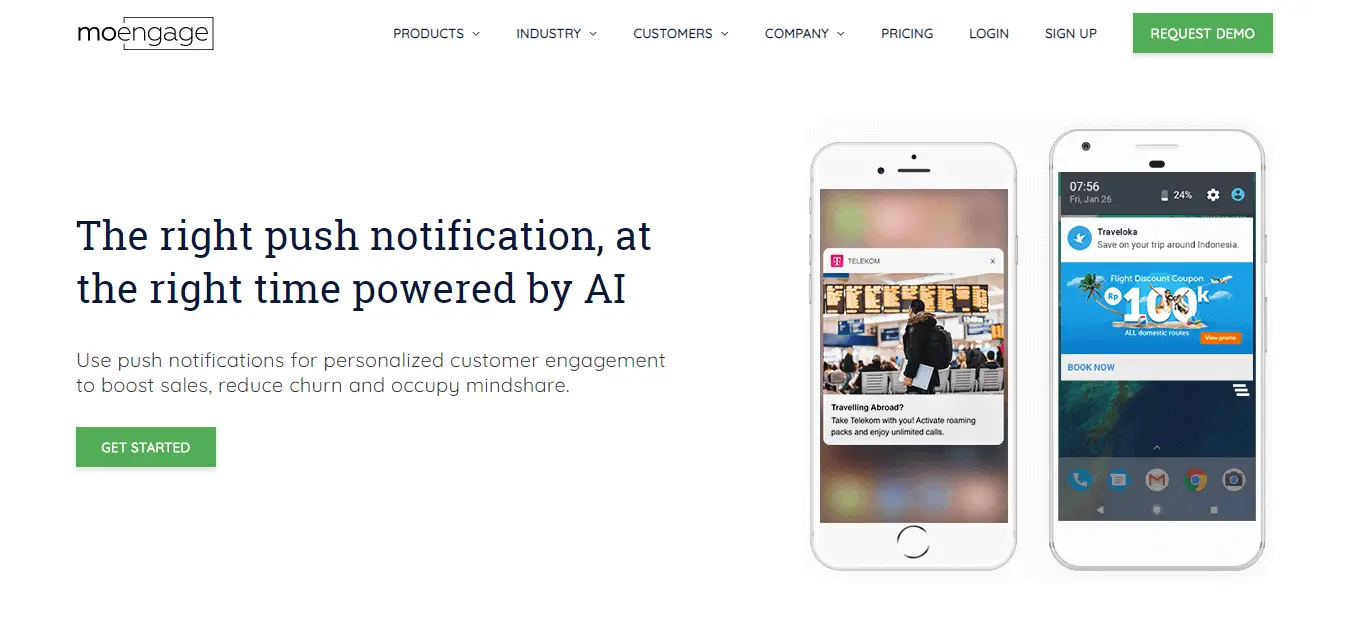 MoEngage helps create a multi-channel lifecycle campaign for brands to engage. It helps reach your users at the right time through web, email, and apps.
MoEngage creates and sets up campaigns and workflow, measures and optimizes marketing campaigns. It offers real-time triggers and higher push delivery rates for optimum conversion. MoEngage offers an AI Engine which figures out the best time to communicate.
Features of MoEngage:
MoEngage offers a customer engagement analytics platform. This helps bridge the gap between marketing automation and analytics.
MoEngage engages with your apps to track KPIs. This helps create highly targeted marketing campaigns.
It views your conversion funnels to identify precise stages where your users drop off. This helps create campaigns which target only these users.
One of the main features of MoEngage is to group the users based on sign-up date and then track retention over time.
Your data is collected and managed at a single location, This gives the bird's eye view of team performance and also track campaign results.
MoEngage has predictive analytics and multi-touch attribution.
MoEngage sends personalized messages to targeted users based on past behavior at apps, desktops, and mobiles.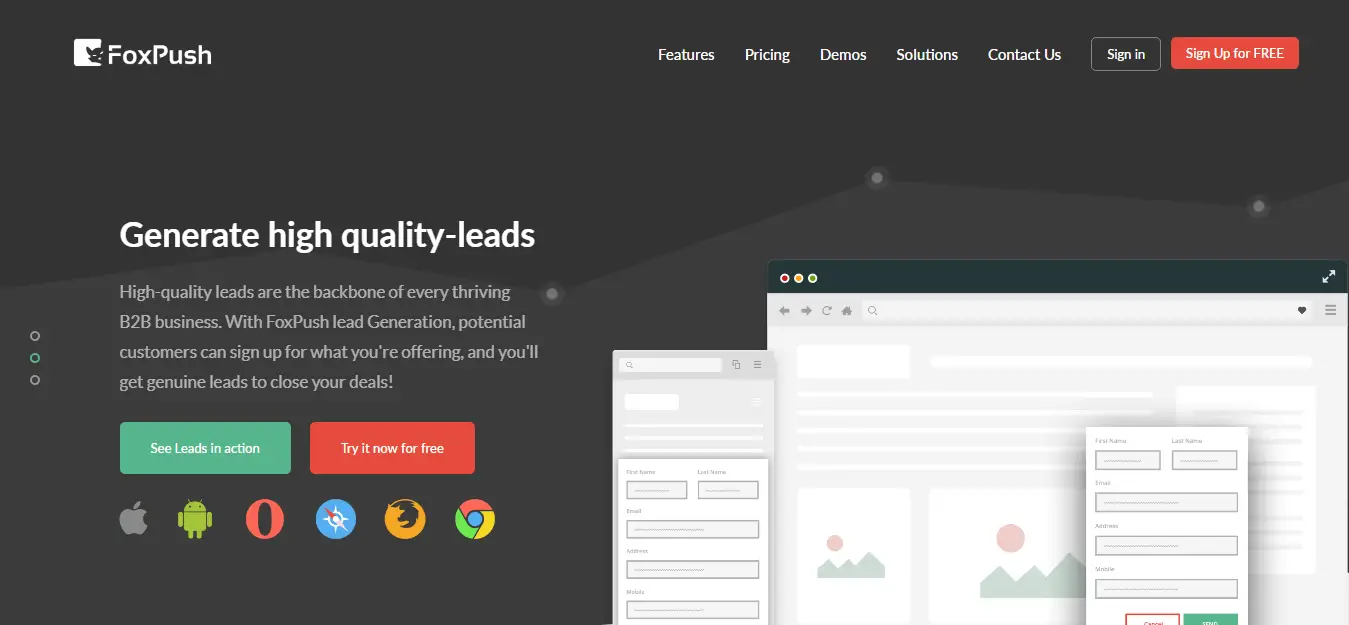 FoxPush makes push notification technology accessible to website owners. With FoxPush your website can subscribe users to receive pop-up notifications. This is done whenever they are online, irrespective of which browser they are using. You can send push notifications, even if subscribers are on their mobiles.
FoxPush does not offer a WordPress plugin, but the installation is really easy. You just have to fill in a few boxes and generate the requisite code. You copy and paste the code into the website. FoxPush helps send out an instant survey via push notifications. This helps get instant responses from your subscribers. FoxPush operates a 'freemium model' where basic accounts are free. Larger accounts must pay up.
Features of FoxPush:
It's simple and easy to setup.
You can indulge in geo-targeting and device targeting.
Target users based on internet service.
Target subscribers based on browsing behavior.
Targets users based on age, gender and language.
Checks campaign performance in real-time.
With FoxPush free plan, you can send unlimited notifications to unlimited subscribers.
You can schedule push notifications.
FoxPush supports the RSS push and also frequency capping.
Live tracking and Emoji-support.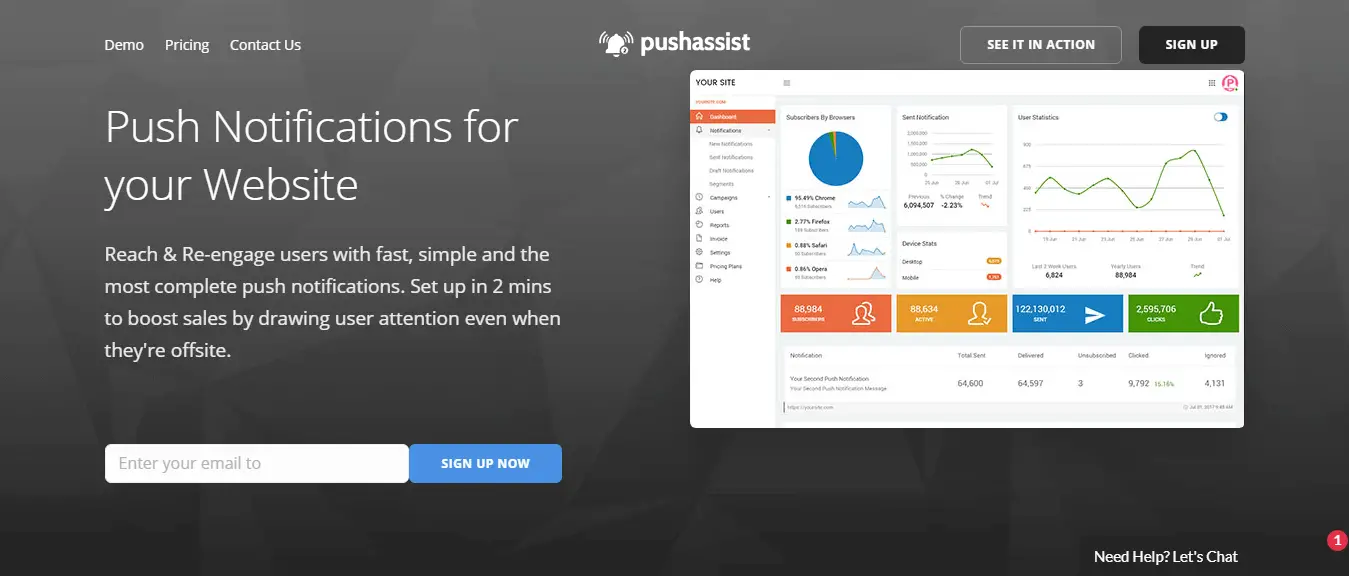 This is comprehensive push notification for WordPress blogs and also websites. PushAssist helps your website engage with subscribers through targeted push notifications. With PushAssist, you can quickly send Firefox, Safari and Chrome notifications to desktops and mobiles.
Features of PushAssist:
It offers A/B testing
Analytics for 'social media'
Mobile and Web Notification
Visual Notification and Multi-channel messaging
Notification scheduling and targeted notification
Visitor Segmentation.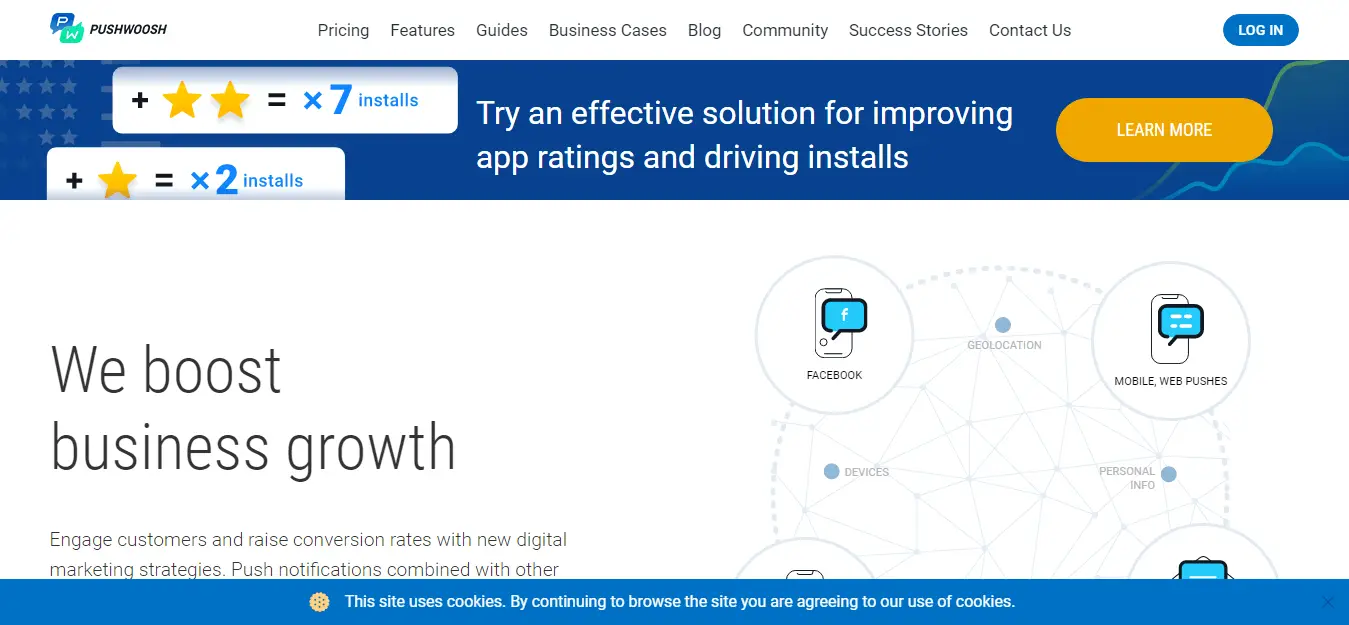 Pushwoosh is a push notification for desktops and mobile devices which offers a variety of offers and plans. Pushwoosh offers services, based on users needs.
You will have to use the plugin to register the device in Pushwoosh. The device would be registered in Apple Push Notification Service and Firebase Cloud Messaging.
After registering the device, use the plugin to broadcast the message and target specified users. The plugin would send your message through Pushwoosh.
Pushwoosh would then contact the appropriate messaging service and Firebase Cloud Messaging or Apple Push Notification Service would deliver the message to the device.
Features of Pushwoosh:
Pushwoosh offers frequency capping, enabled for triggered messages and Autopushes.
It offers iOS delivery report. This helps track if the message was delivered to users devices.
You can make informed decisions on customer communications.
You are offered Email Messaging.
Pushwoosh offers Push Alerts Enabled tag to mark devices on which your users enable push alerts.
You have iOS critical alerts supported by Pushwoosh, where sounds are played, even if the device is muted.
You can send Auto emails from the Pushwoosh Control Panel.
Push titles and email subjects support Emojis.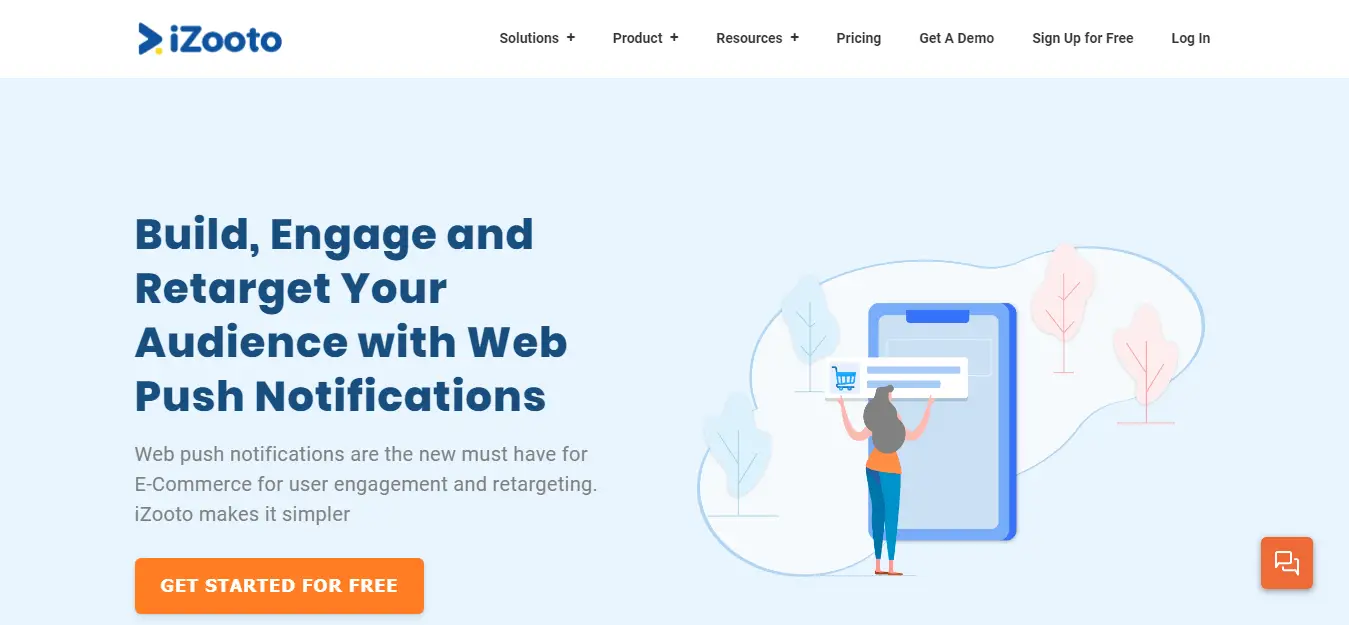 This is a web push notification which helps businesses retain existing customers. iZooto boosts sales and lead generation by increasing traffic to your website. You can send personalized notifications to customers desktops and mobile devices. With iZooto you can send intelligent notifications to users.
Features of iZooto:
It enables multi-platform communication
Offers in-depth analysis and easy integration
Audience segmentation and APIs
Enables personalized communication and audience segmentation
Helps schedule notifications
You enjoy detailed dashboard and reporting.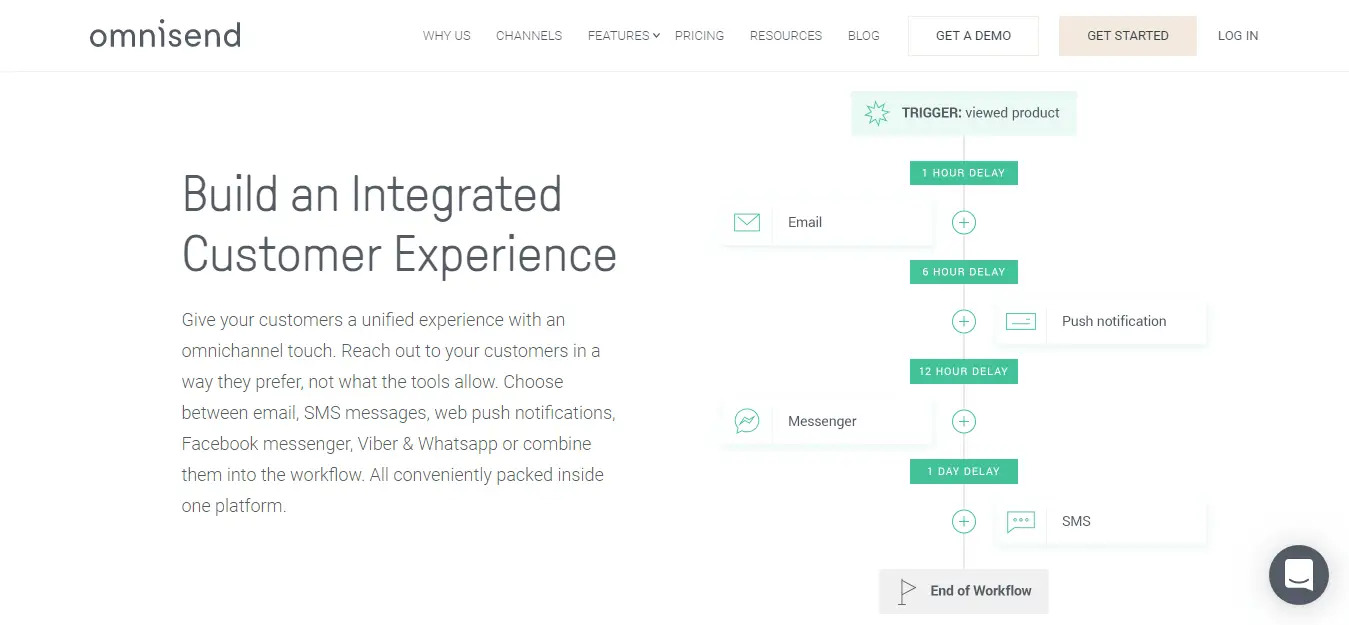 Omnisend helps enable push notifications on your store to reach customers with targeted notifications. Omnisend is an e-commerce marketing automation platform, to grow your eCommerce business. Omnisend offers native discount codes and also a product picker which hel­ps pull products directly from your store, for the campaigns.
Features of Omnisend:
You have A/B testing and automation.
Birthday email and campaign booster.
Content editor and drip campaigns
Email templates and cart recovery email
Facebook Messenger and forms
Gift box and image editor
Landing page and Popups
Signup box and subscribers
Web push notification
Wheel of Fortune.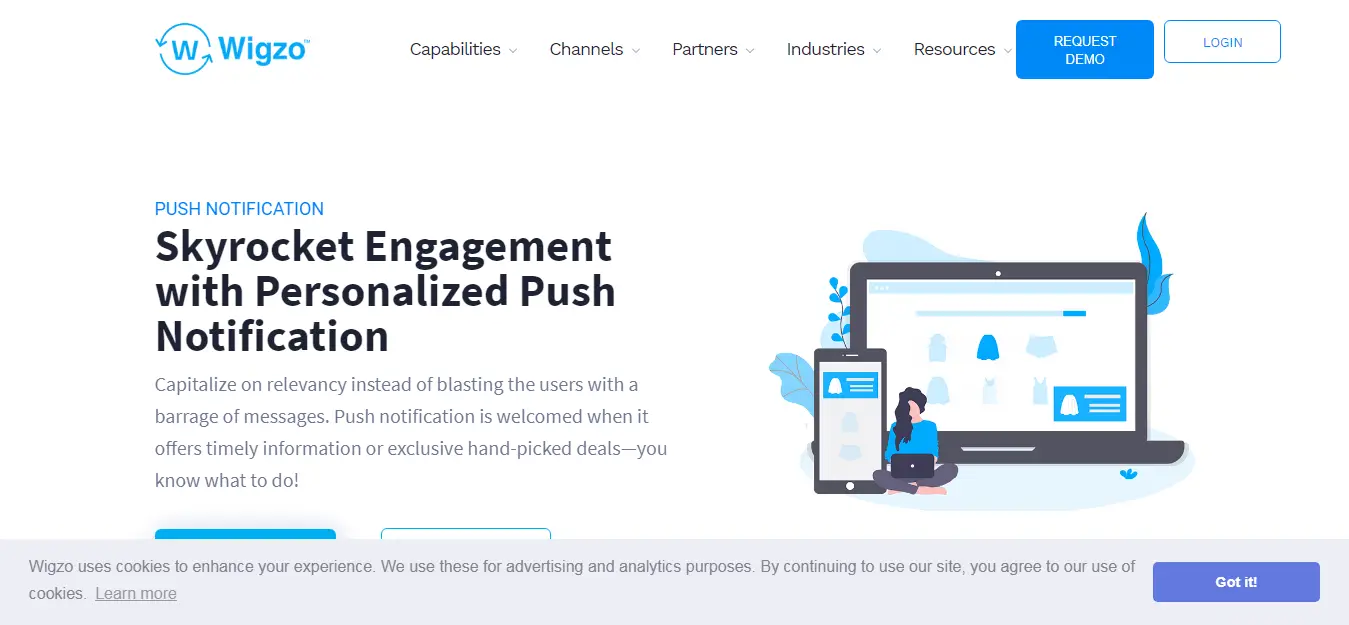 Wigzo is a marketing automation platform. It offers a plug-and-play solution which helps marketers personalize customer touchpoints. It is an omnichannel personalization suite which helps you engage with users and convert them, real fast. Wigzo offers web push for the e-commerce industry.
Features of Wigzo:
It offers triggered notifications.
It offers personalization services.
Support in setting up campaigns.
Recommendations in web push.
Content and lead management.
Direct mail and multi-channel management
Content platform and website visitor tracking
Analytics and ROI tracking
Email drip campaigns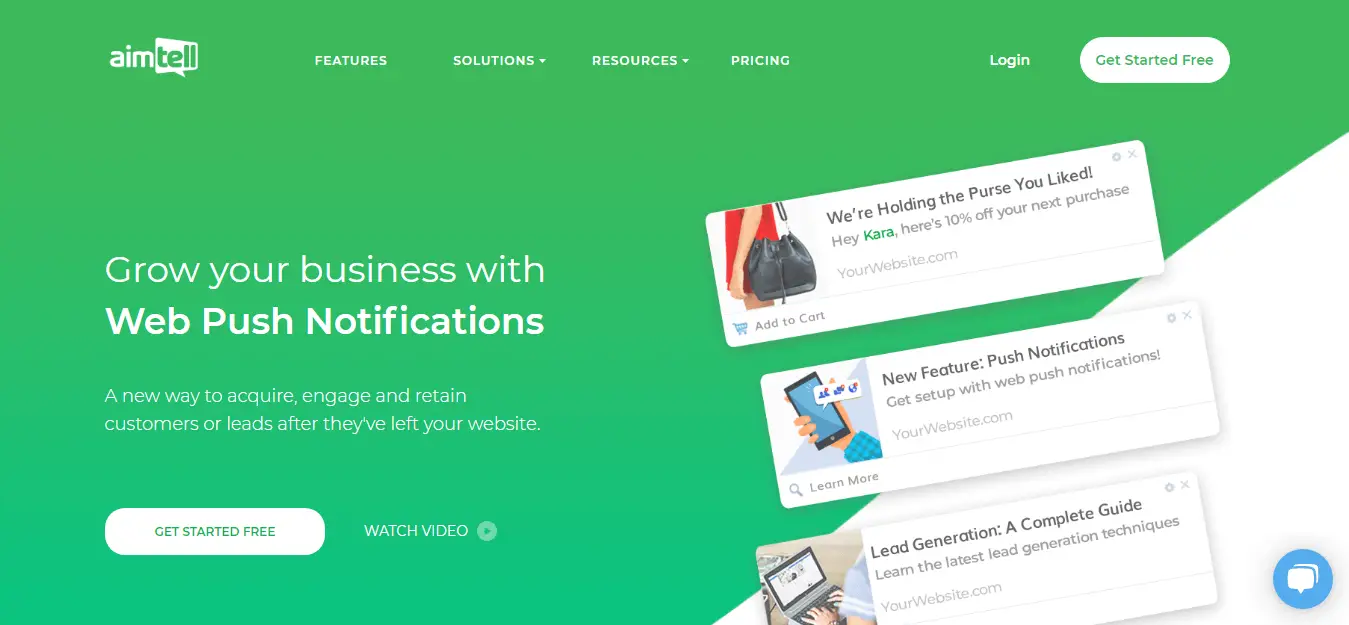 This is a cloud-hosted marketing platform. It allows businesses to deliver web-based push notifications. Aimtell helps you retain subscribers with handy business tools. This keeps subscribers engaged and brings them to your website. Aimtell supports all major browsers like Firefox, Safari, and Chrome. Any webpage supports Aimtell.
With built-in lead enhancement features, Aimtell can easily grow your business. Aimtell helps you reach maximum subscribers in quick time. You can generate tailored notifications, keeping in mind, customer user attributes. The push notifications are complimented by Emoji support. Aimtell also offers third-party integration with social media sites like Facebook and Twitter.
Features of Aimtell:
It offers advanced segmentation and API capabilities.
Large image and full emoji support
Customized notifications and automatic notification dissemination
Third-party integration
Unlimited sites per account and team capabilities
It offers welcome notifications to new subscribers
You have comprehensive reporting tools to track conversions.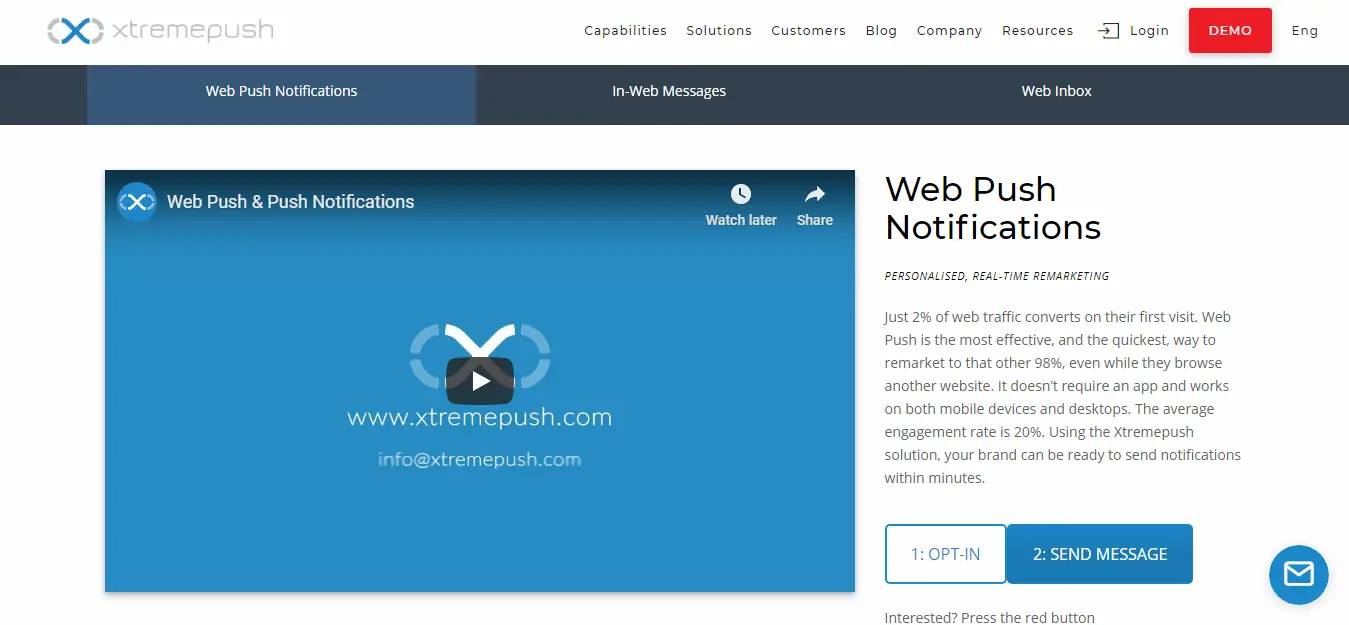 This is a cloud-based multichannel marketing and analytics solution. Xtremepush enhances your customers experience across email and web browser. It is an omnichannel analytics and engagement platform which offers push notifications to engage customers. Xtremepush gives brands the power to analyze, segment and target web and mobile app users.
Features of Xtremepush:
It offers in-app messaging
ROI reporting and push notifications
It offers customizable message template, POS, Loyalty, and CRM system.
Event-triggered actions and multivariate testing
Multi-channel marketing and user activity monitoring.
Market segmentation and campaign analysis.