Top 21 Keyword Research Tools: Find your Best Keyword Tools
01/21/2019 12:00 PM
by Admin
in Seo
---
Keyword Research Tools: Find your Best Keyword Tools
As you know content development and marketing is a great success for the online business. But without keyword research tools is it impossible to reach the target audience with desire search volume. There is a lot of process involved and requires very less time to do research, have a clear vision where you want to take your website and how to achieve it?
Keyword tools help to find the right keywords for your niche, and it is bread and butter for any online marketing strategy. To rank a keyword it is vital to have keyword research tools and there are plenty of online tools you can check it.
Here is a list of keyword tools that marketers can go through,
This is one of my best tool to start with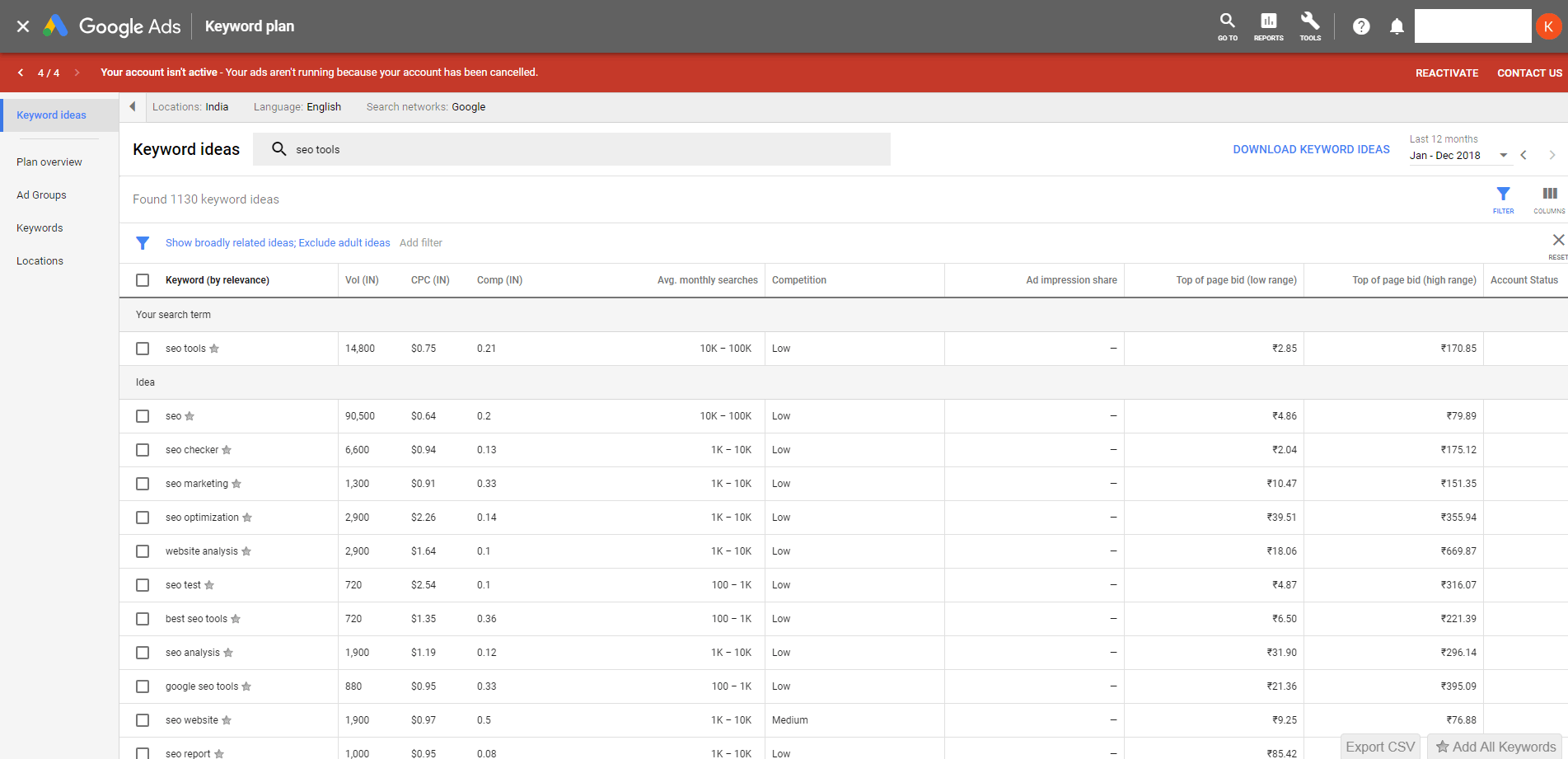 For any marketer, keyword planner is the first tool to start with keyword research. The tool is specially designed for AdWords means online ads but it is also useful for analyzing organic search keywords against competitors.
Enter the product or service, landing page, and category in the keyword planner tool to identify your keywords. Based on the target keyword, you will also able to see other related keywords for your niche site.
Focus on you can see set of keywords list for each related ad group that will your SEO against competitors keyword ranking.
Keyword planner gives metrics data such as monthly search volume, competition, bidding cost and other information for a targeted and related set of keywords.
Step1: just enter product or service you want, add landing page. Click the targeted location and submit.
Step2: After submitting you can see the search term along with related keywords.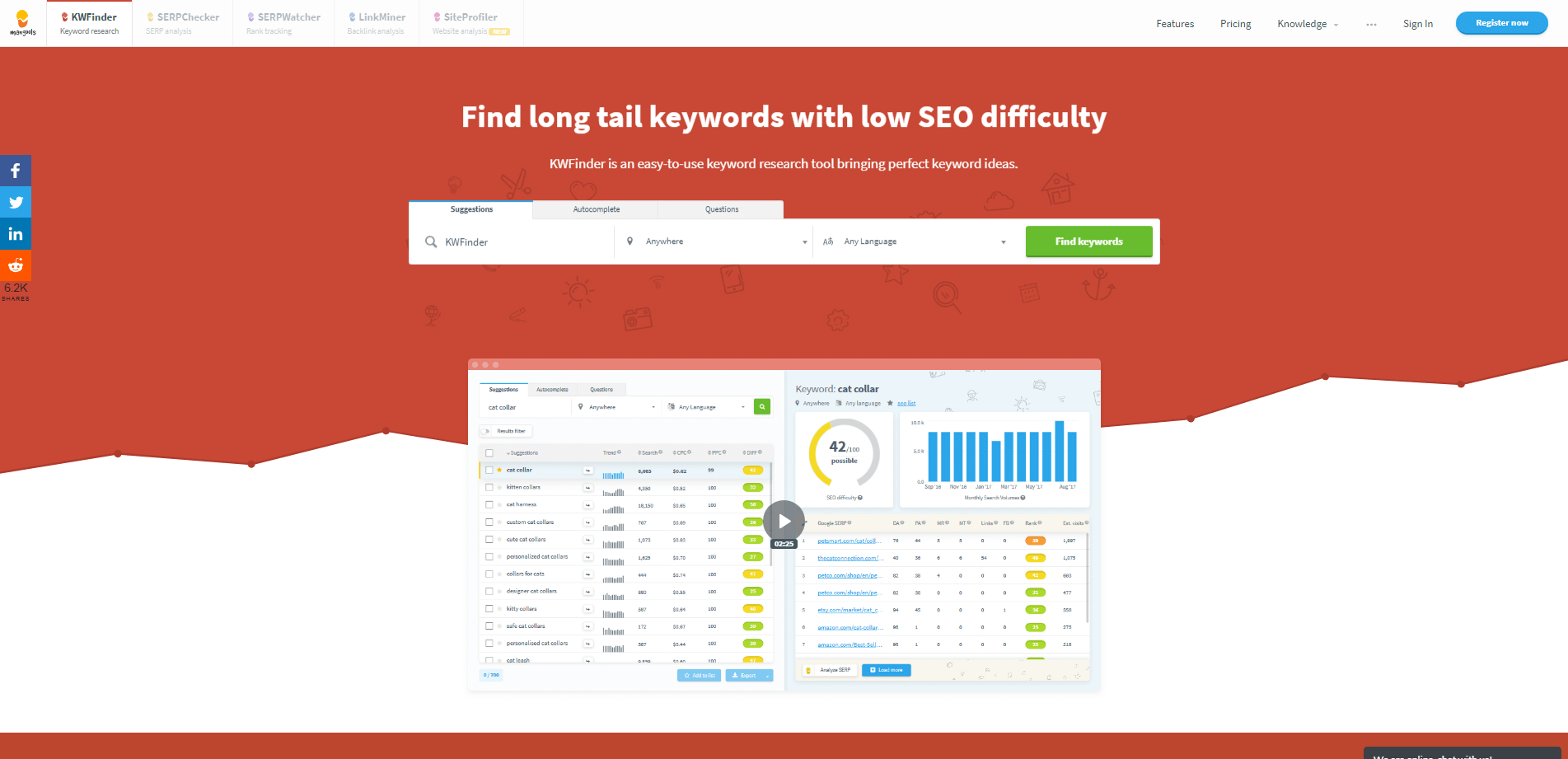 Kwfinder is an alternative to the keyword planner tool. It is simple easy to use tool to find long tail keyword ideas with low seo difficulty and helps us easy to rank on search engine.
Based on seo metrics and analysis of Google SERP, you can get real-time seo keyword difficulty data. With the super friendly seo tool, it is easy to get profitable keywords within a limited time.
Features of Kwfinder Tool
You can find hidden long tail keywords.
Organize a keyword list.
Filter profitable and non-profitable keywords.
Analyze local based seo keywords.
Import and export the keywords you want to analyze.
Identify google suggested keywords and seo difficulty.
Analyze and explore search terms, keywords difficulty, search volume to optimize keywords effectively in the content.
With proper keyword research and consistent optimization, you may see the results quickly in serp search results.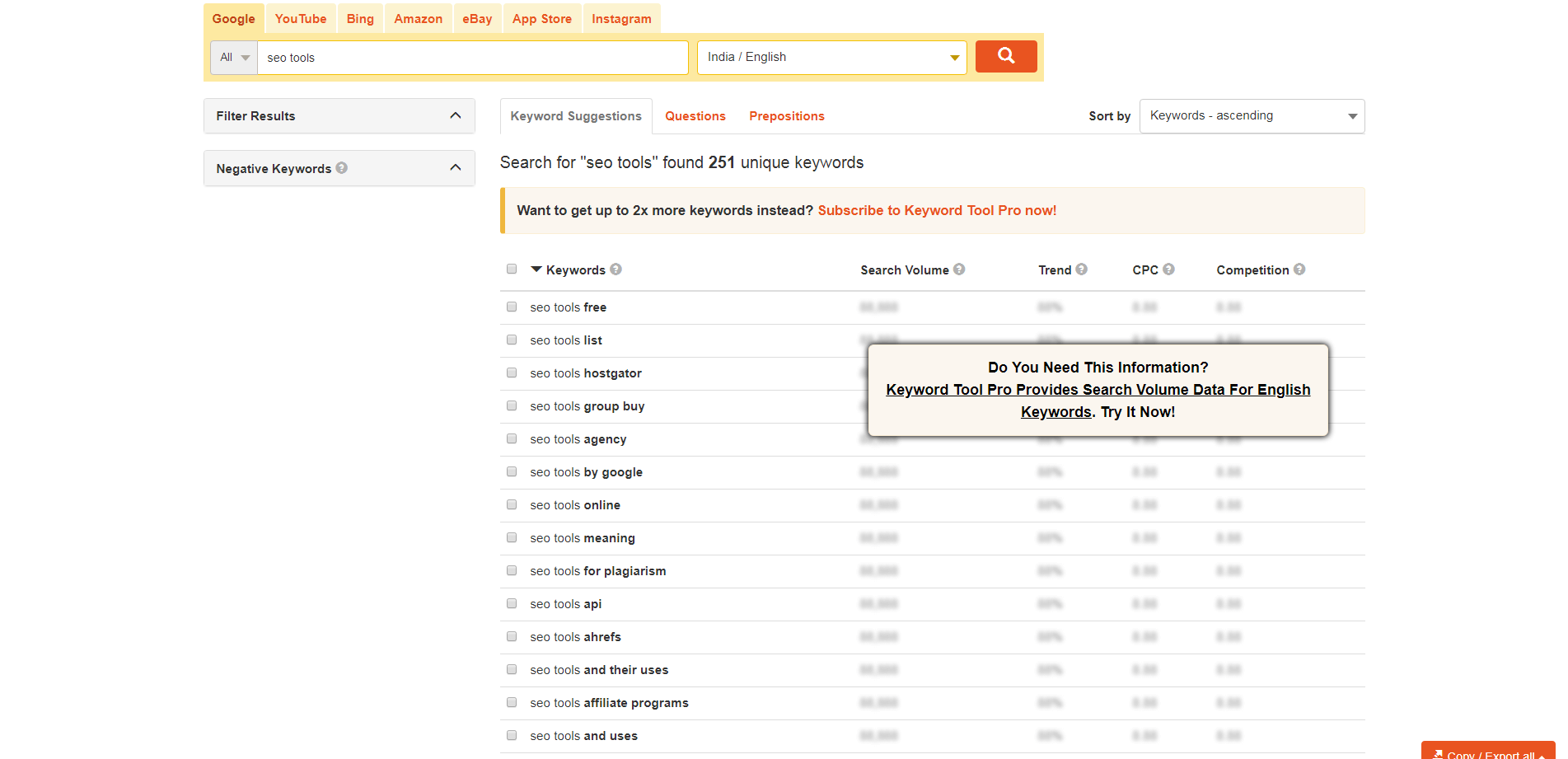 When you compared to other keyword research tool, keyword tool io is a great alternative to Google Keyword Planner. why this tool is so unique because for every search term the free version of the tool generates around 750+ long tail keyword suggestions for any topic and reliable 99.9% to the users.
It is very fast when the users search for their queries, it immediately generates results for various platforms and displays to the users. The search term generated is based on various factors such as keywords used in the past.
The keywordtool.io analyzes thousands of long tail keywords for content development, search engine optimization keywords, PPC advertising and other promotion activities much easier and faster for the users.
Basically, the tool works whenever the user types any query on a google search engine, it immediately generates new keyword suggestions along with the targeted keyword. This toot will retrieve all the respective information of the keyword from google auto-suggestions.
Features of the Keywordtool.io
Fast and easy to use the interface keyword tool.
Generates 750+ long tail keywords for any keyword search term
Reliable upto 99.99% for the users.
Supports upto 83 languages and 192 specific google domain extensions.
Autocomplete google suggestions to make search experience much easier. Shows only relevant keywords for the users.
The keywordtool.io can be used for content development, content promotion activities, domestic & international seo, online PPC advertising and much more etc.
Compared to other tools, this tool is very unique to generate long tail keywords that are less competitive and having good search volume.
The tool is helpful for international seo rankings to generate organic keywords in other google language interface. It can generate around 83 languages keyword suggestions.
This tool is not only helpful for search engines, but it can also be used for youtube, bing, Amazon, eBay, app store, Instagram etc to find profitable keywords at the low competition.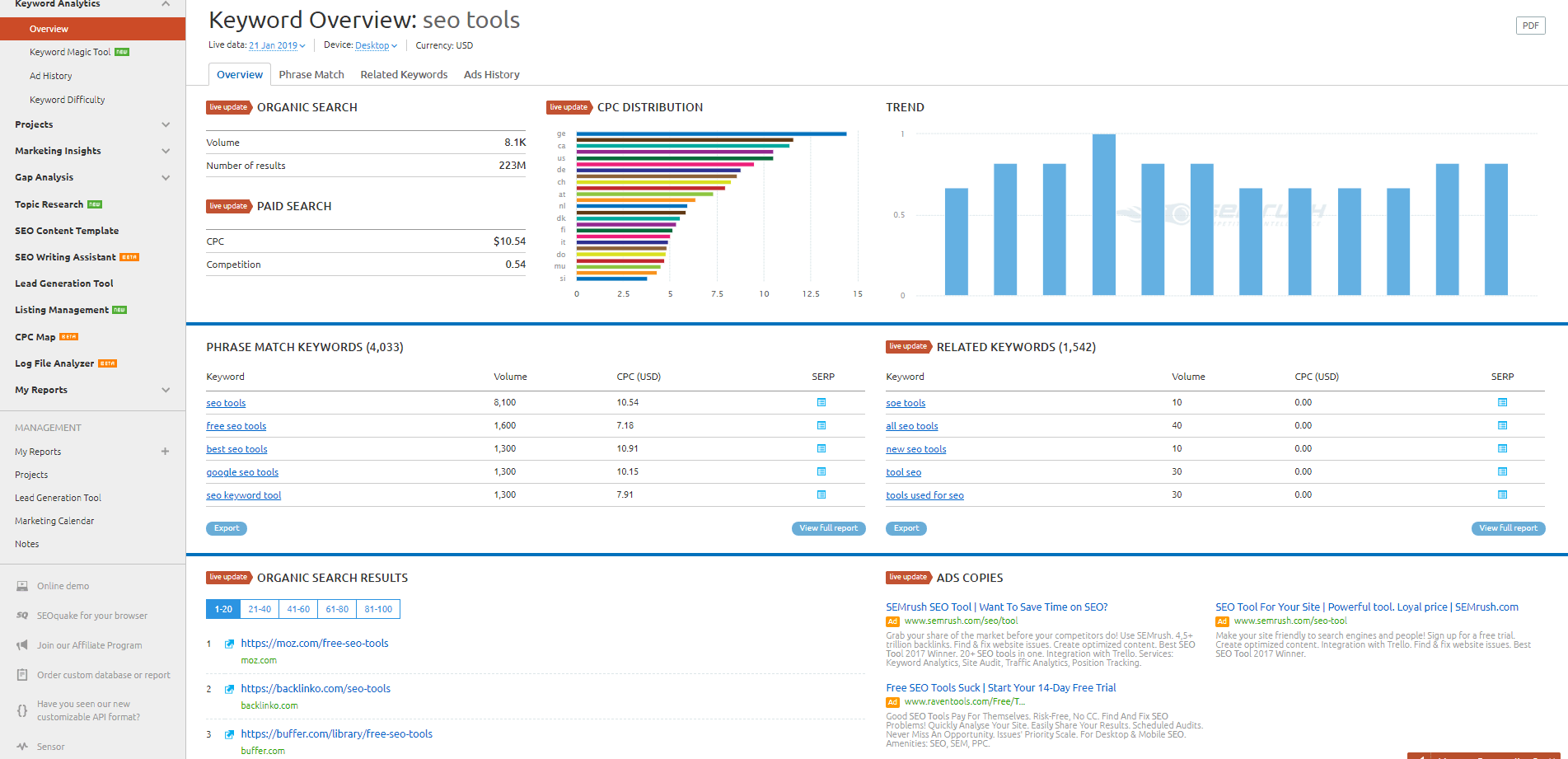 Semrush is an intelligence seo tool specially designed for online marketers, content writers, seo, social media, PPC advertising, and video marketing. The tool was founded by Oleg Shchegolev and Dmitry Melnikov, a software company located in Philadelphia.
The tool can help in identifying seo best keywords, PPC keywords, display ad analysis, backlinks, new keyword research, products listing and much more on what competitors are working on.
How to start with SEMrush?
- create an account and activate the account
- login with credentials
- Create a project for your domain
- Enter the domain to analyze seo parameters
The objective of the SEM rush tool is to analyze seo parameters and to know your competitor's strength. It can be competitor's best organic keywords, backlinks, display ads, product listing ads, ads strategies by competitors, ad copies, and understand the need to develop your site.
The tool also provides best keyword research tool, keyword position tracking, site audit, social media tracking, brand monitoring, on page analysis, backlink data, organic traffic complete insight, and many more for the users.

The tool is developed by Microsoft, which is especially used for running PPC ad campaigns. It is the best tool to research and plan your ad campaign to boost paid traffic.
The bing keyword research tool is a free tool to find your niche keywords to write content or to find the most effective ad groups to boost your PPC campaigns. The tool gives detail insight of keyword data like cities, metro areas, states, and countries.
All keyword suggestions and search volumes are based on organic search, but not from paid search marketing campaigns. When compared to a google search engine, the keyword volume and competition are very much lower. But the keyword is still worth to find the right keywords for your website products or services.
Advantages of the Bing keyword research tool
All search metrics is from organic search results
You can use upto 6 months of keyword data available.
Generate keyword ideas by language, country or region
The detailed insight of keyword search metrics.
Much more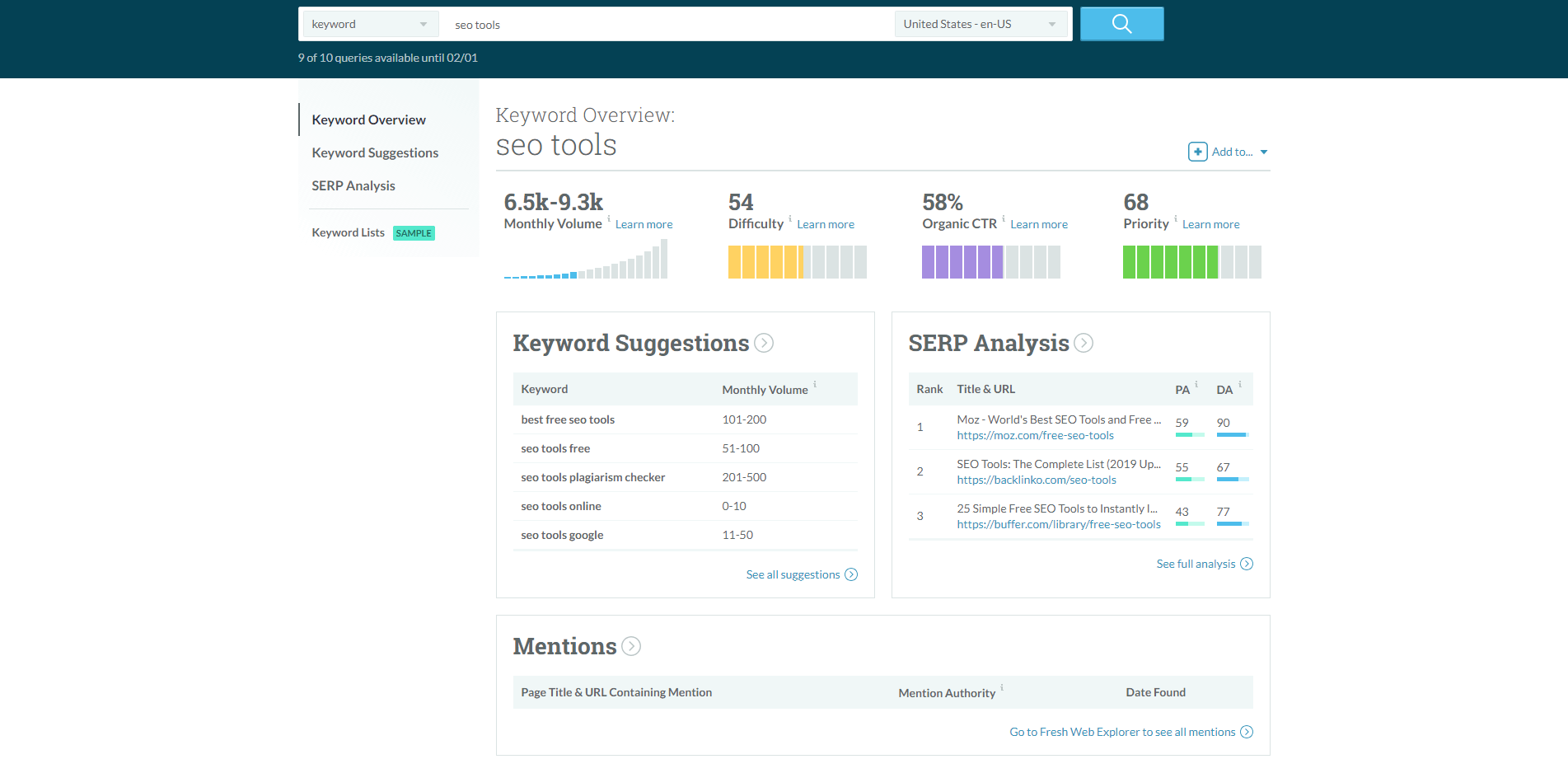 The Moz keyword explorer is an alternative tool for keyword planner. Moz tool is the best keyword research and SERP analysis tool to find accurate results in less time.
There are lots of SEO parameters playing a key role in google search ranking. The basic parameter is keyword difficulty and search volume. Without a good keyword research tool, you cannot optimize the content or plan your ad campaign or make a good online marketing decision.
When compared to other keyword tools like keyword planner or google suggest, it takes little more time to analyze right keywords. But with semrush keyword research tool, it helps you bring related semantically related keywords for online marketing campaigns.
Benefits of using Moz Keyword Explorer
Helps you build a set of the related keyword list
It displays keywords, search volume, keyword difficulty, and relevance
For every search term, it can display around 1000 different set of keywords, search volume, keyword difficulty and relevance which you can export into excel format.
It has free as well as a paid subscription for the users to check and analyze keyword data.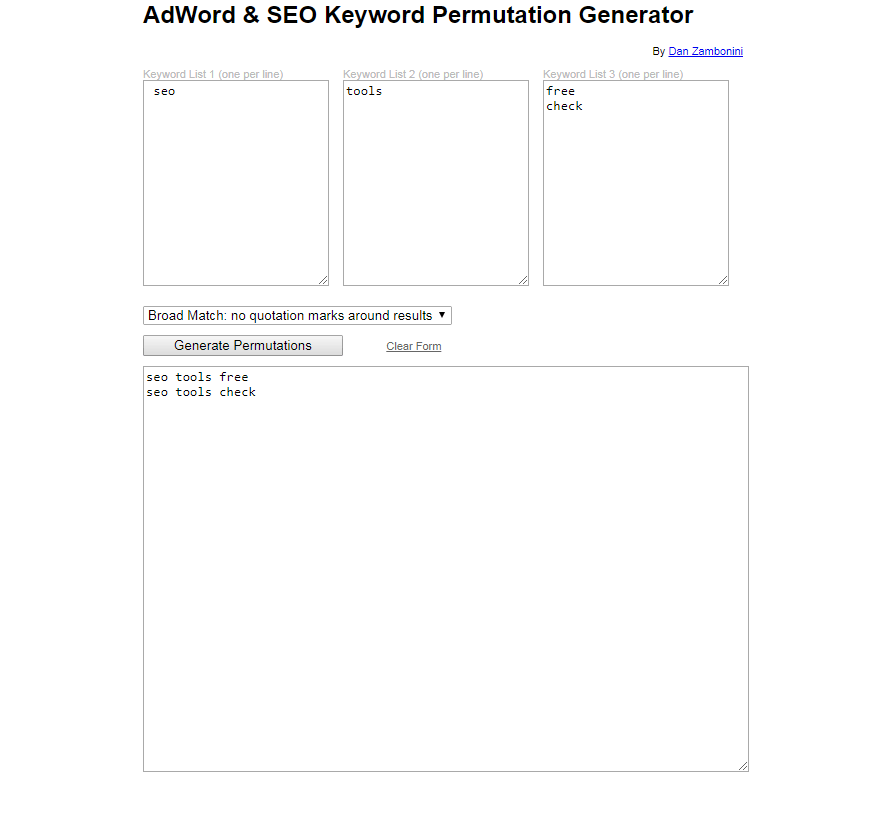 This tool is very unique to generate a random set of keywords based on a given input. It can be used both on seo and AdWords campaign to generate a permutation of keywords in a creative way. The interface tool is very simple and easy to use, it consists of 3 square boxes where each box you have to enter individual keywords line by line.
Based on the given input in each text box, it generates a permutation of keywords. These keywords can be used in content marketing and also broad, phrase or exact match for adword campaigns.
Benefits of using danzambonini keyword tool,
1) Generate an unlimited set of permutation keywords
2) Both Seo master and ad experts can use the tool
3) Completely free tool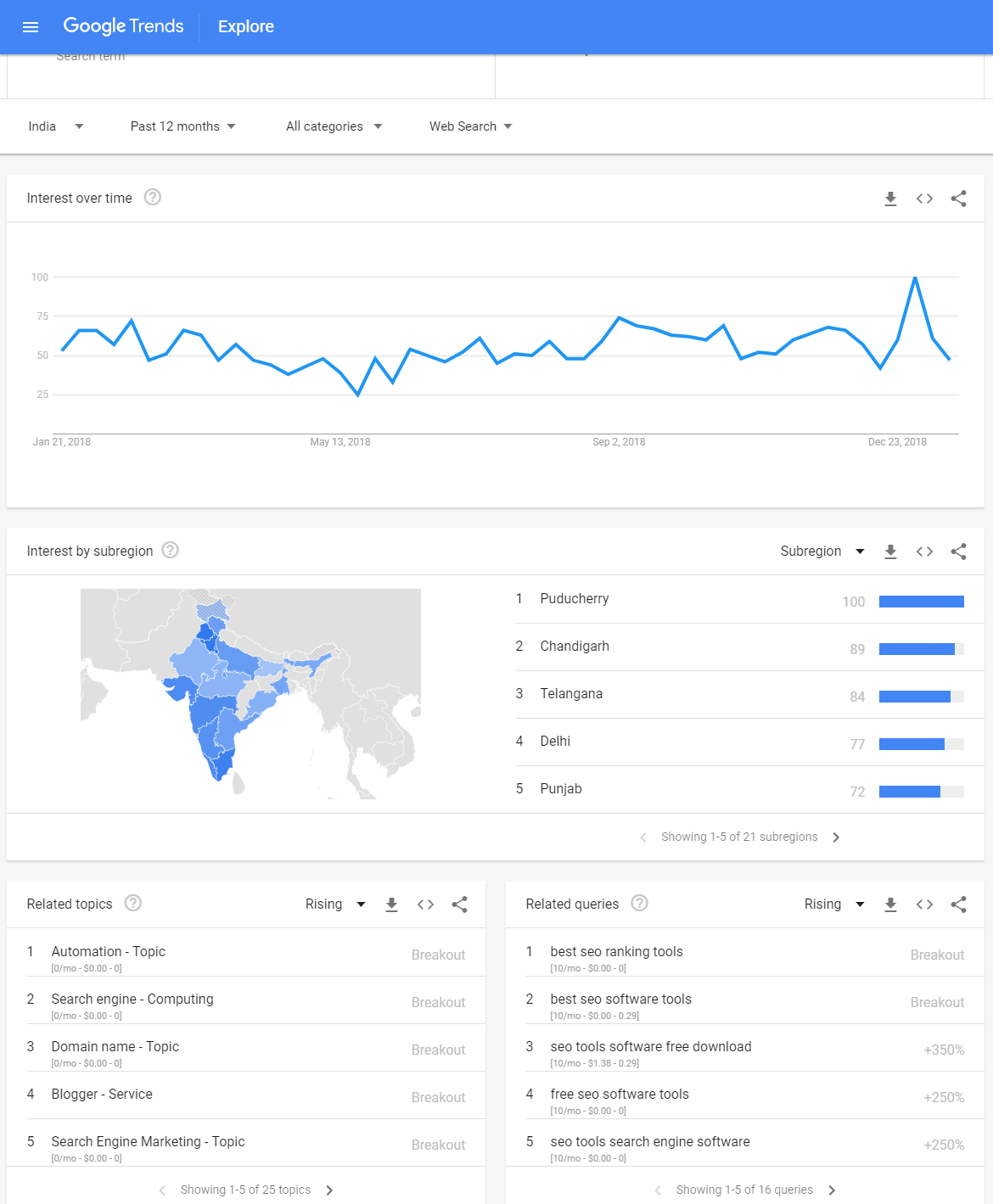 Google trends is a free online tool, that helps the user which keyword is trending and which is not. The keyword performance trend may go up or down based on over a period of time. Google trends algorithm works on how the users search from time to time, then it calculates how much search has been hit for a particular month and how is it varied?
Sometimes google trends do not provide accurate results due to varies in results or less computation. But it is still effective to provide genuine trend results.
In google trends, you can provide upto 5 keywords or topics at a time to analyze its trends. It displays the trend results with graph and search volume how it has performed over time. All the data can be exported in .csv format or excel format.
Google trends also display its trend results on location wise based on a specific term. It includes unique visitors, region, and percentage of a number of visitors for a specific location.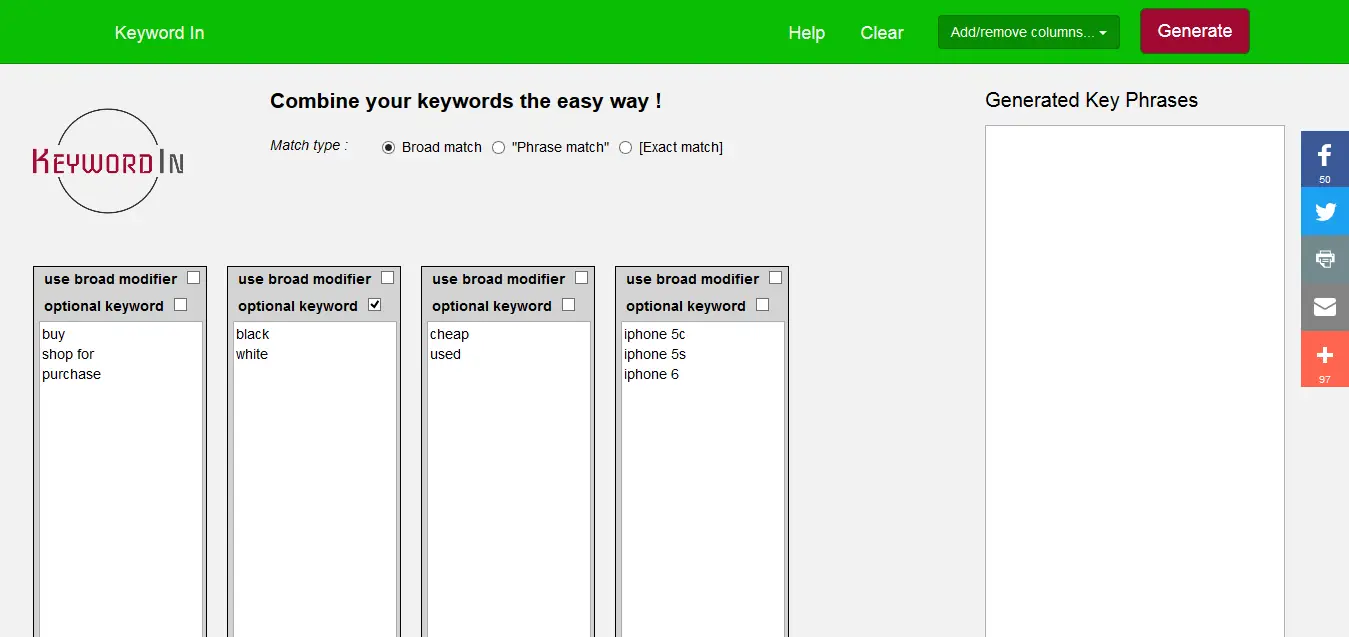 Keywordin is a free online keyword generator tool, helps users to generate a permutation of keywords. The tool is especially good for content writers, seo professionals, and ad campaign managers.
The tool is very simple to use, it consists of 4 different boxes where each box needs to enter a unique search term. Just type a different search term on each text box, and click generate to see the results.
Based on the requirement of the user, you can generate a different type of keyword lists like broad match, phrase or exact match for ad campaigns.
Step1: First Visit http://keywordin.com/keyword-generator.php tools, then type a unique search term on each text box and click generate.
Step2: The keyword list is generated as follows (Broad Match, Phrase match and Exactmatch)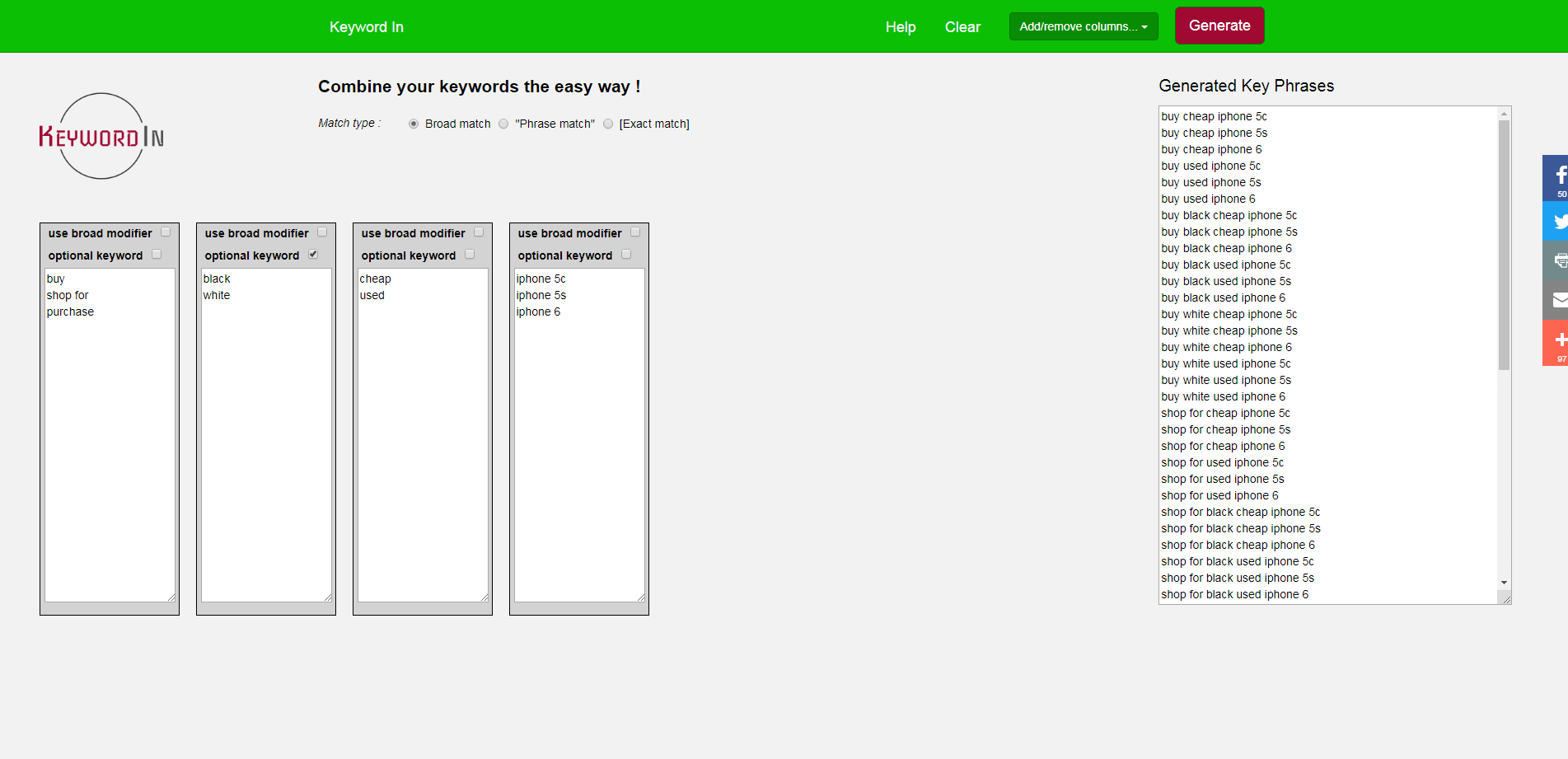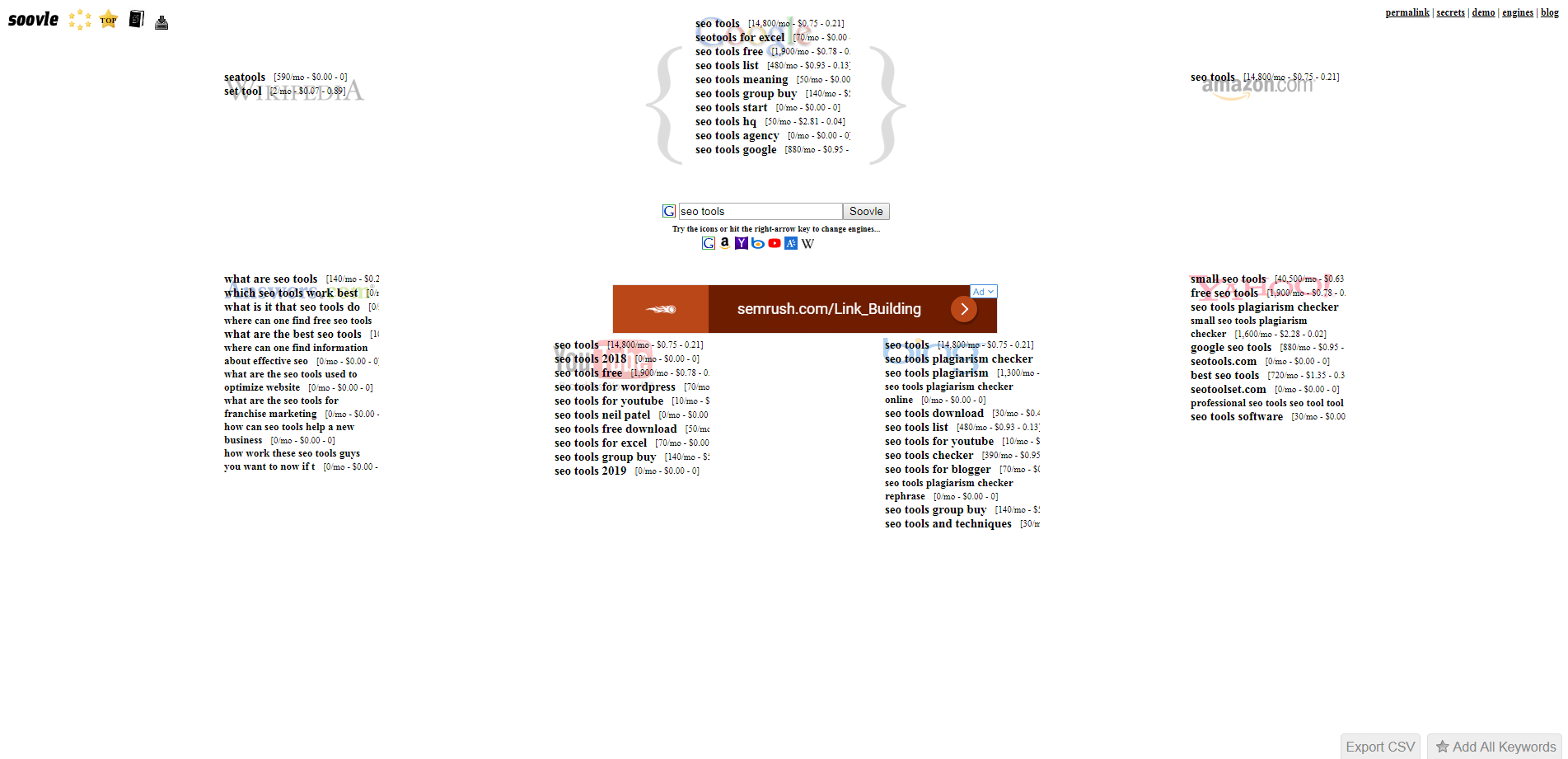 Soovle is an amazing tool which gives relevant suggestion keywords list for each specific search term. It gathers all relevant keywords on various platforms google, bing, yahoo, Amazon, Wikipedia, Answers.com, YouTube, etc and displays to the visitors.
How to use Soovle tool?
First Visit https://soovle.com/ tool, then click on the search box and enter a keyword. It immediately displays relevant search results to the user.
For each alphabet you type, it immediately displays the suggestions from major sources.
How keyword everywhere simplifies soovle tool?
Just by installing an extension from chrome store and activate the tool. After activating just type search term on the soovle tool, the keyword everywhere displays search volume on the related keywords.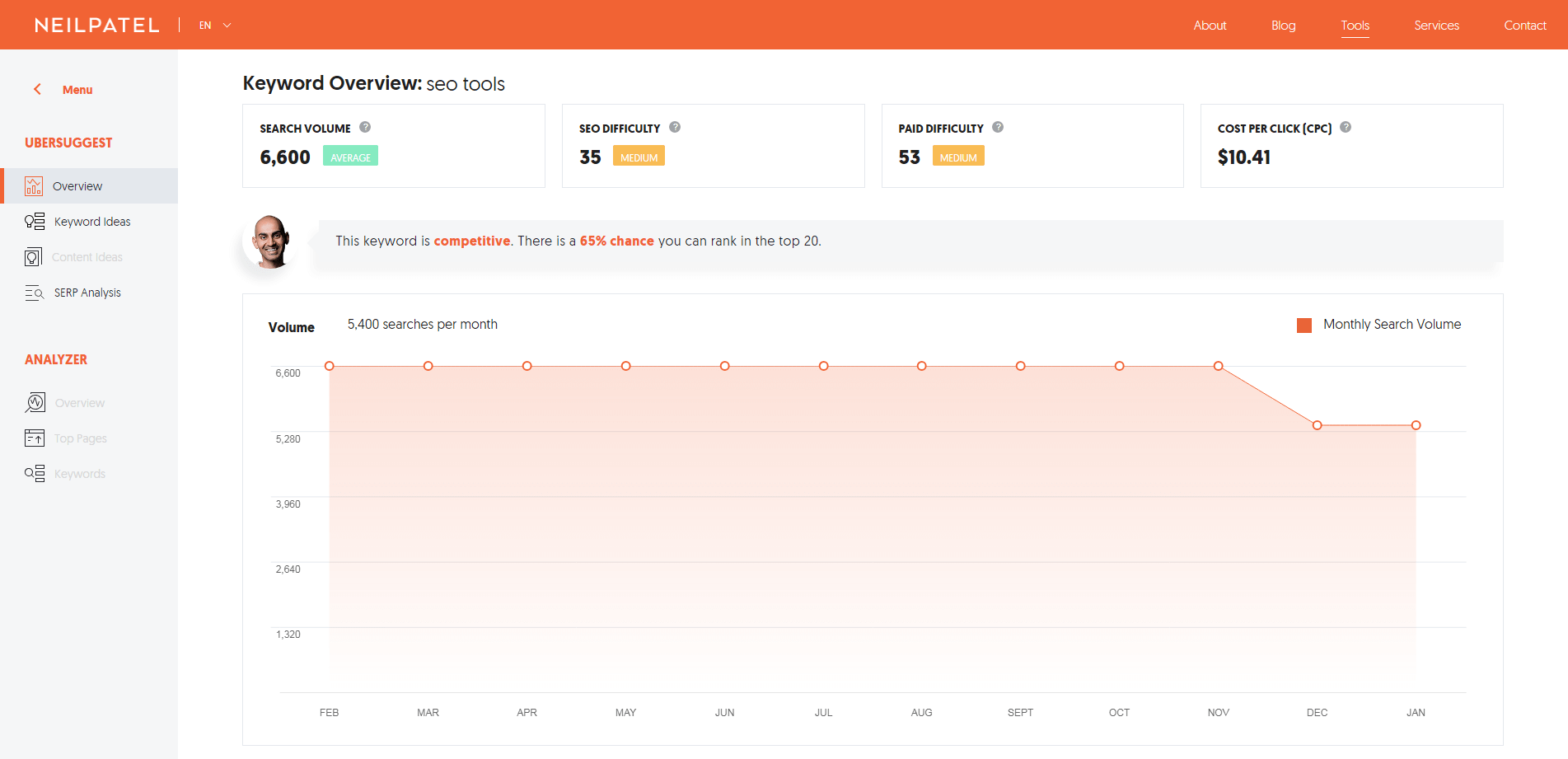 While compared to another keyword tool we found that ubersuggest tool is more seo friendly and 2X faster to analyze the results.
It is a great tool and can be recommended for beginners to understand the type of keywords.
Since this is a great keyword research tool to produce keyword ideas with its unique algorithm analyzing directly from google suggestion.
It uses your basic seed keyword and searches on google. The auto produced results directly fetched from google and displayed to the visitors.
The tool is owned by Neil Patel and he is one of the top online entrepreneurs recognized by Obama administration.
Benefits of using ubersuggest tool,
The tool is completely free to use and does not require any logins.
For every search term, it displays a relevant keyword list with volume, competition, keyword difficulty and CPC results.
It also displays keyword search volume of each month, keyword ideas, and Serp analysis for a specific search term.
The keyword tool is extremely reliable upto 99.99% uptime and performs faster continuously even if more visitors are added.
You can search and find an unlimited number of keyword suggestion to take your seo, content marketing, and PPC campaigns to next level against competitors.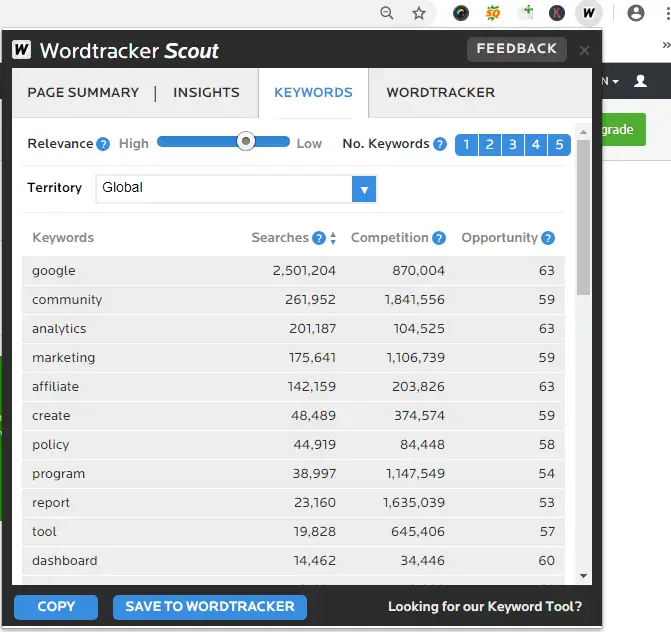 Wordtracker tool is not a simple keyword tool actually it is more than a market researching tool. It takes in-depth competitors keywords, google suggestions data to our platform to help for Seo and PPC marketers. Don't wait, just type the required keyword and analyze the results.
To improve rankings, content optimization and outrank the competition, you need a wordtracker tool where you can get up to 10000+ keywords per search. You will get all the relevant keywords which it can be optimized on a particular page to improve traffic.
key features of the wordtracker scout tool
- It helps to find related keywords to optimize content effectively
- It displays Serp preview and how well can be ranked against the competitors using the keyword difficulty tool.
- It gathers keyword data from various sources like google, youtube, amazon etc.
When you compare wordtracker and google keyword planner, there may be varied in keyword search volume. why because? google keyword planner uses global monthly search data whereas wordtracker uses daily searches.
Wordtracker also has a wordtracker scout chrome extension, where you can easily install from chrome store. Where you can install and discover high-performance keywords implemented on the page within seconds.
How does Wordtracker Scout extension works?
- After installing the tool from chrome extension, open any competitors site and simply click on the extension to see the list of keyword cloud performing on the site. It shows the data on word cloud along with relevance and number of keywords.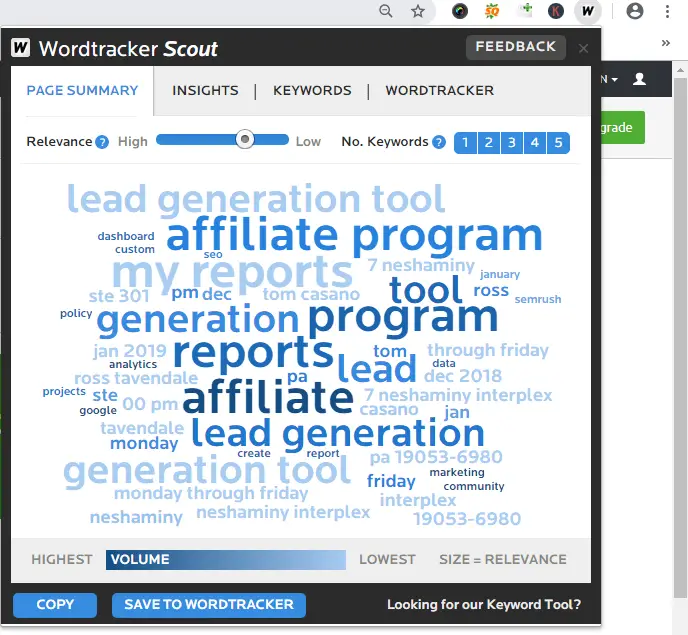 - Once you navigate to 'keyword tab', you will see insight in detail like namely searches, competition, & opportunity. Just hit the Wordtracker Scout extension button and discover the potential keywords that can be optimized on the webpage. The word cloud gives the necessary suggestions and relevance to optimize your content.
Advantages of using wordtracker scout
- Get a keyword cloud within seconds
- Just click the mouse button on the extension to discover potential keyword
- Search, discover and use the high profitable keyword on your content.
- Grab high-performance keyword from your competitors
- The big advantage you can get more suggestions from its huge keywords database with search volume, competition etc
- The tool is 100% highly reliable tool without any disturbance
- The keywords can be used in seo, content writing, PPC ad campaigns, social media marketing, contextual backlinks and much more.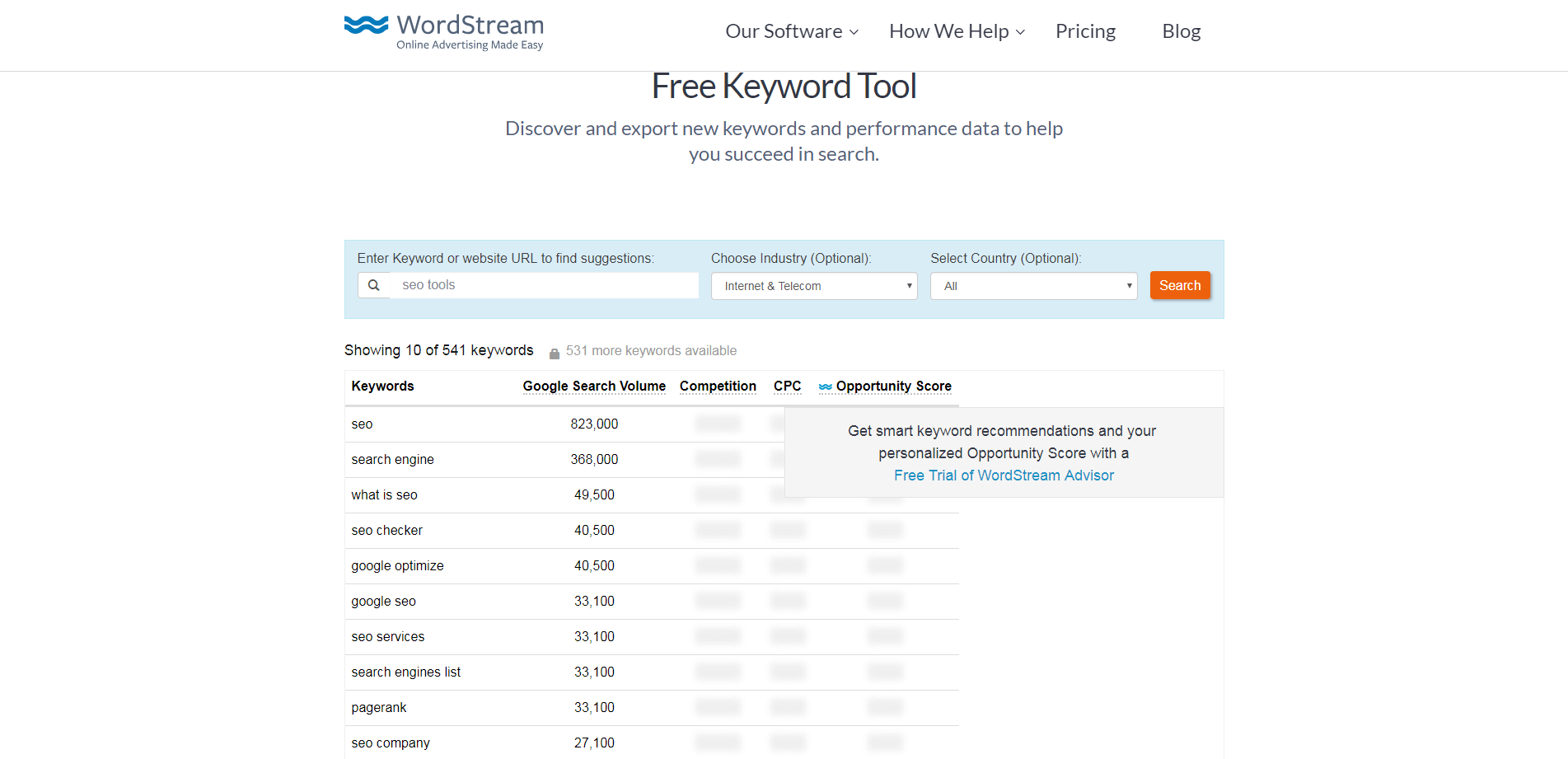 The Wordstream or wordtracker tracker tool looks similar, but the technology and identifying better keyword data may vary. Wordstream provides a keyword research tool to discover a new set of keyword for every searched term from its own keyword database.
This tool helps you find the right keywords easy and fast to drive organic or PPC traffic in which the business needs.
Key features of the wordstream tool
- Either enter a search term or use a website URL to identify hundred of valuable, relevant keywords based on a niche industry.
- First research and prioritize to start with a PPC ad campaign. It is important to know the search volume, competition score, CPC value etc. Based on the keyword research, make a list of profitable keywords to be used in the ad campaign.
- Once you got all high valuable keywords, download into CSV format and upload into adword campaign directly to run the campaign. The keyword tool contains more features, data to manage and optimize search engine marketing campaigns.
We all know the keyword is the foundation stone for all online marketing strategies. it is the most crucial part of seo and PPC campaigns. Since the tool provides free for users to analyze the right term for their niche.
5 key parameters available in this tool,
Keywords
Search Volume
Competition Score
CPC value
Opportunity Score
How to use wordstream keyword tool?
In the respective search box, either enter a keyword or website URL, along with industry and country to get a list of the desired keyword. The keywords include a long tail, short tail with search volume, CPC, competitive score etc and get new keyword ideas for your online business.
Initially, you will get only 10 keywords. To get access the full keywords list, enter your email address on the requested form, within few minutes you receive full keywords data on email.
The free keyword research tool can be used in many ways such as
- Seo friendly keywords
- PPC ad keywords
- Header tags
- Long tail keywords for blogging
- Meta tag keywords
- And much more
SEO Chat Keyword Tool
In all the above keyword tools, finding the right keyword to improve organic search results. Most of the tools, until we have shown are free to use. Similarly, SEO chat keyword related tool is free to use and provides better keyword suggestions in 3 different levels.
For a simple and basic keywords use level 1 approach which works for seo beginners.
For a deeper insight and long tail keyword use level 2 approach to which works for seo executives
If you want to dig still deeper, use level 3 approach which will work for seo professionals, content marketers and social media experts.
For every related keyword search, the tool provides relevant keyword ideas according to the level selected. For more successful, amazing and accurate results use level 3 approach. Because it gives long tail keyword ideas to be optimized on the website.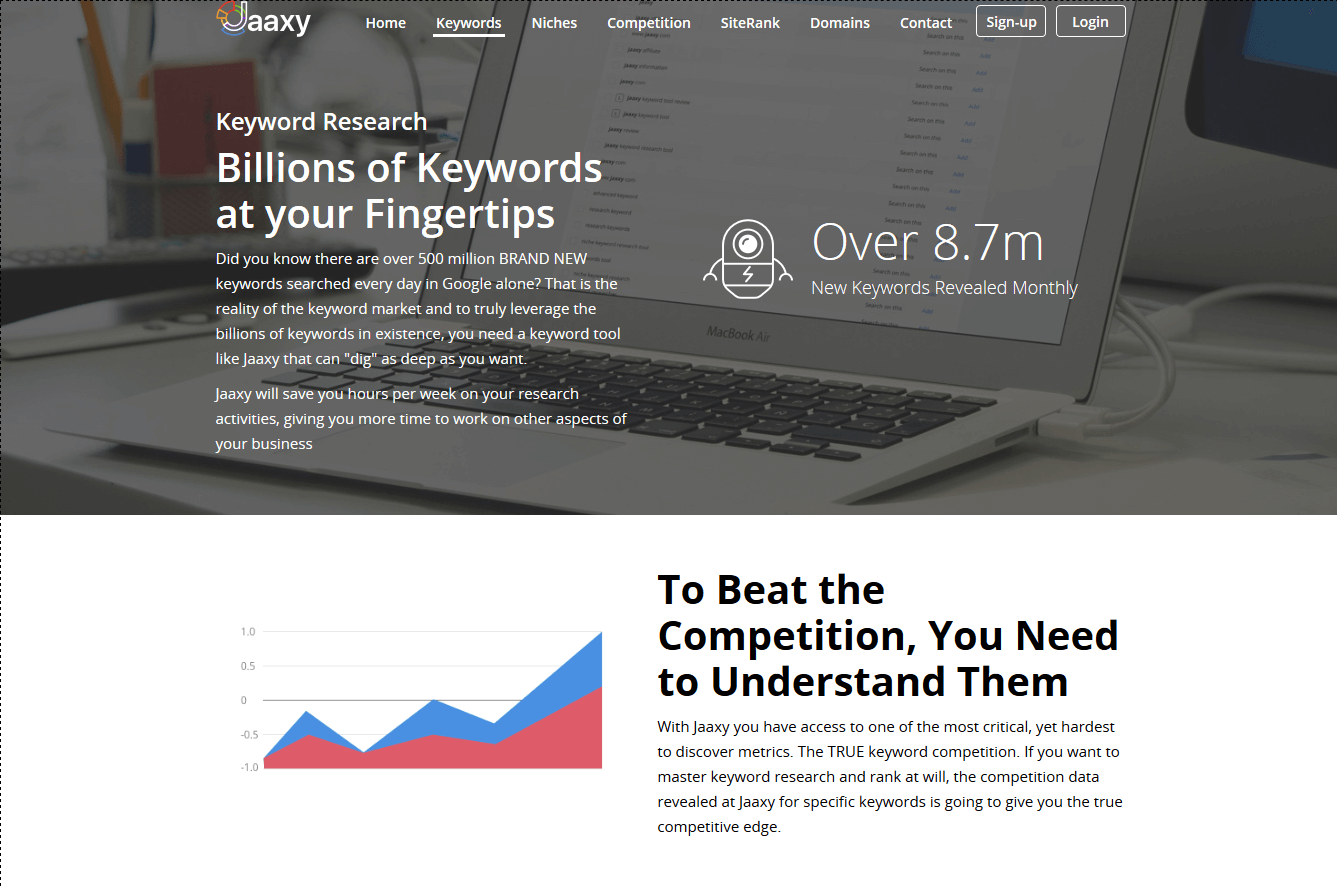 When it comes to business, keyword research became the most basic online marketing strategy. Jaaxy is a first unique tool to develop keyword research for affiliate marketers to reduce time, less competition and identifying profitable keywords. The tool is built with better technology to reduce the time and executes a number of process at the same time.
Still, other tools are emerging rapidly, but jaaxy tool helps in all aspects such as keyword research, website, competition score, and other feature to improve the user experience.
The jaaxy tool has a huge demand in the global market for affiliate marketers. Every day all over the world people searches around 500+ million keywords on search engine to find information. So it is important to have a keyword tool to find accurate, suitable keywords with less competition.
Jaaxy is the best tool to find new keywords as well as competitive keywords, search traffic, meta tags, content overview, content quality, backlinks, ad campaigns, ranking and other detail insights of your competitors. To spy or analyze competitor keywords the tool clear idea why their keywords are ranking, and how to rank our keywords on top of search engines.
How to analyze keyword research?
First, create an account and activate it with your email id. Once you log in, you will see the dashboard with a set of analysis tool to discover seo information from respective competitors.
Just click on the keyword tab appearing on the dashboard where you can discover new keywords depending on the industry.
To know how it works, just type "mobile phones 2019" on the keyword search bar and click find keywords. Within a few seconds, you can list of related keywords on the tool with a clear insight of average traffic, QSR, KQI, SEO, Domains and much more. The keywords are more accurate compared to the keyword planner.
Monthly Searches (Avg) - There is an estimated Average monthly search volume.
Web traffic – This is estimated search traffic for a given keyword appearing on google results.
QSR – It is known as "Quoted Search Result" which shows how many number of websites competing for the exact keyword. If lesser the QSR, the easier to rank on search engine.
KQI – The KQI shows how difficult to rank the keyword. It displays in the form of color (red, orange, green)
Red – Difficulty
Orange – Medium
Green- Low
SEO Strength – Based on web traffic, Competition, KQI data, the tool will analyze how difficulty to rank the keyword. It can be checked through 3 color system.
Domains – This feature is not available in a free or trial version, you need to upgrade to another plan to access it. This feature will help you to find the right domain name with the available keyword.
Related(Brainstorm) – This is another cool feature where you can get some suggestions and new ideas for your keywords.
Jaaxy apart from keyword research, you can also analyze site rank, Competition, website SERPS, affiliate programs and brainstorm keywords.

Till now we have seen how to discover new keyword from various keyword tools. But with the help of google webmaster tool, you can discover other keyword terms like click are coming from different search term for the same URL.
In order to access this webmaster tool, first you need to register webmaster account or use existed Gmail logins to create an account. After creating the account, click on add a property to submit to google search engine. After submitting, you need to verify your domain with any of 1 verification method.
Google webmaster provides detail information of search metrics, to know which keywords are performing well and how they are performing.
If you are a digital marketer, seo expert, or the owner of the website everyone requires google webmaster tool. It is an essential tool for everyone who depends on google search console and understands the requirements of the webmaster. For its broad features and friendly tools, every seo savvy marketer will like it
How to access google webmaster keywords?
On webmaster dashboard, click on the website that you have recently verified to view search analytics.
Click on performance link in the new google webmaster dashboard to analyze search metrics. You can check individual keywords or list of profitable keywords for a particular page.
The performance tab is one of the most often used tabs to find the right keywords which fetches traffic. You can see a list of keywords or query being searched by people on your website. Along with keywords, it displays a number of clicks, impressions, CTR, and average keyword position on google.
Google webmaster allows checking how many visitors came, from which country and device type. Based on these data, seo experts make a decision and target the right people accordingly.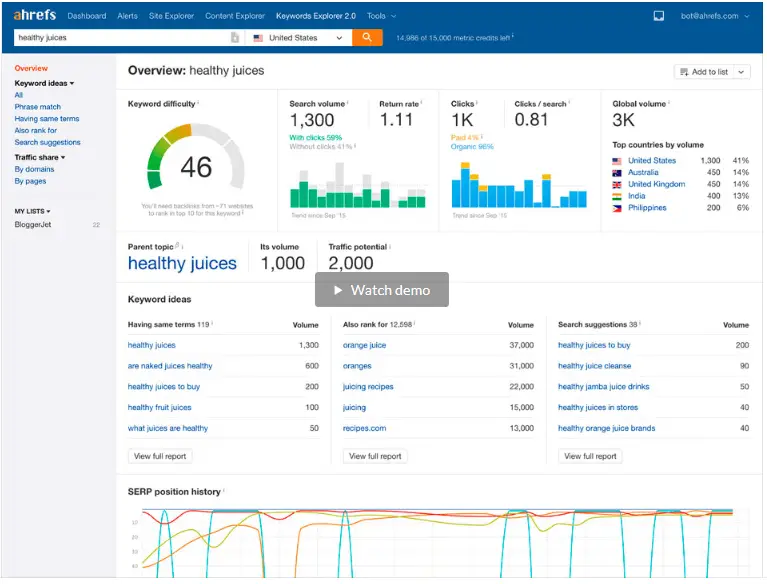 When you compare ahref with another seo tool, no other tool can match with this amazing tool. Because it is one of the most powerful tools in the seo industry and has many advantages to see good results. Learn how to use this seo tool without worrying about any other alternatives.
Keyword research with ahrefs tool will provide 1000's of suggestions including search volume, difficulty score, CPC cost that is suitable to your niche. Every month they will update millions of keywords into the database based on category, location, and other competitive rich keywords.
The tool supports over 100+ countries and variety of keyword suggestions. In the case of other tools, it provides only US-based search results. But this tool provides keyword data mostly related to the country list.
Ahref provides more in detail like accurate search volume, Keyword difficulty score, ctr metrics (clicks data), return rate, clicks per search, the percentage of organic clicks, the percentage of paid clicks, SERP, position history and much more.
Overview of Ahref tool
Each seo tool has a different overview of analyzing, gathering and proving data to users, so here are few terms that ahref tool provides
URL rating
Domain rating
Ahref rank
Domain Backlinks
Referring page
Referring domains
Referring to content
Anchors (contextual backlinks)
Competitor Analysis
And much more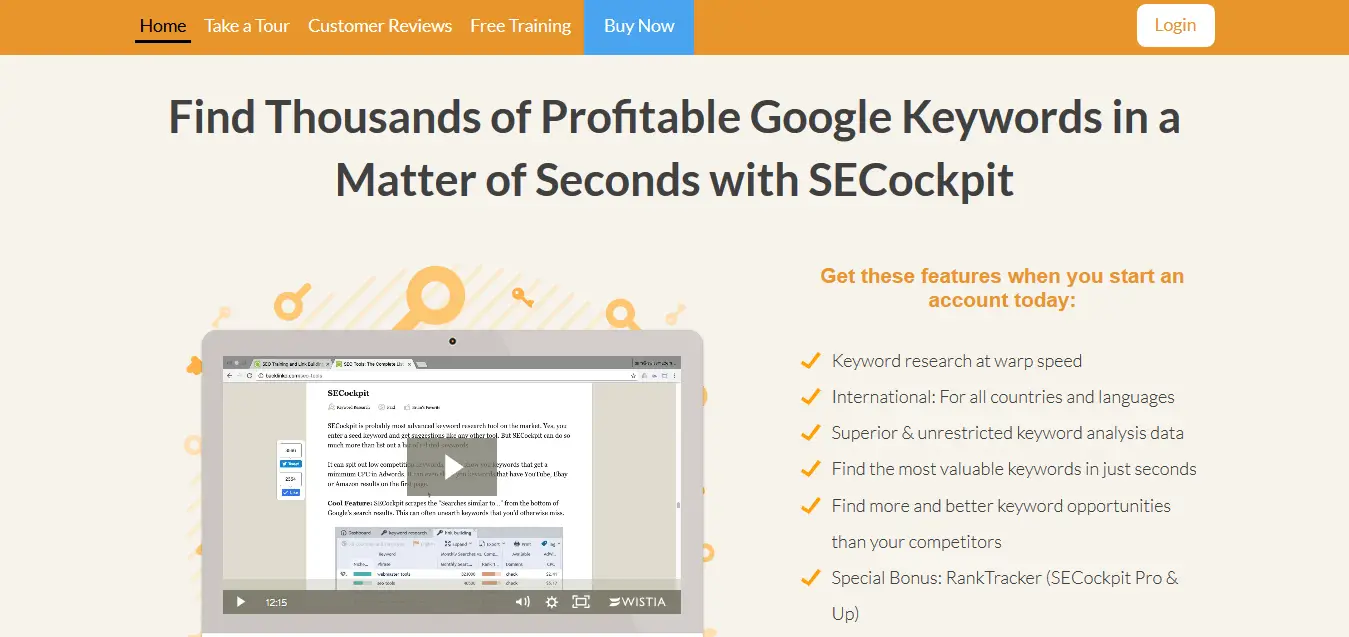 SEO cockpit is the right keyword research tool when you are unable to discover the keywords with low competition. It is one of the cool seo tools on the internet, it is built for marketers, agencies, and entrepreneurs.
SECockpit finds the keyword data from google keyword planner (AdWords tool), Google suggestions, Google related searches, Youtube suggestions, Amazon keywords and tapping from various keyword sources. It uses real-time competitive analysis data to find the right keywords, taking many factors into consideration like volume, CPC, backlinks from competitors, page authority, domain authority and much more to determine competitiveness.
It works on any platform like Windows, MacOS, and Linux. It works on a cloud operating system at blazing speed without any downtime or getting IP address banned. Use any common browser such as chrome, firefox, Internet Explorer 10(edge) or Safari.
Key benefits of using this tool
Accessing of right keywords can be done at blazing speed.
Build successful SEO campaigns and track
Easy to use for all language people and countries
No restriction of keywords analysis data
Get valuable keywords for your niche within seconds
Discover more keyword ideas than your competitors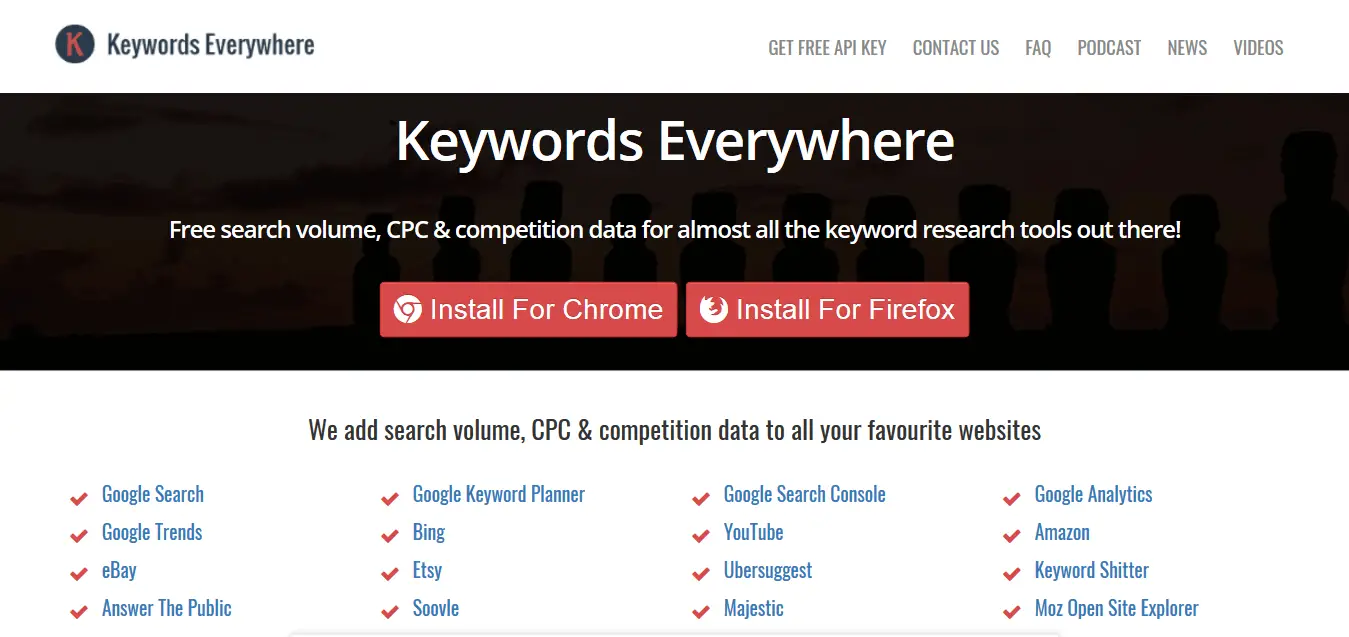 Keyword everywhere is an amazing free keyword research tool on the internet, where you can install the extension on either Chrome or Firefox browser. Once installed and activated, it displays directly on below the search bar like search volume, CPC cost, competition data and other keyword suggestions related to the searched term.
There is no limitation of checking the keywords, and it is completely free to use. No need to worry if you are a blogger, content writer, ads campaign manager to analyze the keywords. It retrieves the keyword information quickly and displays to the users.
With the help of keyword everywhere tool, you can analyze search volume, CPC and competition data on each of the below sites
Google Keyword Planner
Google Search Engine
Google Trends
Google Search Console
Google Analytics
YouTube
Bing Search Engine
Amazon Store
Moz Open Site Explorer
eBay Store
Answer The Public
Majestic
Ubersuggest
Etsy
Soovle
Keyword Shitter
How to get keyword everywhere extension?
1) First, visit the Chrome store or firefox extension
2) Type the keyword everywhere name on the search bar
3) Download the extension
4) After downloading, activate the keyword everywhere extension.
How to use keyword everywhere?
To do keyword research, it takes a lot of time to analyze the right keyword, volume, CPC and competition. But with the help of Keywords Everywhere tool, the work is simple and easy to use.
Just type on google search the basic keyword, the tool gathers and displays all the related keyword with search volume, CPC, and keyword competition. It includes both long tail and short tail keywords.
Currently, the tool supports 7 different countries to research the keywords on location based. The countries include Australia, Canada, India, New Zealand, South Africa, United Kingdom and finally the United States. If you want global search, just click on the extension and change the option.
Suppose if you have 1000's of keywords to search, the tool has an option to import the keywords. Just click on the extension, then click import keywords you will see a new page opening where you can add all the keywords. The search volume data which you see is real-time data.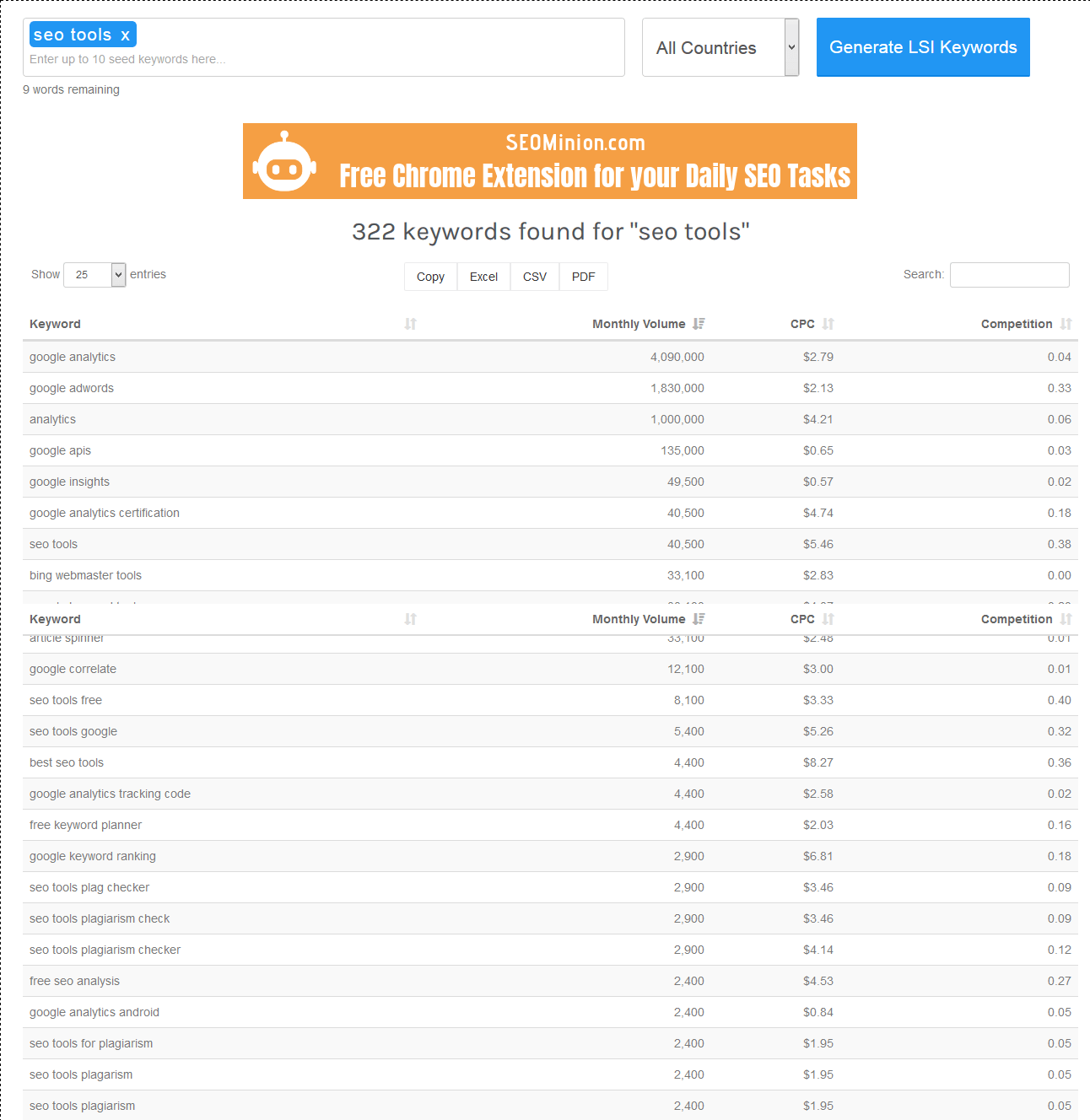 LSI keyword tool is an amazing tool to find long tail keywords to your niche Since it is a free tool and reliable all the time. For every short term keywords you search, the tool gathers all the related long tail keywords with search volume, CPC, competition score etc.
LSI means (Latent Semantic Indexing) is a commonly found keyword and set of semantically related keywords for every key search term.
For every article written you need main header keywords and subheader keywords which is long tail. If the article does not have enough LSI keywords, the content readability decreases and reduces chances of ranking.
Use of LSI keywords in the article, search engines ranks the relevant keywords for the different search term. If the page has relevant keywords, it ranks on top of search engine that is semantically related to the term. So optimize the LSI keywords in header tags, meta tags, content, image optimization and as well interlinking.
How does lsikeywords.com tool work?
Everyone knows lsikeywords.com is a free keyword generator tool and supports only fewer countries such as Australia, Canada, India, New Zealand, South Africa, United States, and united kingdom. If you don't need any targeted country location click and select all countries
For every seed keyword, LSI keyword tool produces 10,000+ LSI and long tail keywords. Just type your seed keyword, and location of the country and click 'Generate LSI Keyword'. Within a fraction of a second, you can see a list of long tail keywords along with monthly search volume, CPC and competition.
The list of generated keywords can either be copied or saved into an excel format, CSV format or PDF format.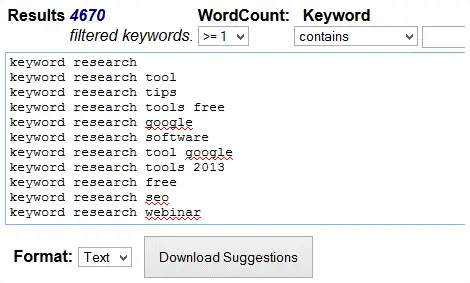 Keyword Snatcher is a powerful online keyword generator software. It finds untapped niche long tail keywords that no other software has developed so far. Keyword Snatcher Works on Windows, Mac, Linux OS etc. It is useful for webmasters and seo professionals who are looking for right keywords for their website.
Keyword Snatcher actually does not pull from google keyword planner tool directly, instead, it takes data from google autosuggestions which have very long tail keywords. The tool is very helpful finding local and global generated keywords, it has over millions of keywords and phrases related to city search.
Any undiscovered long tail keywords from google can be seen here which have very less competition and easy to rank on search engine.
How does Keyword Snatcher software work?
For every seed or phrase keyword, the software generates a list of long tail keywords related to the niche. You can make a set of semantically related keywords for later use in digital marketing activities. It extracts keyword data from various sources like google, yahoo, bing, Amazon, ebay, and youtube.
Steps to use Keyword Snatcher:
- Select the sources you want to extract the keyword.
- Next, select the country location that you want to target.
- Type the seed or phrase keyword in the search box and see a list of long tail keywords generated.
- Tons of keywords is being generated, which can be used for later use.
Cost: The cost of Keyword Snatcher is around $47, it is a one-time payment means there is no recurring monthly charges or API charges or annual charges.