Remove Duplicate Lines
Enter your text here
(or)
Load a file
  Case sensitive. Remove empty lines. Display removed.
What does Remove Duplicate Lines mean?
Everyone who has something to do with online text content needs this Remove Duplicate Lines tool. There is no need to go much deeper for understanding how to remove the duplicate lines. No matter how big your content is, this tool is preferable of identifying the entire text in just a few seconds for duplicate lines of text. This free tool is available on countless websites and very easy to assess.
There will be a blank space available to paste the text content. Also, some tools allow you to import the complete file from memory storage space. The main objective of the Remove Duplicate Lines tool is to maintain the quality of content. Is the lines for some set of words are repeating, again and again, readers will not feel it engaging.
How does the Remove Duplicate Lines tool work?
Removal of duplicate lines from content it is very easy. You just need the basic knowledge of using the internet. It is an online tour doesn't require any kind of installation. Here is the complete process to follow:-
When you will open this Remove duplicate lines tool, it will load with a large text-box.
Copy your text content from the original file source and paste it in the blank section of the tool asking for the original text.
Click on the remove button and the text without duplicate lines will display in the second section.
Also select the various options below such as case sensitive, remove empty lines, and display removed options for a better result.
After processing, this tool also shows all the duplicate lines found and removed in a particular piece of content.
Remove Duplicate Lines for a Great Quality Content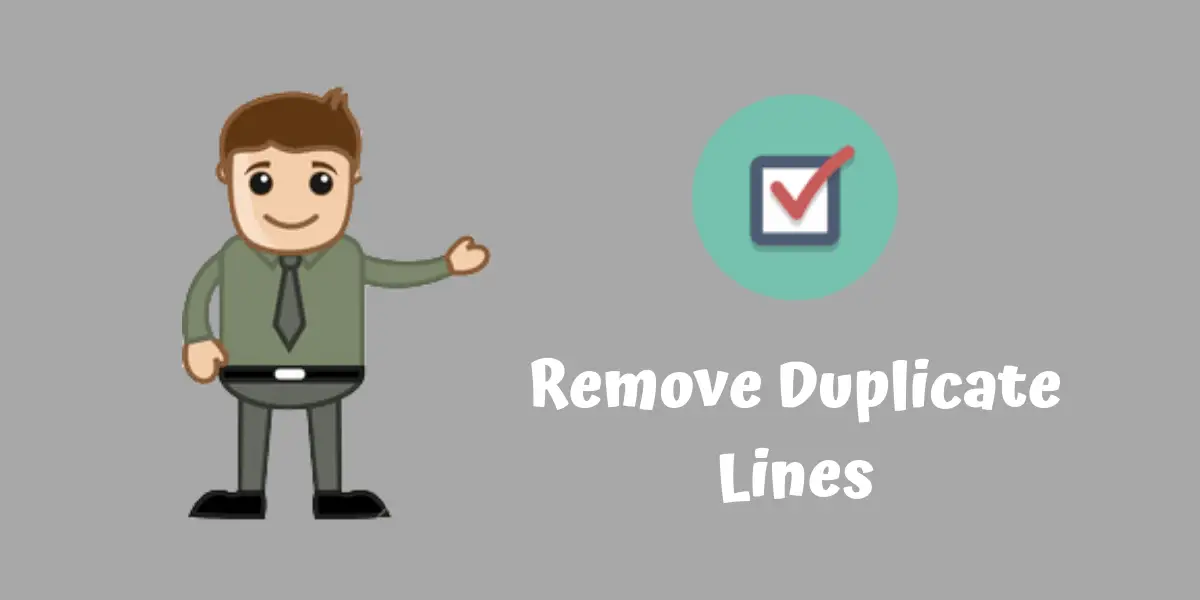 Suppose you have created a responsive website containing all essential functions. Also, it has a user-friendly interface with a high probability to gain adequate traffic. Now, the question is, how visitors will come to know about your product or service.
The graphical representation is not enough to make others understand what you are going to convey. The most effective way of explaining something really is text content. In the world of online trading, text content is considered as a king. Sometimes the text or the content is repeated and it should be removed with a Remove duplicate lines tool.
If the content of a website is perfectly optimized according to the parameters of the search engine, nothing can stop you from attaining the desired ranking. However, the Optimization text requires professional-level skills.
Using engaging words, adding informative value, preventing repeated lines and grammatical mistakes are some of the crucial requirements to make content valuable. There are different kinds of tools for text content such as Plagiarism checker, grammar checker, and duplicate lines checker.
The Remove Duplicate Lines checker removes duplicate lines that were intentionally or unintentionally entered in the content. Duplicate lines are one of the major reasons for reducing the quality of the entire content. Read the below article to understand this tool in detail.
Why do we need Remove Duplicate Lines tool?
1. From the perspective of a content writer
The content writers are accountable to maintain the quality of text whether it is a guest post, article or blog post. While writing a large text it is possible to commit mistakes like repeating a line multiple times. No one has enough time to proofread the content only for identifying the lines which are duplicate.
Reading the entire file again is a hectic task that you can handover to an online tool. Duplicate lines removal tool just needs a few seconds for the work that you may finish after 15 to 20 minutes.
2. From the perspective SEO executive
The Remove duplicate lines tool is not only meant for attaining accuracy in content writing but also helpful for SEO executive. Those who are working for Search Engine Optimization need to update new meta descriptions, meta tags, social bookmarking and images sharing contents, etc.
The percentage of humiliation is a dynamic process that requires such kinds of small contents on a regular basis. However, only minor changes occur while writing them. It creates confusion in identifying between old and new descriptions when the task is in bulk.
The problem persists mostly while working on e-commerce websites where thousands of pages are available for different products. Also, this tool helps them to recheck the credibility of content before uploading it on a page. After receiving from a content writer, SEO executive can check the text file with this tool to be sure about duplicate lines.
3. From the perspective of end-users
Engaging text content is the key to a successful online business. If the people are finding it engaging enough to be influenced, the consequences will automatically reflect on the sales graph. For making it possible it is important to maintain the quality of text content.
Along with grammatical mistakes and plagiarism, duplicate lines also imply a negative impact on quality. Repeating a single line, again and again, means overstuffing of the article. It may increase the number of words but badly affect quality.
After finding text content repetitive, nobody will visit again on the same page. High-quality content is the major factor that helps in keeping the users for a long time in order to avoid the bounce rate. Thus; it is also a crucial tool for web bloggers whose entire earnings depend on the quality of content.
4. From the perspective of the website owner
A website owner will never want that his online portal to contain inferior quality content. Not only the SEO executive but they can also check the quality of content before uploading.  There is no need to attain perfection in deep aspects of content writing to identify the errors.
There are premium & free online tools available to help you? Use the Remove duplicate lines tool to check whether the article which is going to upload is overstuffed or not. Repetitive lines are one of the main reasons why overstuffing occurs in an article.
Sometimes, writers do it for increasing the words without making any efforts on online research. Such kind of content badly affects the user experience which is not good for your website's future.
Importance of Remove Duplicate Lines tool
1. Accuracy and time saving
When it comes to accuracy along with time-saving, you cannot rely on any other option. So Remove duplicate lines tool can handle this task more efficiently than your personal efforts.
Just copy and paste the content in one section of this Remove Duplicate Lines tool and get everything done in just a few seconds. Even if you waste time in identifying duplicate lines from a large piece of content, there are a lot of possibilities to commit human errors.
2. Easy identification of inferior content
Inferior content is the biggest drawback to your website whether it is going to publish on the homepage or as a blog post. Always make your bed the text content you are going to publish for a website is best in class.
It is a clear fact that content is the king because crawlers rank your website according to its footprints on the World Wide Web. If the crawlers of the browser identify duplicate lines in the content containing keywords, you may have to face the issue of indexing and ranking.
Advantages of Remove Duplicate Lines
Removal of duplicate lines from text content is necessary if you want to maintain the ranking and quality status of a website. Duplicate lines result in inferior content which is not suitable from the perspective of search engine Optimization.
Also, the end-users will give a negative response after reading such kind of text. Before updating every single article, guest post or blog, it is important to examine its quality with the help of Remove duplicate lines tool.
Other Tools: Comma Separator Tool