Moz Rank Checker
Enter a URL
What is Moz Rank Checker?
Just like most of the SEO tools, Moz rank checker is also accessible through various websites. There is no need to install any special software application in your device to access it. It is free of cost tool, all you need is to find a website providing such kinds of services. With the help of this checker, it has become very convenient to track the search engine ranking with different keywords and web pages individually.
Rather than confusing with the aggregate result of the entire website, you can target every single page, analyze its position and set further strategies for improvement. In a single time, the Moz rank checker tool allows the webmaster to check a maximum number of 10 websites altogether in order to prepare analytic reports for clients quickly.
It means the Moz rank checker is a time saver tool that allows the marketers to focus on several other activities which are more important. A high Moz rank linking page signifies that the Moz rank of links receiving page will also be higher. It helps in identifying the websites with high DA available for backlinking. In the below section, we will come to know about the reason why do we need this tool from different perspectives.
​All you need to know about Moz Rank Checker tool
As an online business owner, you must be curious about the status of your website as compared to the competitor. This is obvious because everyone wants to stay ahead for better earning no matter what kinds of strategies are required for winning.
While running a business on the internet, you always must be aware of the most ethical ways of marketing and strategies to implement them effectively. The MOZ rank checker is an online tool that can help you in knowing the status of your online business.
Actually, Moz is the developer of domain authority search engine ranking score mechanism. It has a smart algorithm to predict the position of a website on the search engine rank page. For better results, you need every reliable technique that can examine and tell you the right position of the ranking. All SEO experts need Moz Rank checker for making an estimate of results after implementing essential strategies. Mozrank is a numerical value given by the Moz-based on the web page quality and authority of a trusted website.
The Moz value is between 0 to10, it depends on the interlinking within a web page, outbound links and how well the web page optimized according to search engine guidelines. The small Moz numbers do not have much value, but higher the number will have a huge authority to the web page or website URL. Moz rank is basically depended upon the number of incoming and outgoing authority links achieved by the site.
If the incoming links are achieved properly for a particular web page then it is calculated using page authority and similarly, for the domain also. If the links achieved properly from various sites then is calculated using domain authority. So, based on these two metrics overall Moz Seo score is calculated.
Moz metrics is calculated basically on 3 based categories such as rank, trust, and authority (webpage & domain). Increasing Moz trust and authority (page & domain) will increase the Moz score and improves organic search engine results. Moz trust is also based on both On-Page and Off-page factors including meta tags, speed, content, links, social tags, duplicate, thin contents and much more.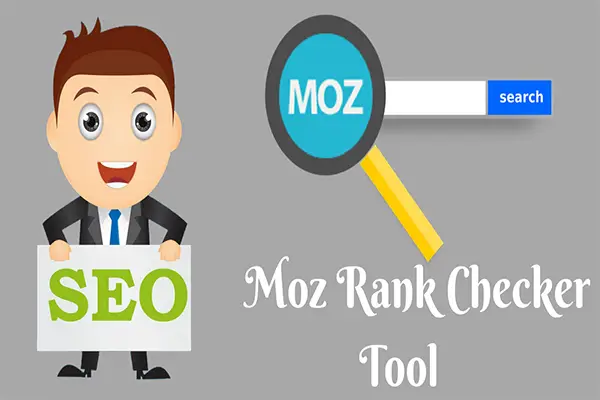 Why do we need a Moz Rank Checker tool?
We need a Moz rank checker tool from making a precise estimate of SERP aka search engine ranking position. It is crucial from the perspective of people who are concerned with a particular website. For instance, the website owner will show equal interest in ranking as a webmaster or SEO professional will show. Here you will come to know the importance of this tool from different perspectives:-
1. From the perspective of a webmaster
A webmaster tool user has to accomplish multiple tasks related to a single website. Execution of strategies, preparation of reports & arranging data for different purposes is a time-consuming task. The Moz rank checker tool has reduced the burden of webmaster operator. Making reports of different URLs is a repetitive task and this tool can handle a maximum number of 10 links at a time.
2. From the perspective of an SEO expert
The SEO experts need something reliable enough to know the consequences of their implemented strategies. If you the responsibility of search engine optimization for a website, it is important to know how different search engines rank a website. For instance, the Google search engine rank a website on the basis of severing perspectives including content quality, links quality, links redirecting.
All this is meant for the ease of crawlers. If the crawler identifies credible links with higher domain authority, your website will obviously rank better than others. However, it is important to have a mechanism that can make an analytical report. A Moz rank checker can server this purpose brilliantly. Along with high-quality links, the browsers also check for their relevance as per the purpose of your website.
If you are getting high-quality links but they are completely irrelevant as compared to your online business, the final results of SERP will not be satisfactory. Therefore, this checker tool buys you some time to make essential corrections regarding the links of authority websites.
Along with links, this tool is also capable of tracking every keyword individually. It helps in making sure that a particular keyword you are targeting actually going to worth something or totally worthless. In short, the tool of Moz rank checking actually meant for predictions with its algorithm regarding further results of SEO activities that are currently going on.
3. From the perspective of a website owner
A website owner is not aware of technical aspects such as backlinks, keywords, webmaster and indexing tools, but they can make an overall estimate by checking the overall results. This is a handy tool for website owners to check the ranking of a website.
After handing over the online portal to a marketing agency, they also need to be aware of all aspects affecting the ranking of the business. Rather than waiting for the annual reports of SEO professionals after a month, it's better to keep an eye on the ongoing process. Just put the URL in the search bar of a ranking checker tool and get results instantly.
Importance of Moz Rank Checker tool
A search engine optimization professional always need Moz rank checker tool in order to be sure about the success of marketing strategies. SEO tasks are unorganized & reflect different results with a single strategy. It is a dynamic process that you need to handle with complete awareness and care.
An SEO specialist not only keeps an eye on his project but also have to check the status of competitors. The competition in digital marketing is getting tougher day by day. In this competitive world, only survival of the fittest is acceptable.
After analyzing the report of own website, it is important to compare it with others. For using a Moz rank checker tool, you don't need any kind of special authorization. Just open the website of a competitor. Visit the page that you want to target and copy its link address. Now check the report and compare with your own webpage.
It gives you an idea regarding strategy planning as per the report's comparison. This tool concludes a Moz rank to every page whether it is your own or belongs to a competitor.
How to Use the Moz Rank Checker tool?
To check your Moz rank, just by submitting URL in the box and wait for the response. Along with the Moz rank, it even displays page authority and domain authority information on the website. With our free Moz rank checker tool, you can check your website and improve your Moz rank results.
For understanding the working of a Moz rank checker tool, first, you need to be aware of its ranking system. The Moz rank of a website ranges between 0 to 10. Here 0 represents the least popular website whereas a website with a good reputation scores higher score that can go up to 10. If you want to use this tool, follow these simple instructions:-
Open the webpage of your website on which you are currently working for promoting a product or service.
Now open a new tab and type "Moz rank checker tool".
A large number of results will appear including all websites that are providing the service of rank checking. Open any random link and check the interface. If it is not user-friendly, go with the next option.
Once you get a good service provider, Copy the URL of the webpage that you are targeting and paste it the tool's search bar.
Before clicking the button to execute, enter a captcha code to confirm that you are a human, not a bot.
After solving it, the tool will process the results in a table.
Generally, the result page is divided into 6 different categories including:-
Webpage URL
Domain Authority DA
Page Authority PA
Moz Rank
IP Address
More information
As mentioned above, higher Moz rank represents a good reputation of a website. You can check the total number of domain authority links and page authority links associated with a website. Also, you don't need to search for a separate tool for IP address checking. This tool shows the IP address of the server that is running a particular website. More than for own website analysis, this data is crucial for the comparison with competitors.
Advantages of Moz Rank Checker
Gives an overview of Moz Seo score through selected Seo factors provided by MOZ online analytics software.
It crawls and fetches various Seo factors for any domain instantly using Moz metric factors to the user.
If the Moz score species less than 3, the site score is average and greater than 6 is excellent
It is clear that Moz rank checker is one of the most credible tools available for SEO experts. By comparing the MOZ rank reports of two or more competitive websites, one can easily understand the status of a particular web page on search engine ranking position. Along with getting the DA, PA and Moz rank in numerical figures, it also gives the glimpse of all marketing activities & their impact as per current market trends.
You can easily understand why your page is ranking higher or lower than the competitor. Even a website owner with minimal knowledge of digital marketing can also easily differentiate between ranking difference between two websites. Whether you are an SEO expert, Webmaster operator or website owner this tool can provide precise information in simple words for everyone.
How to Improve the Moz Seo score?
Regularly update fresh blog content with infographic images every 1 or 2 days.
Curate and share your blog content with social Media, Q & A sites. Social bookmarking and other content curation sites.
Increase brand awareness by updating trending & quality contents on your site.
Implement rich social meta tags, keywords, images, contents, internal links for every blog post to pass link juice between web pages.
See Also: Alexa Rank Checker  Keyword Rank Checker