Alexa Rank Checker
Enter a URL
Alexa Rank Checker: An Innovative Tool to Know the Domain Status
Alexa Rank Checker is an online tool with the capability of detecting the status of every URL after calculating its online influence. The ranking of a website determines its popularity & profit earning capability on the world wide web. A website attracting maximum traffic must be engaging large criteria of people in their products or services.
This is the main reason why all digital marketing strategies are implemented. Tough competition among online portals is seen since the last decade which is gradually rising. For maintaining the status of a website to the topmost ranking, both organic as well as paid marketing strategies are implemented.
However, organic methods are more reliable because of their stable results. After implementing every strategy, you need a tool that can monitor the status of a website in your targeted areas. Here comes the importance of Alexa ranking tool.
How does Alexa Rank Checker Tool work?
Seo tools like Alexa ranking tool to an extent that anyone can use the basic features without requiring any expert help. A most convenient way to use the Alexa rank checker tool. Here is a simple process to use it thoroughly.
As you already may know to use the tool, it requires 3 basic steps
Enter the required top-level domain in the text box to find Alexa ranking
Enter the captcha text code in the box
Click the submit button to find Alexa ranking for the site.
The tool will analyze your website and gather the analytical data of Alexa rankings. The basic features of Alexa are available for free of cost. To a limited extent, you can use it for identifying the nearest competitors too.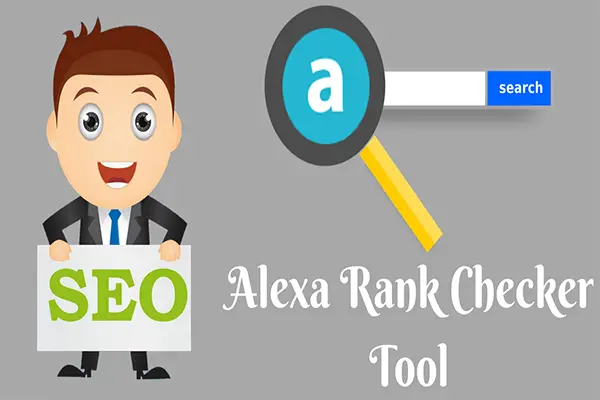 What is Alexa rank, and how it is useful?
Alexa rank is a mechanism that provides website traffic data and analytics information for the particular website.
Alexa ranking system is actually brought you by Alexa.com. This is completely free to use for checking your website Alexa ranking status if your site as low Alexa rankings the site will be more visibility to search engines. The Alexa tool is acquired by Amazon in 1999, the main aim of this tool is to collect browsing data, page views, keyword ranking and other SEO factors to Alexa database for storing and analyzing web data.
This is an artificial intelligence system meant for providing website traffic data. Currently, you can use the service of Alexa through two different ways. Either visit our website and enter your desired URL to initiate the search.
The Alexa rank checker tool reflects results after organizing it in different categories. For instance, the first section shows its global ranking, the second section reflects its ranking from the parent country from where most of the search traffic is diverted.
One can also check the total number of websites linked to a particular online portal. It is helpful in giving you an idea regarding the reputation of a targeted site. This Alexa rank checker tool is also equipped with a Wayback machine to look back in the past, find similar sites that are competitors and analyze its slow speed.
Alexa traffic ranks are updated daily based on many SEO key factors. The rank which is calculated only for top level domains (for ex: mydomain.com) but not for the subdomains or subpages(source:alexa.com). If the Alexa traffic is less than 100k then it is considered as growing blog or company with trustworthiness for many years.
All the business owners need a very good conversion rate for their online success, they need to score high in Google, and Alexa ranking helps in giving real time up to data to the business to reach their maximum goals.
Why Alexa rank checker tool is important?
Alexa ranking is a powerful tool comprising numerous possibilities for digital marketers. Some of its significant advantages are mentioned below.
1. Increase website traffic
It is an intelligent tool that automatically detects the flaws affecting the ranking of your website. You need to subscribe to their services as a premium user to consume the services of increasing traffic.
Alexa analyzes all aspects of a website and suggests the right marketing strategies that will be helpful in improving the traffic rate more rapidly. More traffic means more probabilities of conversion. Most of the marketers depend on this highly reliable tool in order to engage their clients successfully.
2. Helps in improving SEO
The Search Engine Optimization of a website is more important than any paid marketing tool. Whether it is a personal blog or fully functional e-commerce portal, SEO is an important aspect to consider if you want to stay in the competition.
A simple plugin attached with your browser can tell about the global and regional ranking of a website. It helps in determining whether the website has adequate influence in the targeted area or not. If the regional ranking is not as per expectation, you need to change the current strategies with a new one.
Currently, Alexa is providing the following
Competitive analysis tool
Recurring sites audit
Keyword search tool
Audience analysis tool
Backlink analysis tool
Website traffic measurement
3. Real-time traffic stats
Alexa is an online tool with the capability of providing you with real-time results. Whenever you open its plugin, the ranking data with up to date information will be reflected. It helps marketers to stay up to date with the current status. When it comes to the analysis of real-time stats, it represents different charts.
For better results, you need to visit the official site rather than a plugin. Here they mention topmost 5 countries where the website is heavily used, in percentage portions.
The number of unique visitors & daily page views on a daily and monthly basis is also very easy to check. One can also check how is this site ranked relative to other websites with the help of a bar graph.
4. Relevant keywords idea generation
In search engine optimization, there is a huge significance of keywords. The search engine crawlers are meant for detecting the trending keywords that are targetted by digital marketers. The algorithm of search engines always keep on changing, thus; the keywords criteria also shifts.
One cannot predict which keyword will help in deriving better ranking for your website. For this purpose, the keyword research tool is very helpful. Alexa is currently providing competitor keyword matrix & keyword difficulty tool for the ease of finding the most relevant keyword.
5. Easy comparison with competitors
When it comes to marketing, you must have the knowledge regarding strategies implemented by competitors. Alexa is capable of giving you crucial information of competitor to an extent. First of all, you need to find the nearest competitors involving in a similar business.
Open the website and click on its plugin to see the top three competitors. Foer expanding your study, click on the "similar sites option" that will lead you to a different web page. The results of the top 5 competitors will be visible that further expandable if you subscribe to a premium plan.
The marketer creates a site comparison that automatically generates a relevant report including all stats by comparing your site with others. Also, you can use the backlink checker tool that derives the results of competitor's website.
6. Finding better marketing ideas
The ultimate goal of every marketer is to find better marketing ideas by using different tools. As an SEO expert, you must have the knowledge of different online tools that can help in improving the ranking. Alexa is a smart idea for finding the most suitable idea according to the status of a particular website.
If you subscribe to the premium plan, they will help you in researching effecting marketing ideas including organic & paid strategies. Alexa has special competitive intelligence tools to analyze the traffic stats of competitor.
The audience overlap tool is capable of finding the websites that currently your audiences are using. You can check their stats and compare it with your website to conclude where improvement is required.
How does Alexa rank checker checks regional and global rank?
When you click on the Alexa tool of a web browser, it will show two kinds of results i.e. global & regional. When it comes to the global ranking, this tool collects the data from worldwide search results carried in various search engines.
For instance, Alexa includes the results without discriminating with search engines. All queries related to a specific URL are considered to rank a website globally. The global ranking determines the overall popularity of a website. However, it not the accurate parameter to measure your success rate.
If you want to know the real-time impact of marketing strategies, the regional ranking is helpful. Rather than covering the global search results, it focuses on a specific country to know the impacts. The regional ranking in Alexa shows which country is engaging the maximum number of users.
It is not necessary that the parent country of a website must engage the maximum number of visitors. The criteria of local ranking are defined by marketer's target where they are implementing all strategies.
If you further search the local ranking index through its website, the top 5 countries with percentage share will be visible for free users. If you want to go for in-depth study with more countries, subscribe to a premium plan.
What does Alexa number tell and why we need it?
The term Alexa number represents the ranking of a website on global and local index. All websites that are running on servers have different statuses from the perspective of search results.
The ranking of a website depends on the effectiveness of marketing strategies implementation. When you check the rank of a website, this tool concludes worldwide searches and the region where it was mostly explored.
On the basis of these stats, it represents the ranking in numeric figures. The lowest numeric figure represents the highest ranking of a web portal.
For instance, Google is holding number one ranking in both global and local search indexing because its search engine is us used by the largest criteria of worldwide users. Along with the search engine service, Google also provides services like e-mail, video streaming, and document editing etc.
All these services help in strengthening the stronghold to stay on topmost rank constantly. The Alexa number tells you about the exact status of the website on your projected market. With the help of analytical tools, it becomes easy to improve the ranking.
How website traffic impacts Alexa rank?
The ultimate goal of every digital marketing strategy is to improve the rank of a UTL on global as well as a local index. All strategies of digital marketing are meant for generating more traffic whether it is organic or paid. The paid traffic can rise rapidly but it will be meaningless if the website is not adequately optimized with meaningful content.
Therefore, SEO is highly recommended for all kinds of online businesses. As the traffic increases, Alexa automatically detects it and reflect by classifying in global and local indexing. The search results based on specific regions help in knowing the success rate of currently running marketing strategies.
The numeric figures of increasing traffic represent its success rate. As the traffic increases, conversions to subscribers and buyers also increases. Alexa is a very helpful tool for every digital marketer to stay ahead in this cutthroat virtual competition.
How to improve Alexa rank?
If the ranking of your website is declining in Alexa, here are some tips to improve it. Read the following points carefully:-
1. Engaging content
If the content of your website is not engaging, all marketing strategies will go worthless. It is important to keep your website up to date with meaningful content including text, images, and video URLs. The content must be SEO optimized as well as influential enough to entertain the visitors for a long time. It is helpful in decreasing the bounce rate.
2. Get inbound links
The inbound links mean linking your website with all relevant web portals. More inbound linking means increasing visibility of your site that is detected by search engine crawler. The engaging guest posts on other sites representing your business are very helpful inbound links.
3. Find the highly ranking keywords of competitors
Alexa has a set of powerful tools that can help in checking the backlinks of competitors and the Keywords they are using currently. You can get an idea from the strategies of leading players to rank your website in their competition.
4. Best SEO implementation
Both paid & organic marketing strategies are important but SEO has a distinctive status. As a digital marketing expert, always keep your website optimized as per the latest guidelines of a search engine for better ranking of keywords.
From the above article, it is clear that Alexa is playing a key role to analyze the status of a website at local & global rank. It is also a great companion for those who want advanced strategies to improve ranking.
Benefits of Alexa Rank Checker Tool
It provides accurate traffic and ranking data for your website.
Alexa tool provides exact analytics report compared to other software or online tool.
You can monitor site activities and social performance.
The tool shows the differences between organic traffic and ads metrics data.
The lower the Alexa rank, the higher the web traffic and authority for the site.
For Similar Seo tools: Backlink Checker word counter