DNS Lookup Tool
Enter a URL
What is a DNS Lookup?
The DNS lookup tool views all the information of DNS (domain name system) server records. DNS is very useful for today's domain system in order to solve the various Complex coding problem for configuring the website to host the business. Otherwise, all the sites look like IP address domain names. 
The domain name system is a directory where all information of domains can be obtained with the help of their IP addresses. If you want to know the exact location of a website, use a DNS lookup tool. You just need to enter the web address in the search box and its entire information will become apparent in just a few seconds. DNS is a core part of the internet system to connect the correct domains with the IP address provided by the web hosting service.
There are two kinds of domain name systems containing the record of every website running in this world. These are:-
Forward DNS Lookup
Reverse DNS Lookup
Both of them have different approaches and the tools of their monitoring are also different. In this article, we are discussing the forwards DNS only but basic information regarding both is essential to know. For knowing the IP address of a server, you just need to remember the web address.
Once it is processed through an online tool, the information is sent to the internet service provider that further examine that IP address associated with a domain name. If the entered web address is associated with an IP, its address will appear in the screen of the user. Firstly, the internet service provider checks its own server, if there is no information; the request is forwarded to other internet service providers.
While talking about the reverse DNS lookup, it is the reverse process of forwarding DNS lookup. It means you need to enter the IP address in the toolbox in order to obtain the domain name.
Try our tools for free of cost with just one click. You don't even need to register with any user ID or password. Just open the website, enter the web address and get entire information instantly on your screen. A DNS lookup tool can help you in several ways that are covered in the information of the below section. Read the points carefully.
The common DNS record system names are CNAME, AAA, HINFO, MX, ISDN, NS, PTR, SOA and TXT. Most of the DNS records information will be extracted using the DNS record tool from the requested website.
Why do we need a DNS Lookup tool?
We need a DNS lookup tool for knowing the location of a website. It helps us from many aspects as mentioned here:-
DNS is the simplest mechanism in the entire global that assists you to browse the internet. With the internet turning into an imperative part of the society, it has more and more become essential that DNS Servers remain maintained. without them, the internet would not exist.
No one can memorize the IP addresses thus; DNS servers offer a nifty solution of converting area or sub-domains to IP addresses. Even you cannot remember the IP addresses of websites that you are using on a regular basis such as Facebook or Gmail etc. rather than remembering the complex numeric figures it is very convenient to memorize them with a domain name. If you need the IP address, just enter the domain in the tool and get its IP address in seconds.
DNS server is an important factor for the security of your private home or work connections. DNS servers which have been designed for safety purposes normally ensure that attempts to hack your server are stopped earlier than access into your machines. However, this alone technique is not going to work effectively. You need help from professionals to manage the security thoroughly without leaving any loopholes.
DNS Lookup Tool and Its Significance to the Digital World
The term DNS(Domain Name System) is a naming system for all services and devices that are interconnected through the internet or a private network. The World Wide Web is full of countless websites that increase in number rapidly. All these websites become live on the Internet with the help of different servers.
These servers have IP addresses from which you can gain crucial information about a website. A single IP address is capable of managing multiple domain names. Therefore, all IPs are registered in a directory called domain name system which is the world largest digital database.
Without this database, it is not possible to access a website with just a single click. Once you reach the IP address, it becomes convenient to know the location of a domain.From the above information, it is clear that the IP address is the key to search the address of a particular website running on the internet. Therefore, you must have a tool that is capable of identifying the IP address of every domain. This tool is known as a DNS lookup tool. A tool meant for checking domain name system is capable of solving a lot of problems. For more details, scroll down the article and read this crucial information.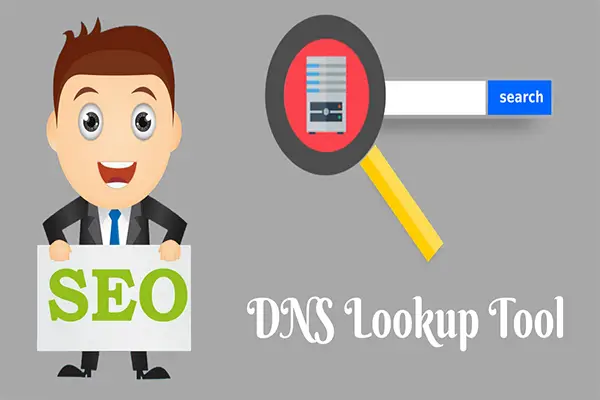 Importance of DNS Lookup tool
The DNS lookup tool plays an important role in manage many networking and marketing issues. Scroll down to know how.
1. Choosing the right server for your website
A new website need server to come live on the internet. There are numerous domain name system provider agencies available with different price tags. A person can avail web hosting service on a shared or personal basis. These services are further divided into 5 different categories i.e:-
Virtual private server
Shared hosting
Dedicated server hosting
Cloud hosting
Managed hosting
Before putting your website on the server, it is important to know what other successful players are doing to stay ahead in the competition. Their domain names are easily available. All you need is to put the domain in the DNS lookup tool and obtain its IP address. From this numeric figure, it becomes very convenient to identify names of hosting service providers.
You need both forward and reverse DNS lookup tools to identify the actual address of hosting service provider. Go through their plans and choose the most relevant one. In short, the domain name system lookup tool can help you in setting up an online business with robust building blocks for future challenges.
2. Benefit for digital marketing
In the world of digital marketing, you need to be aware of everyone who is approaching you. It can be beneficial as well as dangerous too for contacting an unknown source requesting for backlinking or other kinds of promotional activities. First, you need to be sure about the intentions that can be cleared to an extent with the help of DNS lookup tool.
When a person tries to approach through a domain, you can identify the IP address in order to check their location of operating and hosting service provider. If everything seems good, further talks are possible. If you find anything fishy while searching the IP address such as hiding identity for no reason, consider it as a potential threat.
3. Security purpose
If someone is attacking your website with malware or spam, the first thing you need to know its identity and location. It is possible with the help of a DNS lookup tool. First, you need to run the reverse DSN lookup to check your own server for loopholes.
Hackers use the same tool to access the domain in a server. You can use it to identify the loopholes and fix them as soon as possible.  Then, the forward DNS lookup tool can be utilized for identifying the attacker who is trying to gain unauthorized access.
How to use the DNS Lookup tool?
1. The tools of DNS lookup is available online that you can access with these simple steps. Take a look:-
2. Open the tool of DNS lookup and enter the web address of the website that you want to check.
3. Make sure that you are typing the domain name with including http or https.
4. Click on the execution button and you will get a captcha to solve and identify you are a user or the robot.
5. Once the captcha is solved, the process will take only a few seconds to accomplish.
6. The results of DNS lookup will become apparent in different tables illustrating information including:-
Hostname
IP Address
Ping test status
Registrant Name
 Registered Domains
Domains on the Server
Registration Registrar
Created
Expires
 Updated
 Name Servers Historical Data Registrar Events: (Earliest Registrar Event: )
 Name Server Events: (Timespan: years)
IP Address Events: (Timespan: years)
Whois Record Events: (Earliest Whois Event )
Additional Network Information NetRange
Name
Handle
Parent
Net Type
Direct Assignment Organization
Registration Date
It may be possible that the information of all these factors is not available in the results, still, you will be able to get the crucial data. General hosting information and additional network information will surely be available to assist you.
Advantages of DNS Lookup Tool
It provides detail analysis of any domain DNS like TXT, A, SOA, IP, CLASS, AAA, TTL, and much more to analyze and helps to configure your site.
Helps to identify root servers like email, DNS performance, IP configure working properly or not.
The Tool provides live information of any website provided without any restrictions to the user.
The DNS lookup tool is beneficial from different perspectives. From putting it on a server to promotional activities and security concerns, every aspect is related to DNS lookup. A professional web developer can utilize its maximum potential.
The cyberspace is full of countless vulnerabilities and potential threats. This is a small yet very helpful tool for safeguarding your website in a server environment.
Similar Seo Tools: Email Privacy Checker Google Cache Checker