Top 28 Social Bookmarking Sites in 2019 (High DA Score)
08/07/2019 3:00 PM
by Admin
in Seo
---

Top 28 Social Bookmarking Sites in 2019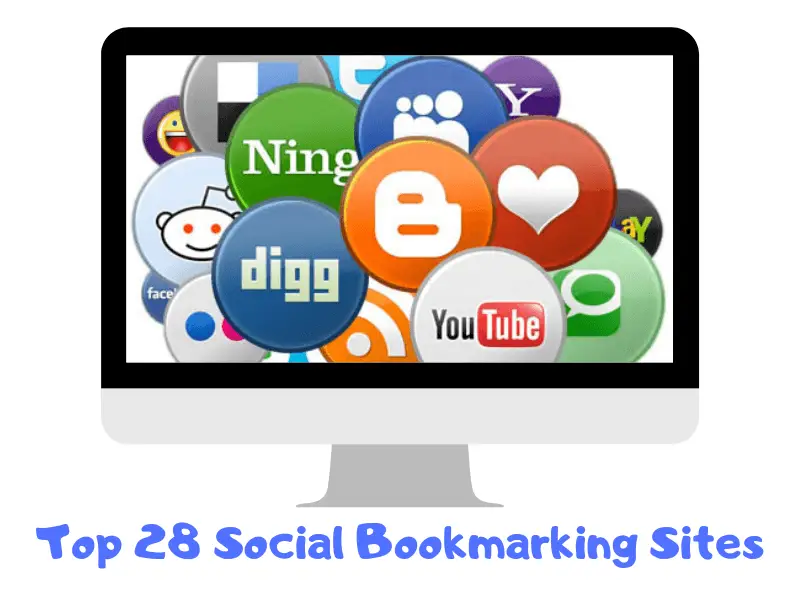 Do you resort to Google or Bing quite often! In a technology-dominated world, it is quite natural for you to rely on the search engines for solving the minutest queries. While the availability of innumerable websites helps in gathering information, it often becomes difficult to refer to the exact site when needed later. To help you with the referencing task, you can now avail online social bookmarking service.
What Is Social Bookmarking?
Social bookmarking is the term given to an online service that helps the users to create website bookmarks and share it with their friends over the web. The links are mostly shared in online communities by tagging the other members so that they can easily check the site whenever needed. By using online bookmarking service, you do not have to save the site to the browser. Thus, the information in the bookmarks is not restricted to any particular device and can be accessed from any device of your choice. Social bookmarking not only helps you access the saved information from any other device but also it helps you collect information that others have shared on the same topic or any topic of your interest.
How To Do Social Bookmarking Submission?
It is often said that having a good website is the most important part of social bookmarking. Well, there is no denying the fact that social bookmarking requires a bankable webpage but that is not enough. You should know the process of social bookmarking submission to reap the maximum benefits. In case, you are unfamiliar with the process of social bookmarking submission, checking the points below can be helpful:
At first, you need to select your targeted keywords and submit the posts with the selected keyword in the title. Apart from the targeted keyword, you also need to include tags and short descriptions when submitting the URL in any platform.
Category selection plays an important role when posting social bookmarks. So, select the category carefully depending on the type of the article.
To improve the ranking of your page with bookmarking, you can get the same submitted in major search engines, as well.
Social Bookmarking Sites 2019
With the increasing dependence on social media, the number of social bookmarking sites have also increased manifold in recent years. If you are interested to make social bookmarking of any website, you can opt for any or all of the following platforms.
1. Tumblr.com
When it comes to social bookmarking, one cannot deny the popularity of Tumblr. Launched in the year 2007, the popular microblogging site can get your social bookmark popular in a few moments. With millions of users in different parts of the world, your bookmark will get multiple views in just no time. Tumblr is not only a popular social bookmark site but also it is an equally admired microblogging portal. It proudly hosts the first blog from none other than Barack Obama in 2011.
2. Reddit
The US-based social networking site of Reddit has received positive response among the users right from its launch in the year 2005. A popular social networking and microblogging site, Reddit is also a great choice for social bookmarking. Just register to the site and post the bookmarks that you want to share with your friends. Though it is a US-based website, it can be accessed from anywhere in the world and ranks in the thirteenth position in terms of popularity.
3. Mix.com
When it comes to curating social content, Mix is one of your best options. Not only you can post the bookmark of your selected articles but also you can get numerous bookmarks on the topic which you are interested to learn. By selecting the appropriate category for posting your bookmarks, you can become easily discovered by the other members sharing the same platform.
4. Scoop.it
The San Francisco based company, Scoop came into operation in the year 2007. Since then there is no looking back as the content curation site has gained immense popularity among people all across the globe. With easy to use interface and global presence, you can get your bookmark shared to millions within a few seconds. Not only for casual link sharing but also Scoop is a great choice for professionals in website optimization business.
5. Fark.com
If you are looking for a news aggregator portal for posting your social bookmark, Fark is the right place for you. You may like to know that the portal receives around 2000 news submission daily from its members. Therefore, not just sharing, you can check into the site to keep yourself informed.
6. Diigo
Based in Reno, Nevada, the social bookmarking website Diigo allows users to bookmark any bookmark they prefer. All you need is to sign-up on their site and tag the pages that you want to be marked for future reference. Not just bookmarking the pages, with Diigo, you can also highlight any section of the page and get sticky notes attached to the entire page or selected part.
7. Bookmax.net
If you are looking for an online bookmarking manager to keep a track of your bookmarks, you can consider about Bookmax. Save any bookmark that you want or share it with others as per your convenience. You can also store notes, memos, contacts, and lists along with bookmarks.
8. Dropmark
Dropmark is another worthy option for people interested in social bookmarking their pages for increased visibility. For the ease of users, Dropmark has an easy to operate interface.
9. Digg.com
Operating since 2004, Digg is now one of the most popular news aggregator sites in the world. It has divided the site into different categories and you just need to select the right category for your bookmark submission.
10. Plurk
This is the best portal for people interested in sharing short messages and website links with their friends. The microblogging and social bookmarking site, which came into existence in 2008 are gaining popularity significantly.
11. Dzone.com
Founded by Rick Ross and Matt Schmidt in the year 2005, Dzone is a popular social bookmarking site in the United States. The site, which has consistently gained its momentum among the users.
12. Getpocket.com
Whether it is an article, a video or an image, just select the link and get it bookmarked in Pocket. The immense popularity of the site has honored it with the 10X Webby Award Winner.
13. Slashdot.org
In early days they Launched a project "News for Nerds. Stuff that Matters." has been later renamed as Slashdot. Here you can post your bookmarks on any topic of science, politics or technology. Just make sure to select the right category.
14. 1look4.com
Create an account and login to 1look4 and start posting your social bookmark. Share the information that you find interesting. 1look4 has a huge collection of bookmarks and you can check them out to enrich your knowledge on any topic.
15. Myspace.com
Us-based social networking site Myspace is a good choice for sharing social bookmarks. For three years, from 2005 to 2008, this portal has remained as the largest social networking portal across the globe, with headquarters in the Beverly Hills.
16. List.ly
List.ly is a bookmarking website that believes in the motto create and curate. Therefore, if you have any interesting updates to share, go for List.
17. BibSonomy
Founded in 2006, Bibsonomy boasts of the strong publication management team. Yet, it also accepts bookmarks from the members and can help in increasing the traffic of your page.
18. pearltrees.com
Made available in English as well as French scripts, Pearltrees is commonly referred to as a place where you can share your interests. Created by Nicolas Cynober, Samuel Tissier, Alain Cohen, Francois Rocaboy and Patrice Lamothe, the portal accepts bookmarks on various topics.
19. Bizsugar
The site aims to be the best of the rest when it comes to finding the answer of any query. Therefore, if you have any query or you need an answer for your query, get it resolved with the bookmarks posted here.
20. URL.ORG
If you are looking for a social bookmark sharing page where you can share links of your favorite blogs, URL. Org is the right place. The site is well-organized and you can easily refer the links shared, later.
21. blogmarks.net
A leading social bookmarking website can help in increasing the popularity of your page significantly. Yet, you need to ensure the link you are posting to have relevant information. The portal saves the links shared and you can use it for your reference later.
22. Sociopost.com
If you want to share any news or information, Sociopost is there for you. Here you can find an entire community of users discussing and sharing a wide range of information.
23. Bookmark4you
A popular social bookmarking website, Bookmark4you is a great place for users, who want to save or share interesting website links within a few seconds. Accessing the website links is quite simple and you can check the ones posted by other users as well.
24. soup.io
The Austrian microblogging and social networking site Soup has received immense popularity since its launch in the year 2007. Apart from bookmark links, you can also share text, reviews, videos and images on this portal.
25. COOLPOT.COM
If you want to increase the web traffic to your page, you can share your website link at Coolpot. One of the best places for social bookmarking, this is gaining significant popularity in recent days.
26. Cloudytags.com
The popularity of Cloudytags is growing rapidly among the users interested to share social bookmarks links. The website is easy to use interface and can help in sharing bookmarks in a jiffy.
27. Yoomark.com
A popular bookmark sharing portal, Yoomark has millions of active users globally. The portal curates articles on a wide range of topics and needs submission under the accurate category.
A leading social bookmark sharing portal, Activebookmarks allows users to share any web content on their page. The portal also has the provision of sharing most favorite or most voted articles on social networking platforms.
Social bookmarking is gaining popularity among the users and you can check any of the portals above to give it a try.