SSL Certificate Checker
Enter a URL
What is SSL Certificate Checker?
As you know that SSL is a crucial certification that every website require for security reasons. However, there are some technical glitches that may be the reason of its improper installation. If the developer does not pay attention to such kind of technical aspects, the website will be vulnerable to all possible cybersecurity threats.
The SSL Certificate Checker ensures that the certificate is trusted and valid enough to work properly. This is basically an online tool that you don't need to install in the computer system.
The user just needs to enter the public server hostname for getting the results. Security socket layer uses both symmetric encrypted and public keys for the safety of connections. The transport network layer of SSL is responsible for routing the data to the right network security.
Currently, more than half of the web pages on Google servers are using SSL certification for security purpose. Even many companies are currently selling SSL certificates which are already tested for all security measures.
After its installation on a web server, help in identifying the glitches. For the normal checking off SSL certificate to know whether it is valid or not, there is no need to find a dedicated tool. If you are using Google Chrome, click on the padlock appearing in the starting of a web address that you have opened in a tab. When you click on it, some information will appear including certificate, notifications, and cookies.
Is the certificate option is showing valid, consider the SSL connection secure. However, you need the help of a dedicated tool to know detailed information. The points mentioned below will elaborate in detail why do we need an SSL Certificate Checker tool.
How does the SSL Certificate Checker tool work?
The working of an SSL Certificate Checker tool is very convenient. All you need is a web address for analysis. Here are some details explaining the working of this tool.
1) Open the free SSL Certificate Checker tool on your web browser.
2) In every tool, you will find a space to enter the domain name that needs checking.
3) In a new tab, open the website you are targeting and copy its URL.
4) Paste the URL in the blank space of the SSL Certificate Checker tool. Click or examine SSL button and you will be asked to solve a captcha. Once you prove human resources, the tool will automatically generate a critical report including the following factors:-
IP address
Server type
Name of the source from where the certificate was issued
Validity date
Signature algorithm
SANs
Location
And Much More
The Significance of SSL Certificate Checker for cybersecurity concerns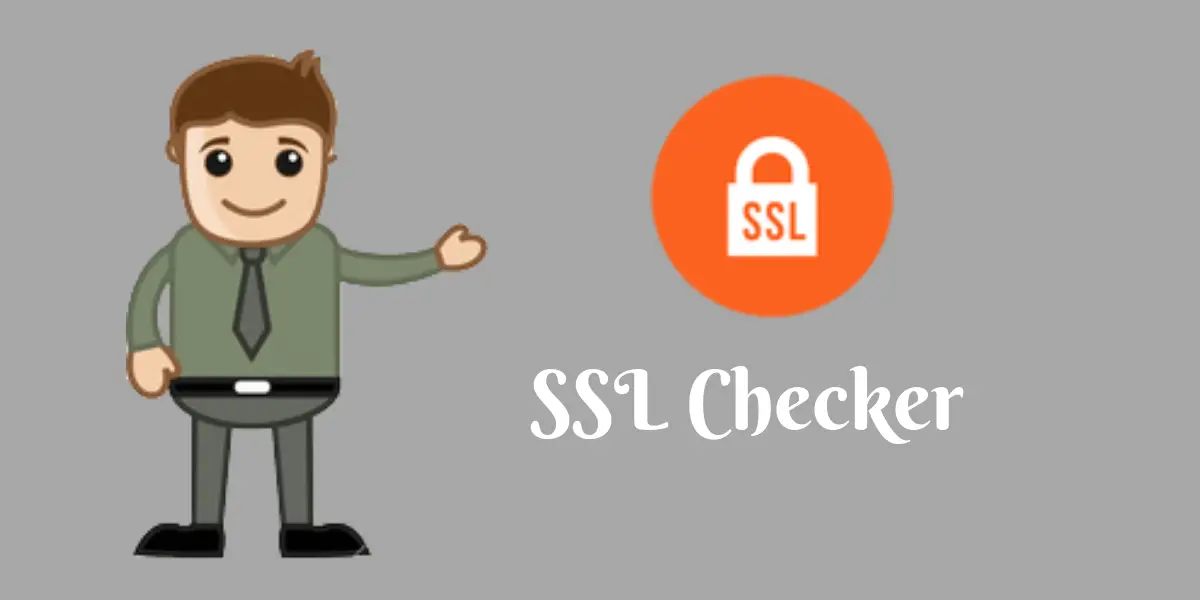 Cybersecurity is one of the biggest concerns of current time because almost everything is vulnerable currently present on the World Wide Web. Cybercriminals take advantage of loopholes to gain unauthorized access. They can sneak in your personal life through online shopping accounts, bank account applications, and social media accounts.
For safeguarding the users from such kind of exposure, it is necessary to adopt a robust plan of cybersecurity. The developers of the website are accountable for this purpose. It is their duty to find the safest terminals and security sockets for the internal safety of a website or mobile application.
Right now, secure socket layer is one of the primary technologies to secure internet connections. It helps in safeguarding sensitive data, whether it is regarding monetary transactions or personal details. When data is transferred between two computers systems, the secure socket layer prevent it from reading or modifying by any third party.
This layer uses an encryption algorithm for scrambling the data in order to make it unreadable for hackers. Currently, transport layer security is the up to date version of SSL currently preferred by most of the web developers and programmers.
After installation, it is important to make sure that the SSL certificate is properly integrated on a web server. For this purpose, you need the help of SSL Certificate Checker tool. This tool has some significant advantages that you will understand and the article below.
Why do we need SSL Certificate Checker tool?
For identifying all possible errors
The designing or development of websites is a complicated task because it involves a lot of technical errors. When it comes to security concerns, you need to be double sure about safeguarding the entire information. The website your programming may contain sensitive data of users, even including their financial details.
In case of any kind of misuse, the owner of a website is accountable to the entire damage. That is why you need to identify all possible errors that are threatening your cybersecurity. SSL Certificate Checker tool critically examines the certification to make sure that no errors are occurring. If there is an issue, the tool identifies it and enlists in the table so that you can make necessary customizations.
For ensuring proper installation
A large number of online service providers are currently selling SSL certificate. However, you cannot predict it in priority that they are free from all ledgers and errors. Also, some errors occurred during the installation process of SSL certificate on a web server. This technical issues must be resolved before executing your online business.
The SSL Certificate Checker tool critically analyses and prepare a report that contains all the details. If there is an error, you can solve it before exposing valuable data of customers to cybersecurity threats.
Importance of SSL Certificate Checker tool
Maintaining the trust of visitor and customer
People who are visiting your website, creating their accounts and making online transactions need assurance of adequate security. If their personal details are getting stolen by the third party due to your week security measures, nobody well again trusts your business.for building a long-lasting trust between seller and buyer; it is important to ensure them with proper security.
Especially, the SSL certificate is a crucial requirement of e-commerce businesses. Whether you are running a small or big online business, it involves a lot of personal details. The secure socket layer and transport socket layer are responsible for hiding these details from everyone who is assessing unethical.
Checking the validity date and errors
Every SSL certificate has unlimited validity because it expires after a certain time period. It may be possible that you have successfully installed an SSL certificate on the webserver for safeguarding your website but forgot to update it. An expired SSL certificate is useless and it makes the information vulnerable.
Online SSL Certificate Checker tool is capable of providing complete user information regarding its validity. Even it also calculates the total number of days left. Apart from the validity time period, this tool is also widely used for the identification of all possible errors. Committing errors while installation of an SSL certificate is a common issue.
After every installation, you need to check whether it is successful or not. The tool of SSL checking captures every single detail. You can read the errors and take effective steps to make it work properly.
Advantages of SSL Certificate Checker
Online SSL Certificate Checker tool is necessary for the security of personal details. Every E-commerce business owner needs a secure socket layer. However, technical errors and validity expiry dates make it useless. You need a dedicated tool to examine every technical detail regarding SSL.
The online checking tool critically examines every single aspect affecting the potential of SSL. You can check it for free of cost and make necessary modifications wherever necessary.
Other Seo Tools: Google Malware Checker AVG Antivirus Checker