On Page SEO Checker
Enter a URL
The Significance of On-Page Seo Checker in Digital Marketing
Digital marketer needs both paid and organic modes for promoting a product or service. Paid marketing such as pay per click derives quick results but they are not long-lasting. On the other hand, organic marketing strategies of SEO takes time for implementation but their results remain stable for a long time.
The On-Page optimization refers to a websites overall status on the internet. In this strategy, marketers focus on high-quality content, meta tags, header tags, keyword optimization, internal linking, image optimization, canonical, and many more. The main objective of On-Page SEO is to improve the Seo score of a website.
Unlike of page, the On-Page optimization is meant for or optimizing a particular page. In Search engine optimization, it is very essential to promote your particular pages where relevant content is available. The most common points focused on On-Page Search engine optimization are keywords, metadata, meta tags, heading tags & interlinking.
Along with promoting a single page, the SEO is also helpful in optimizing the ranking of an overall website on the search engine. The On-Page optimization and shows whether a webpage is well structured according to the algorithm of the search engine or not.
If you want to be a hundred percent sure about the right placement of your words, key phrases, and meta descriptions, it is important to seek the help of a powerful On-Page SEO checker tool. Scroll down to gain detailed information about this online tool.
What is On-Page Seo Checker?
The primary objective of every digital marketer is to optimize the content of a website exactly as per the algorithm of search engine. Currently, Google is the primary search engine of almost every internet users throughout the globe. The algorithms of the search engines are dynamic. As the algorithm changes, you also need to change your strategies accordingly.
However, the question is how do you come to know that Google has recently changed its algorithm? The On-Page SEO checker is a useful tool in this concern. When you enter the domain name in this tool, it crawls through the entire page and content with the recent algorithm changes of a search engine.
The tool is capable of checking all compatibilities of your web page with both on and off-page SEO elements. There is some reliable website providing up to date information about the algorithm changes. They match the content of a particular website with Google ranking factors and tell you about required customizations.
How does the On-Page Seo Checker tool work?
a large number of On-Page SEO checker tools are currently available to assess through their websites. There is no need to download any kind of software because all of their functions are present on the web page. Generally, these tools are available free of cost and very convenient to operate. A complete process of using it to analyze your website it is mentioned below.
->Search On-Page SEO checker tool in your search engine and open the URLs of top 3 websites. See the user interface and decide which one is more convenient to operate.
->When you open a website, it will show a free space to enter the domain name. Copy the web address of a particular page from your website and paste it.
->When you execute the search, it will collect complete data and show in an organized format of a table. In the dashboard of a particular domain, you will be able to set up the following things:-
Site audit
Position tracking
On-Page SEO checker
Social media tracker
Social media poster
Brand monitoring
Backlink audit
Link building
PPC keyword tool
Organic traffic insights
Content analyzer
Much More
It also displays an SEO dashboard comprising up to date information of:-
Total visits to a website
Unique visitors
Average visit duration
Bounce rate
Traffic rate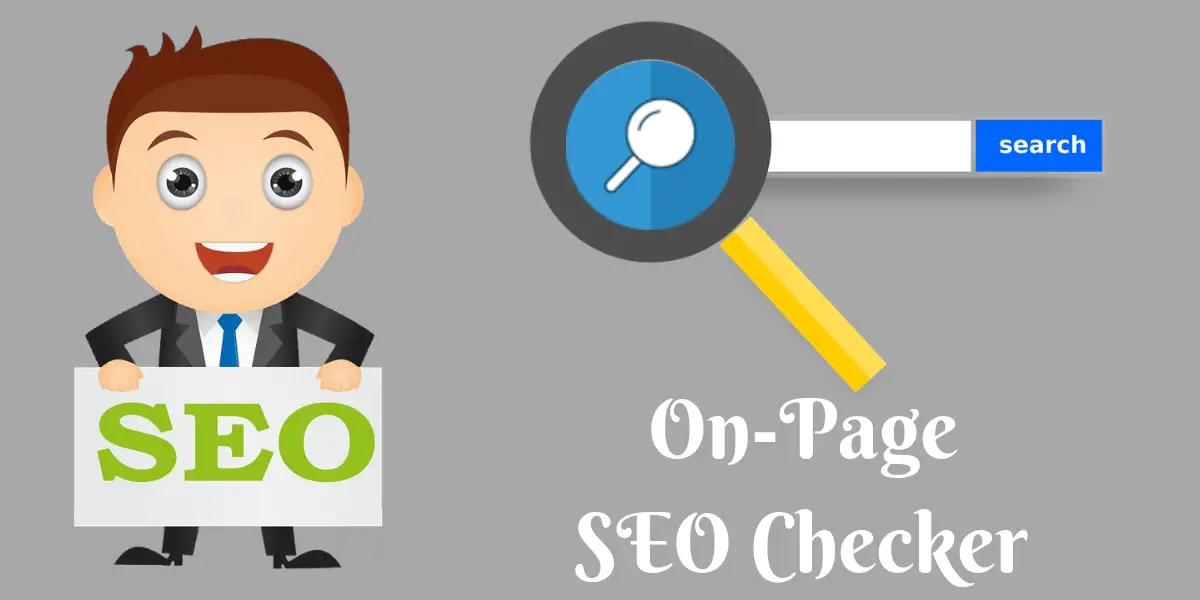 Why do we need On-Page Seo Checker tool?
The On-Page SEO checker tool is essential for every digital marketing professional. Search engine optimization is a time-consuming task that also requires a lot of effort if you will try to do everything manually, it is not possible to compete with other players in the market.
Rather than wasting your time in gaining complete information about the recently changed algorithm, it would be better to seek help from On-Page SEO checker tool. This tool is smartly designed to analyze a page, obtain its results and organized them in a structured manner.
The systematic data arrangement is helpful in identifying the lags where you need immediate reforms. Some major reasons why we need an On-Page SEO checker tool are mentioned below.
1. Ensure that the page is technically optimized
The technical optimization of a page means the right use of elements at the right place. Google continuously changes its algorithms in two or three months and most of them remain out of your knowledge. Only a technically optimized web page will rank higher on the search results.
If the technical aspects of a web page are inadequate, the crawler of the search engine It will not be able to index your page properly. The On-Page SEO checker tool ensures that the website has a compatible structure according to the crawler's navigation.
Basically, the On-Page SEO checker comprises a complete set of tools as listed below:-
Keyword density checker tool
Metadata tool
Header Checker
Link accounting tool
Source code tool
Keyword optimization tool
2. Checking the relevance and excellence of content
Internet users choose a website to visit again only after reading its content. If the content is not SEO optimized and failed in the readability test, why people will waste their time in visiting again? This online tool crawls through the content and checks all technical aspects in detail.
For improving the effectiveness of content, it suggests various changes such as the right use of headings, subheadings, meta description, passive voice, and consecutive sentences. good quality content plays a crucial role in bringing your website on the topmost rank.
If you are investing heavily on website promotional activities but paying no attention to it's meaningful and engaging content, the traffic will not remain stable for a long time.
3. Optimizing the user experience
All practices of Search engine optimization are meant for the end-user. The web page your presenting must have convenient functions to operate and easy to understand the content. If the visitor confuses right after assessing your homepage, he/she will not go further check the service page.
Along with maintaining technical aspects and the credibility of content, the On-Page SEO checker it is also helpful in optimizing the user experience. an average user of your website must be aware of using its crucial functions.
Importance of On-Page Seo Checker tool
The On-Page SEO checker tool is a powerful tool for accomplishing various digital marketing tasks.
1. Improving & attaining a consistent position
Search engine optimization is a dynamic process that only stops when you decide to and the online existence of a business. It is crucial to understand that all of their competitors must be doing their best to stay ahead in this race of marketing.
If you also want to stay in this competition, the website must be optimized according to the latest algorithms. With regular use of On-Page SEO checker tool, you will be able to get complete information about the areas where improvement is needed.
If bad user experience, inferior quality content or the technical aspects of a webpage are affecting its ranking you need immediate steps of reforms. If you have a good On-Page SEO checker tool, there is no need to waste your time in searching metadata tool, header checker tool or source code tool.
2. Comparison with competitors
Not only has the analytical report of your website but these tools also capable of comparing your SEO practiced with other competitors. The tool produces a detailed analytical report of all landing pages that you wished to optimize. Also, you can compare your page with the top 10 ranking competitors.
After comparing your page with the relevant competitors, it becomes very convenient to identify why the errors. While making a comparative report comma the tool considers all important aspects including:-
Backlinks
Content length
Semantically related keywords
Keyword usage
Advantages of On-Page Seo Checker
From the above information, it is clear that the On-Page SEO checker involves multiple sets of small tools of digital marketing. All of them are organized in a manner that you get desired results without assessing every tool individually. These tools remain up to date with the most recent changes in the algorithms of search engine. Without this online tool, you have to waste a lot of time in gathering information and optimizing your website accordingly.
The entire process consumes a lot of time that you can utilize for various other marketing strategies. If a smart tool is taking care of all On-Page aspects of your website and organizing data in a meaningful way, why you should waste your time? It helps in the correction of errors, optimizing the frontend of a website and the user experience too.
Other Seo Tools: Meta Tag Analyzer XML Sitemap Generator Keyword Density Checker