Keyword Suggestion Tool
Enter your keyword
What is a Keyword Suggestion tool?
The keyword suggestion tool is a web application capable of detecting the most popular keywords about a product or service. While searching for a product or service on the internet, people use some keyword phrases that represent a particular business. The main objective of this tool is to identify all relevant keywords that are highly trending with a particular product or service.
You just need to enter a single or two words and this tool will show all possible results. The keyword suggestion tools that can help an SEO expert with relevant keywords in the industry.
There are many lists of keyword suggestion tools that SEO experts use for generating relevant keywords. After getting the results, it depends on their prior experience regarding how to choose the most relevant keyword that will remain trending for the next few days. The trends for search always keep on changing so the marketing team continuously check their strategies.
Search engine optimization is a dynamic process that never stops until the business is existing online. These kinds of tools are available for free of cost online and have a great significance in marketing. There is no need to download and install any software application. Just open the URL and execute your search instantly.
How does Keyword Suggestion Tool work?
You may a question in the mind of how this tool works to find relevant keywords list. Here is the answer, as our tool builds with a unique search algorithm that extracts directly from the search engine list and gives you results. For example: try entering a keyword like "free seo tools" in the text box and click submit button, you will see a set of relevant keywords list obtained like "free SEO tools"," free seo tools online", "free seo tools for website analysis" and many more list of keywords. So this is the best way to implement on website blog to rank in the top of search engine rankings or Increase better ROI on PPC campaign strategy.
It is a simple tool that requires just a few seconds for processing. Here is the complete procedure:-
Open any of the above web addresses to see the interface of the keyword suggestion tool.
Here you need to type one or two words relevant to the business.
Now select the country where you want to execute the campaigning. Every country will have different keyword search preferences for a single product or service.
The website will show a captcha to make sure that the search is being executed by a human. After confirmation, it will generate all possible keywords that are currently trending on the internet.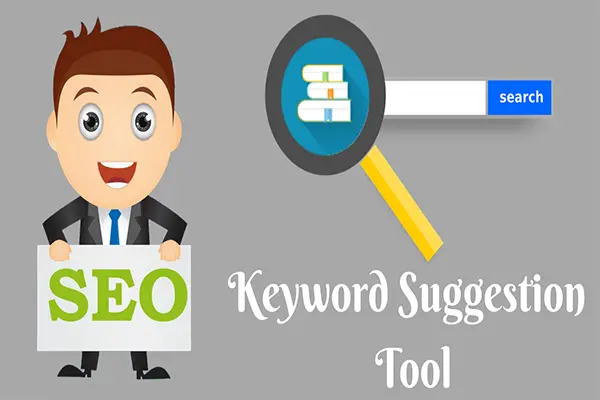 Keyword Suggestion Tool and its Significance for Search Engine Optimization
Better ranking on a search engine is the primary objective of every digital marketer because they are paid to promote a URL with a better reputation. For this purpose, there is no systematic way of strategies implemented. The SEO practices involve multiple strategies for improving the status of a website that is possible by targeting a specific set of keywords.
Before elaborating the keyword suggestion tool, you need the concept of keywords. The term keyword is a set of single or multiple words that are most frequently used while searching for a product or service.
For instance, if you are running a business of sleeping mattresses, the keywords like "sleeping mattress store", "memory foam sleeping mattress" etc. will be relevant to your business. If these words are coming frequently in the promotional content of your website it will automatically rank at the topmost position.
All search engines have an algorithm for ranking websites at different positions. These algorithms work when the crawlers of the search engine go through a website to identify its business nature. It crawls across the entire text conclude the most relevant words that represent your business. If the keywords are evenly spread all over the text, the website will not face any kind of issue while ranking.
The value of keywords always keep on changing that depends on the search preferences of major customers criteria. If you want to know which keyword is currently ranking at the topmost position, a keyword suggestion tool can help. In the below section detailed information regarding this concept is mentioned.
For anything to start a website, the keyword is the key to ultimate success. So finding relevant keywords to your niche will consume a lot of time to search and identify manually. So we brought a unique tool that will find the top relevant keywords for the main keyword that directly related to your niche website. Identifying basic keywords list will help you in short-term growth but relevance is the important factor to real success.
The keyword lists which are obtained will be based on good traffic volume and bidding cost that brings conversion to your site, either way, SEO or PPC strategy. The tool will suggest you best and relevant keywords freely without account registration to conquer the top position in search engine results.
Do you want to check google rank for your keyword then use our free tool Keyword rank checker
Importance of Keyword Suggestion Tool
As you may already know that keyword is the core of SEO and PPC campaigns. When you are optimizing your content, the keywords which are obtained can be used in different stages of your content with meta tags, subheadings, alt tags, and much more area to be optimized for Seo to get better results.
When it comes to PPC campaigns, the keywords suggestion tool will identify the topmost matching keywords related to your niche site which brings you the best conversion rate in the online marketing industry.
Our keyword tool is one of the best tool provided online because it helps to select the right keywords that fit into your niche website easier and faster with just one click of a button, you just need to provide a basic keyword then the tool will run in the background to give result oriented keyword list. You should need to know the keyword search is a long and repeated process that every time you required to run and manage your campaigns.
The keyword suggestion tool is an important part of every digital marketing strategy. Whenever you plan a strategy for improving the ranking of a website, it is actually the ranking for a keyword. Without the help of a dedicated tool, your entire strategy will go without any direction. A keyword is the foundation of every digital marketing practice, Without it, your marketing campaigning will run in an unorganized manner and cannot provide desired results.
You cannot use any keyword without checking whether it has any relevance as per the current market trends or not. If you are using the least searched keyword, the results will be not as per expectation. Even if you implement all strategies as per the strict guidelines of a search engine algorithm, they will be worthless without the right keyword.
Why do we need the Keyword Suggestion tool?
We need a keyword suggestion tool for the purpose of digital marketing. It generates all possible clusters of words related to a particular business. The entire work of marketing depends on the ranking of keywords. Here you will come to know why do we need keywords suggestion tool from different perspectives.
Keyword suggestion tool from the perspective of SEO
Search engine optimization is a broad spectrum that involves a large number of unorganized set of activities. Every business has a different requirement that changes on the basis of different factors like targeted customers target area and the latest trends.
However, the keyword is the most common factor among all SEO practices because the main aim in organic promotion is better ranking which is not possible without a suitable keyword.  If the keyword used by a digital marketer is optimized perfectly in written content, the crawlers can easily identify them and index your website at the top-most position. The SEO experts use sitemap file, .xml file, robot txt file for controlling the activities of a crawler.
Benefits of keyword suggestion tool for a content writer. Digital marketers only suggest the keywords but there are content writers who utilize them perfectly. Keywords are of different types i.e.
Primark keyword
Latent semantic keyword
Keyword Phrase
Apart from the primary keyword relevant to a product or service, it is important to add all relevant key phrases that can help in the better ranking of a website. There is a systematic way of placing the keywords in different contents such as article, blog post, guest post, classified ad and social bookmarking.
Sometimes, the keywords preferred by SEO experts are totally illogical when it comes to using them in an article. If the keyword is not making any sense while using in the sentence, the content writers can use the keyword suggestion tool to check its alternatives. They use the nearest relevant keyword that contains all required characters but in a systematic way.
For freelance writers, this tool is very helpful. Sometimes, your client only gives the overview or an article and ask to find all relevant keywords on your own efforts. Before start writing, you can easily generate keywords with this tool.
Benefits of Keyword Suggestion Tool
First, most thing beauty about this tool is relevancy, many keyword suggestion tools will grab unrelated keyword related to your niche and make you very upset. So the main focus of this tool is grabbing relevant keywords and display to the user.
Next thing the tool is very faster, on the click of the button with basic keyword brings the top search resulted in keywords in front of you within seconds.
The tool is completely free to use unlimited times without any restrictions. It does not cost in up-front so that you can use all the time whenever you needed the tool will be available.
It is an alternative to google keyword planner and other keyword research tools to find relevant keywords list.
The tool is completely flexible and reliable 99.9% of the time.
The tool is ideal for business owners, content marketers, and individual freelancers who wish to find relevant niche keywords and increase online sales.
The tool does not only find relevant keywords and finds long tail keywords to help in search engine rankings. All it is done automatically to speed up relevant keywords list to be used.
The keyword suggestion tool has made the lives of digital marketers very easy. Without this small but powerful tool, all the entire campaigning of marketing may go purposeless. It is advisable to check the trending keywords on a regular basis to make sure that your campaigning is leading among other competitors. As the search trend changes, the keywords must also change with fresh content.
Suggestions for more Keyword Tools
Use Google trends and Google keyword planner to identify the growing keyword Trend and volume of the keyword accurately.
Use the Bing keyword tool to get more keyword list for the PPC and SEO.
If you want to rank YouTube video, use the YouTube keyword tool to get more suggestions for the keyword.
Use Google direct search for an exact match of Keyword while typing on the search box.
Similar other Seo Tools: Keyword Density Checker  Page Authority Checker