Domain Age Checker Tool
Enter a URL
Domain Age Checker Means
The domain age checker tool helps the user to check the domain age of any registered domain visible on search engine. It is absolutely free to use the tool and check your domain or competitor's domain.
Domain age checker is an important tool to:
Find the age of a website
View see how the website looked when started
Competitor's domain age
Why we need a domain age checker tool?
Many SEO experts and webmaster may have different reasons to look into age the domain, some of them are listed below:
If you want to buy an aged domain related to your niche
Comparing your niche site with competitors domain
Or Just any age which is longer than other domain names.
You want to buy and sell domains for higher profits at domain auction sites.
So you bought a domain a long ago from any hosting related sites and just need to check your domain age.
If a webmaster has purchased multiple sites a long ago and forgot which domains are of higher age and which domains are not. So the best way to know the age of your domain is by looking into our domain age checker tool.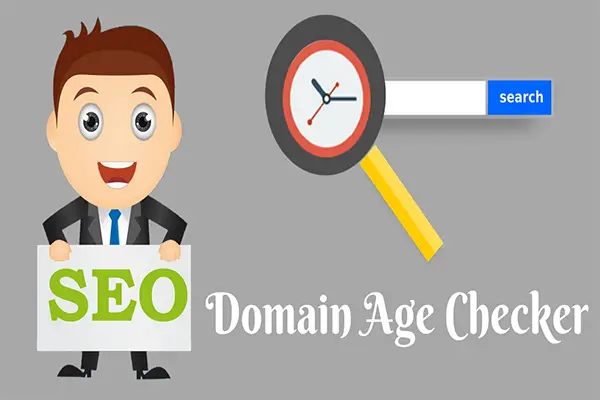 Domain age is one of the factors in SEO rankings of your website. Domain with longer age gives preference to Google the newly registered domain because it gives the confidence to search engine and visitor a trust by giving a value for a long time to the visitors.
In Many SEO forums, SEO marketers ask a basic question that domain age is an important SEO factor or not. But google algorithm identifies the site quality signals including external links, links over a period of time.
Because many SEO marketers try to fool search engines by purchasing an auctioned domain which as good domain age compared to fresh domains. The domain which is purchased had been spam backlinks or just parked domains. Sometimes domain age does not be a ranking factor, but the domain age should be earned through quality SEO marketing.
Significance of a domain age checker tool in your online marketing strategies
A domain name is the URL of your website, the same address through which internet users access your website. The domain age is the vintage of a website on the internet. The domain age gives you a brief idea of how long the content has existed on the web, how long the domain has been promoted, and the date of the last update of the content.
Google, the most trusted search engine, minimizes search engine spam by allotting waiting periods to new websites before giving the domain PageRank. This waiting period can range from three to four months.
Search engines consider domain age as a critical factor to rank websites or domain names. The domain age tells a lot about a website, its establishment, expiry date, the history, any negative reputation attached to it, page authority and more. These are discussed further on.
Importance of the domain age checker tool
A domain age checker tool is important to formulate clever SEO strategies. Following are the importance of a domain age checker
To ascertain the age of a domain.
To ascertain the age of a competitor's domain useful to formulate strategies. This gives you an idea of whom you're competing with.
To know the exact date, day, month, and year of the domain name created.
To view the date you last updated your domain.
To view the domain expiration date.
To view your IP address.
To know who is hosting a website currently.
To know the type of IP address.
To know the name servers that are attached to your domain name.
To know the backlinks as to check the domain name history in Archive.org. The owner of a domain name puts in efforts to build quality backlinks. Thus, search engines consider the quantity and quality of backlinks while ranking websites.
To view the past contents, designs, layouts, and more.
Registrar of your domain name.
From the above pointers, you can say that a comprehensive domain name checker also serves as:
Domain registrar checker
Domain name server checker
Domain IP address checker
Domain expiry date checker
Web host checker
In future you may be looking to develop a new website related to other niches, so you are looking to purchase more domain aged sites which have a good reputation score, traffic, and links which help you improve rankings in short period of time. It gives you an idea which one suits better rather than purchasing a new domain.
Many experts suggest buying a domain aged sites because it will have very good backlink profiles and greater credibility in the google search engine. Not only that if you have purchased a new domain from any domain hosting sites, but it also takes a lot of time to build quality links and google algorithm gives boost traffic to well authority sites rather than new domains.
Many links which linked to the old domains will have natural links which will have a positive impact on organic search results and it is a big plus who owns an aged domain. So do thorough research on niche related domains, long existing domain name, with good quality backlinks will do perfectly well in search results. In fact, most SEO experts feel that the domain age is also one of the key seo factors which play an important role in ranking.
Successful organic Improvements
Within a few days of publishing the sites will have a certain amount of traffic due to its previous seo efforts. If you work smart now you can easily improve organic search results over time with fewer efforts in the future. Once it starts to rank it will save your time, efforts and money for the next succeeding years.
Build Your Site Reputation
After buying a successful domain it is important to build site reputation score from scratch. So start posting regularly the content related to your niche and build more visitors to your site against competitors site. This gives you self-confidence about the site and trust for the visitors in the long run.
Don't think all aged domains are perfect
You may be thinking that long-existing domain names are very trusted and improve ranking within a few months. So that is not the case of some old domains. Old domains may have some bad links coming from other sites, which leads to spam and google may be removed from search engine results. Suppose you think that the previous site owner may have been used some black hat seo techniques to gain links and traffic. Before purchasing always keep this in mind.
Suppose, you liked the domain very much but it has too much spam score and bad links. Before making a decision or going live consult an SEO expert to remove all the unnatural links for the domain will help you in the long run.
​​How to check domain age using domain age checker tool?
There are various SEO tools that offer domain checker tool to help you check domain name age and more in order to formulate winning SEO strategies. Here's a close down on how a domain age checker tool works:
Find a reputed domain age checker tool online
Copy and paste the URL of the website or domain whose age you want to check in the search box
Click submit or check domain age
The tool will give you the result in a few seconds
If you wish to check the history of a website, click on the 'History of Domain' option and see the way back history
For more information on domain age, check Matt Cutts site.
Advantages of the domain age checker tool
The domain age checker tool has the following advantages:
Old websites v/s new websites
Search engines consider domain age as one of the critical criteria to rank a website. Older websites are considered to be more credible and stable than new ones. Older ones have more reachability and visibility than the newer ones. They also have more credible and are stable than the new ones.
Backlinks
Domain age is a critical driver of your website's traffic. Any new website owner finds it difficult to drive traffic irrespective of the quality of the content. With this tool, you can check the size of the domain's backlink profile. Domain owners of a domain name put in considerable efforts to build quality backlinks. Thus, search engines consider the quantity and quality of backlinks while ranking websites.
History
This tool also gives you details of all the previous owners of the website. The domain age checker can also be used to know the backlinks so as to check the domain name history in Archive.org. Also, after knowing a domain age, you can direct your efforts in finding if the domain name has any negative history attached to it. For example, you can know if any black hat SEO techniques were used previously so as to rank higher in the search engine results. You can also ascertain if a domain name has a bad reputation and find out if any users have blocked the website or categorized it as spam or malware. If you find such issues, you can address them immediately and work for a brighter domain name future
Buying and selling old domains
With this tool, you can check the domain age of a website you wish to buy. Older websites get automatic page authority and domain authority over time. Thus, the business of buying and selling of old domains has gained much popularity. Google used to rank domain and pages based on their PageRank mechanism.
Webmasters use this as a basis to buy and sell domains high Page Ranked domains and also to purchase links from them. Now, you have domain authority checker tools from various search optimization firms such as MOZ. A website with high domain authority value sells at a higher selling price and demand in the market.
So, use a domain name age checker tool find out the vintage, history, and backlinks of a competitor's domain name so as to level up your SEO performance and shoot your content to the topmost ranking lists of a search engine results. You can also use this tool to ascertain if a website that you wish to buy is worth the investments.
It will help you in making the right purchase decision in the sense that you can find the ones with strong backlinks, authority, and reputation. Also, you can find out a domain's reputation to clear any negative or dirt and take necessary measures to tackle the impact and negate it so as to build a new and good reputation.
According to SEO marketers, domain age signals holds around 0.5% in search engine ranking results.
Domain age ranking factor depends on trustworthiness and quality signals achieved by the site.
The ranking factor of the domain age takes around 6 months to 1 year. But it takes quite a bit of time to rank new websites in search engine
Check other SEO Tools: Domain Ip Lookup  Whois Lookup Tool