7 Important SEO Plugins for WordPress to Improve Online Presence
04/01/2022 12:00 PM
by Admin
in Seo
---
7 Important SEO Plugins for WordPress to Improve Online Presence
WordPress came into existence in 2003 growing as the fastest blogging technology in the world. At the present, it is used by 34% of Global websites and used by thousands of millions of people every single day either for business or personal blogging networks. WordPress is completely free to use and open-source platforms can be used for any type of purpose. Just download from the genuine WordPress site and install it in your web hosting. It is a fully customizable content management system (CMS) containing 1000 of plugins and themes to develop websites.
In the above paragraph, I actually explained the history of WordPress and its advantages. Now let's talk about WordPress SEO plugins and their features.
There are many SEO plugins in the WordPress platform and takes a lot of time to find the right SEO plugins for your needs. So we recommended some SEO plugins which can be used for your website and improve your online presence, in the list shown there is both free and paid version of SEO plugins that may be helpful to your website rankings. So please check out all the plugins one by one and decide the best SEO plugins that fit your needs and increase traffic.
Grab SEO plugins for your WordPress blog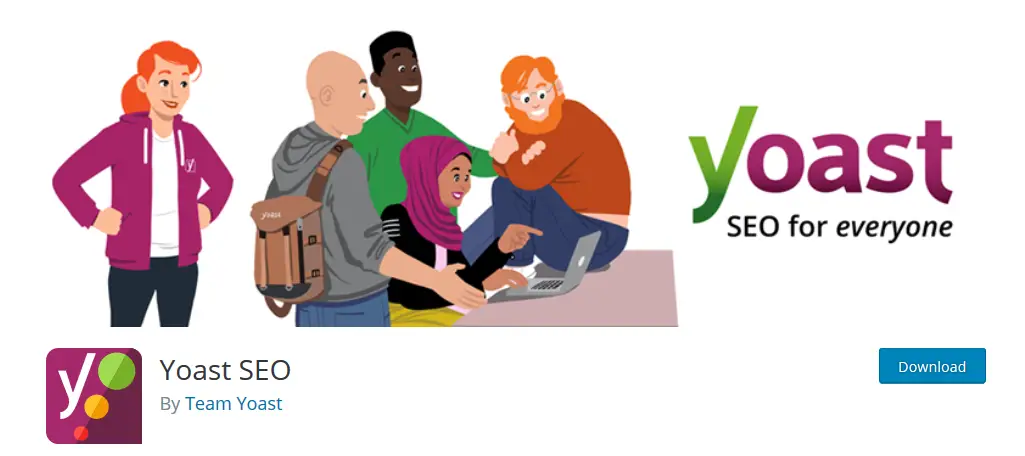 We recommend the first and best SEO plugin is SEO Yoast since it has many features and is completely free to use on your WordPress blog. The main aim of SEO Yoast is to take care of all types of SEO activities needed for your blog for faster indexing and generating massive traffic.
The SEO Yoast Plugin is one of the most popular plugins for WordPress. It can be used to optimize your website for search engines, how well your pages are optimized, identify errors, and improve your content. It helps you with everything from setting up your website, to tracking rankings, to writing better-optimized content that will rank higher in search engines.
It provides a range of features to help you improve your website's visibility and ranking in search results, including:
Meta tags for every page and post

Clean URL permalinks open graph and Twitter information for each post and pages

Auto sitemap generator based on the structure of your site developed

Social SEO Optimization feature

Control of indexing posts and pages

Breadcrumbs to create an exact path in which the content is posted.

Webmaster integration feature

RSS feed Optimization

Focus US keyboard every time you post content on your blog for the optimized keyword based on aspects of on-page SEO

So finally it has more and more features for boosting your WordPress blog
In order to say the SEO Yoast plugin is completely safe to use on your site without affecting other's plugins and themes. For complete details on SEO Yoast genuine website and watch step by step tutorial on the SEO Yoast plugin.
​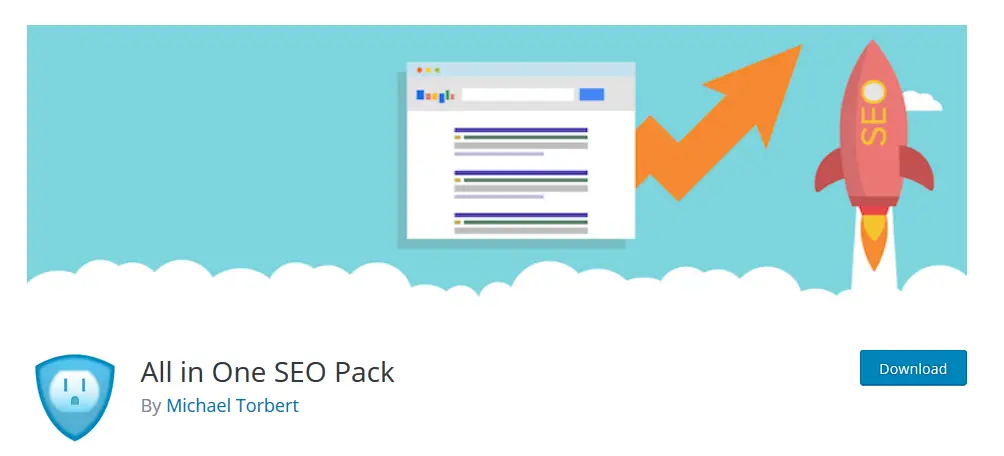 The All in One SEO plugin is a powerful and easy-to-use plugin that helps you optimize your WordPress site for better search engine rankings and increase your website traffic. The plugin is available for free from the WordPress repository and it can be installed with just a few clicks.
This plugin is a must-have for all websites, no matter the size or the purpose. It is a complete SEO tool that will help you with content optimization, social media marketing, and backlinks & includes all the features that are necessary for the optimization of a website.
One of the key features of the All in One SEO plugin is its ability to optimize your website's content for specific keywords. By targeting the right keywords, you can increase the chances of your website ranking well in search results for those terms. The All-in-One SEO plugin also helps you create and edit your website's meta tags, which are used by search engines to understand the content and context of your website.
Whether you're a small business owner, blogger, or website developer, this is a valuable tool to have in your arsenal.
Features of all-in-one SEO plugins are
It has a built-in XML sitemap feature that automatically analyzes all your pages and posts to create a sitemap.

Supports SEO with WP e-commerce site

Inbuilt security features

Automatic Meta tags builder system

Canonical URLs fixing

Optimize Meta tags for search engines

Avoid duplicate content in the blog

So finally it as many more features for all your needs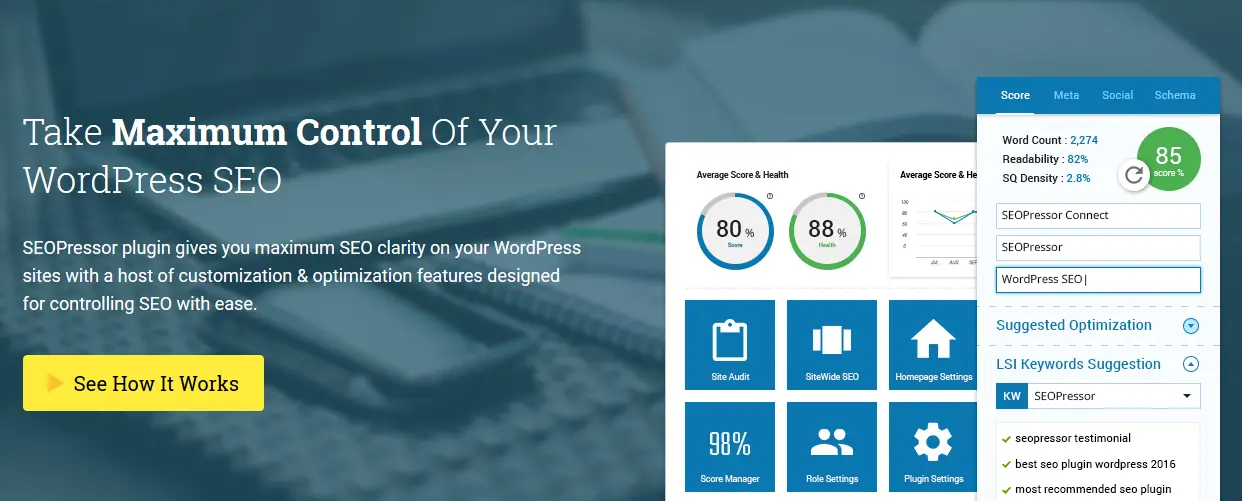 Many people do not know how to optimize On-Page optimization and get better results. You may find many types of SEO plugins for Websites but this is an extraordinary plugin that optimizes every step of On-page Optimization by analyzing the SEO score of the web page. It gives suggestions to optimize every part of the web page to get maximum SEO score, so this tool is said to be born for on-page Optimization.
SEO Pressor is one of the best WordPress plugins that give you the ability to create optimized content for your website and blog. It also provides you with a wide range of SEO tools to make sure that your website is always optimized.
SEO pressor has a single pricing plan, which is a price of around cost just $9/mo even for the multi-sites domain.
How does SEOpressor work?
SEO pressor works by calculating the exact keyword frequency in the content and specifying where to add keywords without stuffing more keywords and optimizing appropriately.
SEOpressor is an amazing tool that provides SEO intelligence for marketers and content creators. It helps you to find out what the best keywords are for your content, what the competition is, and how you can rank higher in search engine results pages.
This tool automatically checks your website's SEO and provides you with a detailed report of the status of your domain. It also gives you recommendations on how to improve your SEO performance, and improve the site visibility and ranking of your website in search results, making it easier for people to find your website and your content.
The plugin includes:
- On-Page SEO Analysis: the plugin will analyze your content and your site's structure to find the best keywords for you & how it could be improved.
- Semantic Builder: it will help you to build a better semantic structure on your website, which will improve your site's indexation and Google ranking. This way, you can save a lot of time, you can now effortlessly increase search relevancy with SEOPressor without touching a single line of code. Today, take complete control over how the Internet sees your website.
- Indexation control: It will allow you to add or remove pages from the indexation of Google, Bing, Yahoo, and other search engine bots. You will have full control over how search engine crawlers move across your website with SEOPressor. For improved indexation control, steer them in the direction you like.
- Smart Link Manager: You can easily create, maintain, and modify the ideal internal link structure using SEOPressor to boost reader retention and lower bounce rates.
The SEO insights section helps you in analyzing the competition, keywords, domain authority and many other things related to search engine optimization. It monitors the progress of your SEO efforts and alerts you when there are any changes in rankings.
Some of the other SEO pressors features
Help to use the keyword perfectly in the content.

Build a link network between other pages and external links

Helps to build a target market content

Prevents over-optimization of content and avoids Google penalization

Easy image Optimization

Relevant and long-tail keyword analyzation

For more information click on the genuine SEO pressor site

Built-in XML Sitemap structure

Easy Canonical Link setup

Much more
4) Rank Math SEO WordPress Plugin

Are you struggling to find the time to optimize your website's content for search engines? Rank Math SEO could be the solution you're looking for. It is a WordPress SEO plugin, to assist every website owner in gaining access to the SEO tools they require to enhance their SEO and drive more visitors to their website. This powerful SEO plugin offers a range of intelligent features that make it easy to improve your website's visibility and ranking in search results.
With Rank Math, you can access the same level of SEO capabilities as a professional team with just a few clicks. Its smart automation features allow you to optimize your content with ease, freeing up your time to focus on other aspects of your business.
In addition to its functionality, Rank Math has a well-designed interface and has been developed over the years by the MyThemeShop squad. This makes it a game-changing plugin that levels the playing field in your favor and helps increase traffic to your website. So, if you want to take your website's SEO to the next level, consider giving Rank Math a try.
Use Artificial Intelligence to create SEO-optimized content
Get dynamic suggestions and recommendations

Utilize dynamic keywords

Implement intelligent data with schema markup

Utilize smart link suggestions

Access extra keyword information

Enjoy full control with the role manager feature

Rich Snippets are integrated

Optimize an unlimited number of keywords

Use AI to optimize your content

Integrate with Google Search Console and Google Analytics

Access the LSI Keyword Tool

Utilize the advanced SEO analysis tool

Perform 30 detailed SEO tests

Optimize for local businesses

Use SEO-optimized breadcrumbs

Monitor 404 errors

Run deep content analysis tests

This plugin is multisite ready

Import data from SEO Yoast and All in one SEO plugin

Much more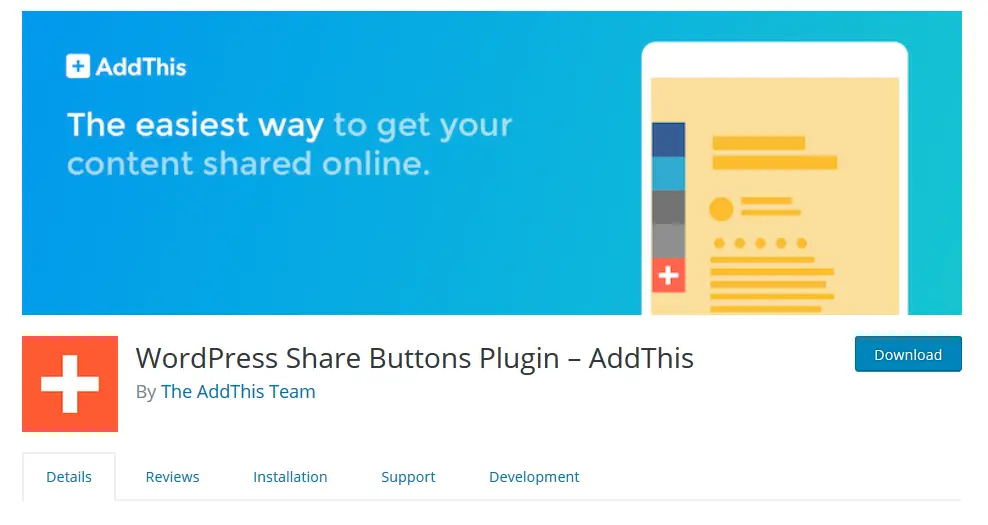 Social sharing buttons and social media pages are very important for more visibility. When a piece of valuable information is provided to the visitors they share valuable content with their friends and families. So it is necessary to install a social sharing WordPress plugin like addThis.
AddThis Social Sharing Plugin is a popular WordPress plugin that allows website owners to easily add social media sharing buttons to their websites. With just a few clicks, you can add buttons for popular social media platforms like Facebook, Twitter, and LinkedIn, making it easy for your visitors to share your content with their followers. You may connect to more than 200 social networks, including Messenger, WhatsApp, Pinterest, and many more, with our quick-loading Share Buttons Plugin.
Your audience will find it simpler than ever to share your work online. Our aesthetically pleasing, quick-loading, and straightforward sharing buttons are well-known around the internet.
Sign up for an account to obtain analytics on how your content is doing, including the most popular posts that are shared and the social networks that are referring the most users. Following registration, you can access these analytics by login into your AddThis.com account and going to your AddThis dashboard. Site pageviews, your most popular content sharing, referring social networks, and more are all included in analytics.
AddThis has several types of share buttons, which are Floating share buttons, Expanding share buttons, Inline share buttons, and Image sharing buttons.
Some key features of AddThis Social Sharing Plugin include:
Customizable design

200+ Social media follow buttons

Analytics and tracking

Compatibility with multiple platforms

Easy to use AddThis Social Sharing Plugin

You can display a sharing button on every post and pages of your site

It can display sharing buttons to the left or right side according to our requirements.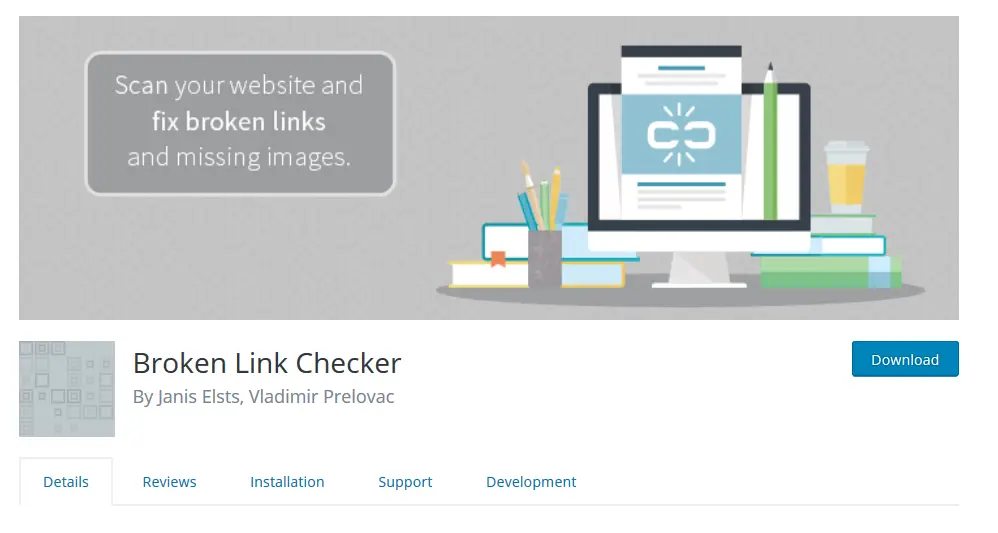 Broken Link Checker is a WordPress Plugin that automatically checks for broken links on your site. You can also use it to find out what caused the broken link and fix it.
The plugin automatically detects and notifies you of broken links on your site, saving you the hassle of checking manually. If the Links are broken, it can be frustrating for visitors and can also negatively impact your website's search engine ranking.
If you are looking for a solution to monitor your site for broken links, Broken Link Checker is the perfect WordPress Plugin for bloggers and website owners as they have to constantly monitor their site for broken links and fix them as soon as possible.
Main features of Broken Link Checker WordPress Plugin
Monitors everywhere on the website pages

It helps us to Identify broken links, images, and link redirects.

Customize the display of broken links in posts.

This prevents search engines from identifying the broken links by simply redirecting

You can Search and filter links using criteria such as URL and anchor text.

Without the need to manually update links in each post, direct editing of links is simple from the plugin's page.

Enjoy a highly configurable plugin with numerous customization options.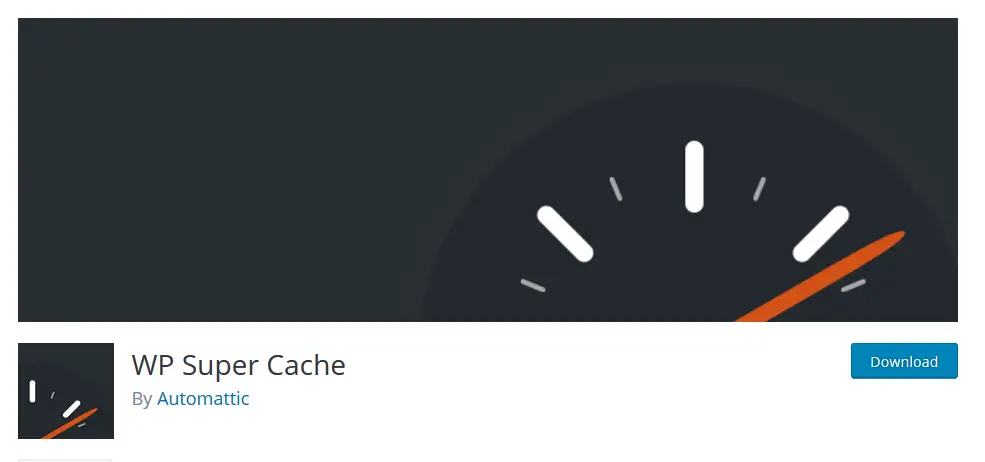 A WordPress plugin called WP Super Cache helps in increasing the functionality the speed of your website. The way it functions is by creating static HTML files from your dynamic WordPress pages and serving these to your visitors instead of the dynamically generated ones. WP Super Cache assists in lowering server load, enhancing the overall performance, and stabilizing your website by delivering static HTML files.
These static HTML files are updated each time one of your posts or pages changes so that visitors always get served with the latest version of your content. You can configure various settings and options in the plugin's settings page to customize its behavior and fine-tune its performance.
So by using WP Super Cache, you can improve the user experience for your visitors and increase your website's traffic and visibility in search results.
How does WP Super Cache work?
It works by generating static HTML files from your dynamic WordPress pages and serving these static files to your visitors instead of the dynamically generated pages.
Here's how WP Super Cache works in more detail:
When a visitor requests a page on your website, WP Super Cache checks to see if a static HTML file for that page exists.

If a static HTML file does exist, WP Super Cache serves the file to the visitor, resulting in faster loading times for your website.

If a static HTML file does not exist, WP Super Cache generates one on the fly and serves it to the visitor. This process is known as "caching."

WP Super Cache updates the static HTML files on a regular basis to ensure that they are up to date with the latest version of your website.
By serving static HTML files to your visitors, WP Super Cache helps improve the performance and speed of your website. It also reduces the load on your server by serving static files instead of dynamically generated pages, which can help improve the overall performance and stability of your website.
Advantages of using WP Super Cache
Faster loading times: WP Super Cache generates static HTML files from your dynamic WordPress pages and serves these static files to your visitors, resulting in faster loading times for your website.

Improved user experience: Faster loading times can improve the user experience for your visitors, making it more likely that they will stay on your website and interact with your content.

Increased website traffic: Faster loading times can also help improve your website's ranking in search results, making it more likely that people will find your website when they search for relevant terms. This can lead to increased traffic to your website.

Reduced server load: WP Super Cache reduces the load on your server by serving static HTML files instead of dynamically generated pages, which can help improve the overall performance and stability of your website.
Conclusion
The conclusion of SEO WordPress Plugins is to make sure that you have a plugin that will work for you. The plugins are not all created equal, so it is important to find the one that will work best for your needs.
These plugins are a valuable tool for anyone looking to improve their website's visibility and ranking in search results. It offers a range of features and tools that can help you optimize your website's content for specific keywords, analyze your website's on-page and link structure, and connect with social media platforms.
So by using these plugins, you can make it easier for people to find your website and your content, and ultimately grow your online presence and reach.