Google Pagespeed Checker
Enter a URL
We already know website speed is an important seo factor to attract online visitors, only when sites load lesser than 2 seconds. Over past 3 years, mobile users took top spot over than desktop user and growing rapidly ever before. If you want to keep them engaging visitors, then the site should load less than 2 seconds for all types of device.
Website loading speed depends on various key factors such as HTML, CSS, javascript, image, cache, server speed, server usage, and much more. Each plays a key role in loading web page faster but mainly depends on how well the site is designed and uses the server resources.
In order to check website status on loading speed, there are many factors to be considered like HTML & CSS compression, javascript minification, image compression, reducing redirects, browser caching, improving server response time, and many more. Google is giving main preference to mobile first index and website speed, so each and every factor will be a part of seo rankings.
Website Load Test
With the help of google page speed checker, you can test your website loading speed in a matter of seconds. For example, you can test any site with google page speed checker to analyze the factors affecting the keyword page ranking.
So, each element should be compressed and designed properly for faster loading and making server resources to fetch more efficiently. In order to make this happen, we developed a Google website speed checker tool to find the accurate speed of the page.
Our tool is developed with a unique algorithm to analyze the speed score in just 3 steps, you don't need to have that much technical knowledge to use the tool other than basic knowledge.
If the website page speed score shows less than 25%-30%, it will negatively impact seo ranking and drop in organic traffic. Thus leading to low conversion rate for the website
Similarly, if the website speed scores below 55%-60%, then the proper measures to be taken to sustain seo ranking over the competitors. It is considered as a moderate speed optimization.
Similarly, if the site speed score shows lesser than 90%-95%, than it is considered as excellent and site is completely optimized for ranking without affecting organic results.
How does Google Page Speed tool work?
The tool works similar to other seo tools, with just requirement of website or web page URL
Enter the required website or web page URL to find the site speed score.
Enter the required captcha code in textbox
Click the submit button to analyze the site speed.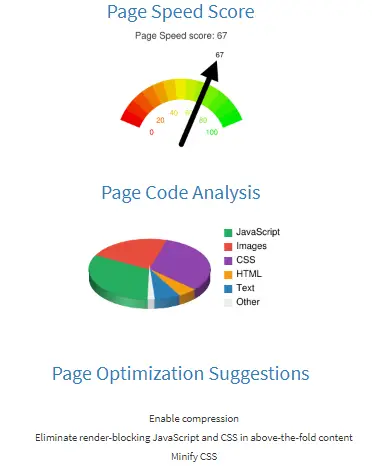 Benefits of Google page speed checker tool
Helps us to identify individual web page speed score.
No limit on restrictions on using the tool.
Very fast and reliable tool to identify page speed
No need of technical knowledge required to use the tool, just need a website URL.
How to optimize website speed
Optimize image - Compress images up to 45% without affecting the quality using image compression tool.
Compress HTML, CSS, and JavaScript - Compress your code to limit the space and reduce size. This will help web page load faster and reach your visitor ontime.
Upgrade server speed - If the server resource does not meet the visitor's requirement, then the website may face low speed or does not work. Just Upgrade to VPS or higher, in order to keep visitors reappearing to the site.
Use cache technique: If you are using Wordpress to host your website, then use cache plug-in W3 total cache or Wp super cache to optimize page loading speed. Otherwise, use the htaccess technique to optimize website speed.
Use CDN technologies to develop sites - Use Google CDN technologies and reduce the number of requests to your server like HTML, CSS, jquery and iframe videos etc.
Similar Seo Tools: Website Speed Test Html Compression Tool CSS Compression Tool