Article Rewriter Tool
Paste (Ctrl + V) your article below then click Submit to watch this article rewriter do it's thing!

What does Article Rewriter Tool do?
Article rewriter helps to rewrite your duplicate content into fresher original content. Just copy a required piece of content and paste into the box and watch the magic of the article rewriter.
Article rewriter is the greatest and a fantastic tool to rewrite duplicate content into fresh content without much writing effort. All the tool will do the work automatically in the background, content is the magical formula for Search Engine Optimization attracting more visitors to the site.
With our free article rewriter tool, you can generate fresh content instantly and improve your website quality. Writing a small content takes the time or hiring a new content writer to write fresh content takes more investment. So we provided a free tool generate quality content for promoting your website.
How does Article rewriter tool work?
The tool first scans through your content and identifies the specific words to be written with synonyms. So the words will be replaced with synonyms by the article rewriter tool. Just verify the rewritten content by replacing with correct synonyms. The aim of the article rewriter tool is to produce quality content by improving with new words or phrases. Some words may be difficult to read, so the content writer should be responsible for checking the content readability before going to live on site.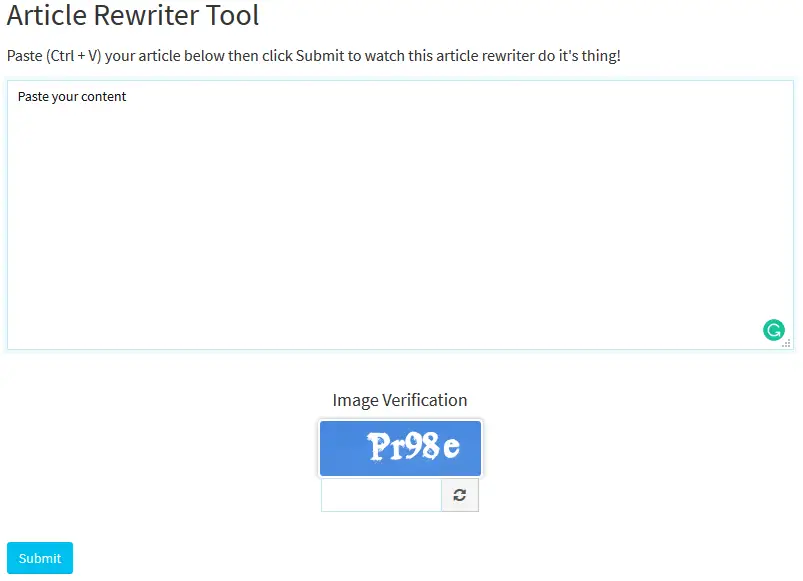 How can article rewriter tool be helpful in content marketing?
This handy tool is very amazing and used in many following areas:
- It can help save your time to get new content without working much hard.
- It is helpful in rewriting new meta title and description
- This tool can get fresh content to build backlinks from authority sites like social bookmarking, article submission, social media posting, web 2.0 sites, blogs etc.
- Many Microbloggers, social media owners use this tool for a quick, reliable, and easy way to rephrase the content for commercial purposes.
Tips and precautions to be taken by using this tool to rewrite the content properly:
1) Double your Content with original content - If you want the same article to be published more than once with a different version, utilize the quality original article at the beginning of the stage. Just paste the original content in the box and click submit button, the original article is rewritten automatically. With the help of article rewrite tool, you can use as many versions of the content you want, make sure the article was rewritten is human readable before finalizing the content.
2) Check for Readable Words - Once the article was rewritten with the help of article rewriter tool, few words may not be human readable. Because the tool may not generate right synonyms for the particular words in the content. So in this case, better find right words manually by rewriting the content or take help of a content writing specialist to make content readable and understandable.
3) Check for Plagiarism of Rewritten Content - We recommend the site owner to verify the content with plagiarism, it is required to check the content is uniqueness or not before going live on the website. So unique high-quality content is the key to overall success of your website ranking and traffic.
Check your Rewritten article is unique or not with Plagiarism checker tool
Analyze meta tags using Meta Tag Analyzer
Note: Making more and more versions of the same content may go worse and not be human readable. This also blacklists your site due to spun content.