Online HTML Compressor
Enter your HTML code to compress:
Add up to 10 multiple HTML files (Size Limit: 2MB per file)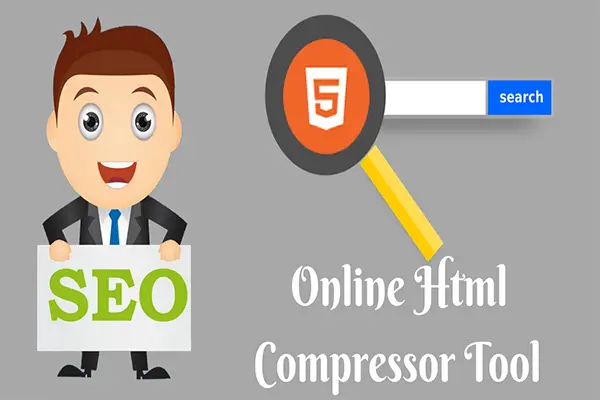 Introduction
HTML Compression tool is an online software application that reduces the size of HTML webpages by removing some information including the whitespace characters, blank space, text line from codes, and quotation marks. HTML Compression tool is mainly designed to help you compress HTML tags while running a website or any web service.
Analyze and Optimize your Html Website
HTML Compression tool makes your websites load faster by reducing the size of HTML code, Javascript code, and CSS files. It speeds up your website by compressing JavaScript code mixed with PHP and other languages and optimizes several CMS websites including WordPress, Joomla, and Drupal themes or any PHP based websites.
It quickly analyzes your HTML codes with a detailed step by step to compress the code automatically. The application has a nicely designed interface that allows you to copy and paste the code with several inline documented options. Additionally, the tools convert your code by uploading a number of HTML files to our HTML compressor tool to save the time. There is a W3C validator that allows you to validate the code before and after compression with a single click. You can use the HTML compressor control commands to perform the client-side execution and allows the strip program to remove inessential information, debug variables or modify the variable contents.
Bulk Html File Compression Tool
HTML compressor allows you to compress multiple HTML files at a time, add up to 10 more HTML files, merge lines, one by one automatically. In future, we will add more advanced control options for increasing the compression rate, enable or disable the optimization of inline events, JavaScript, CSS and more. As far as security is concerned, you can use the tools through SSL encryption based connection, prevent or delete the downloads by hashing the compressed files and locking the IP address on your PC.
Online html compression tool is a simple tool to compress html tag from top to till the end of the document to reduce speed and bandwidth which loads faster than competitor sites. Along with html compression, it is required to compress images, JavaScript and CSS to load faster, and make the user experience better.
How to use html compression tool?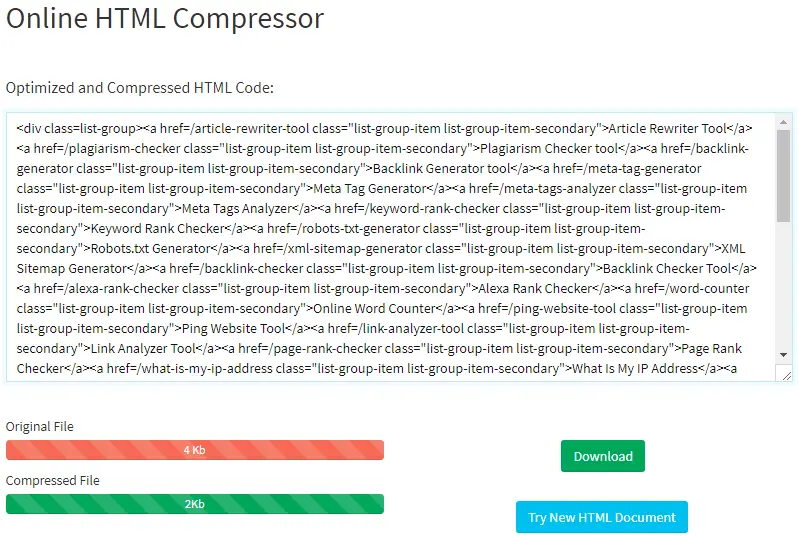 Simply copy and paste the html codes on the tool, then type the captcha code and click the submit button. The output displays the compressed html code with less size. There are many online tools to compress all types of codes to reduce load or bandwidth on the server.
Conclusion
Having HTML compressor tool will save your money on the website that eats up your bandwidth. Based on W3C standards, it provides a safe and quick compression without affecting your system performance. The interface is nicely designed with features that can compress entire HTML page. It supports all types of browsers and can be used by any professional web designers.
Similar Seo Tools: CSS Compressor/Minifier tool Javascript Compressor Tool