CSS Minifier/Compressor
Enter your CSS code to compress:
Add up to 10 multiple CSS files (Size Limit: 2MB per file)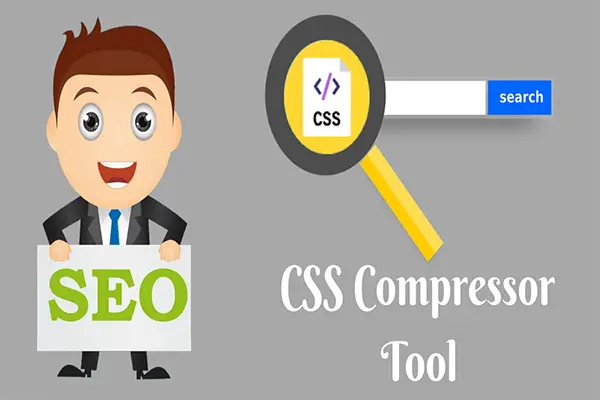 Introduction
CSS Minifier is a free web interface tool that helps you to minify or compresses the CSS code by reducing the original size. It speeds up your website by removing some unnecessary characters, white space, line breaks, empty CSS declarations etc. from the code. With more people browsing the internet via Computer PC's, mobile devices and other devices, minifying CSS files can render web pages faster.
If you need to test your website speed just check this tool Website speed test
CSS Minifier: Reliable Online Software Solution
Many website developers and designers are using CSS Minifier tool while designing CSS based web pages. The application is portable that can be used without installation and can be used from any Computer or USB device directly to minify CSS files. CSS Minifier tool compresses or minify a CSS file, JavaScript file, loads web pages quickly, remove useless content from CSS code, removing extra characters and much more that makes it more reliable and helpful to many web designers and developers.
The CSS files are external to the web page that have .css extension help define font, color, size, border, location in various programming languages. The main purpose of minifying CSS files is to maximize the speed of website on various devices. It can make a script up to 20% smaller, that helps in fast downloads. CSS minifying can get your website a high SEO (search engine optimization) score by making it more responsive as well as faster loading the web pages.
User-Friendly Interface
The main window interface of CSS Minifier tool has two panels are Input CSS where you can minify, download as a file, RAW and use clear options, and the next panel is Minified output to select and remove all the CSS codes or characters. You can choose the languages by clicking on wget, curl, node.js, python, ruby, pearl, PHP and C# for easy minifying the CSS codes. It is the smallest CSS Minifier tool that reduces and displays the compressed size of CSS files. Minifying your code removes white space characters, comments, newline characters, and blocks the delimiter.
Conclusion
CSS Minifier tools easy to use and has many benefits in reducing the HTTP request by compressing the CSS elements. However there is no drag and drop option, you can copy the CSS elements into the application interface and minify. Overall an effective solution for the professional web-designers and developers for compressing CSS elements and improving the speed of websites.
Similar Seo tools: Html compression tool Javascript compression tool